Making landscapes of Kira Highway
In February 2002, maintenance was completed for the 730-meter section of the main street in the Niseko Town Hondori area, the Dowa Iwanai Toya Line, as the "Kira Kaido".
Aiming to create a pleasant cityscape that shines the colors of the four seasons, with a sense of unity based on the "Town Planning Guidelines for Town Planning" created by incorporating the opinions of local residents, stores, houses, street lights, guide signboards Etc. are in place.
Kira Kaido (2002 Heisei Nationwide City Landscape Award)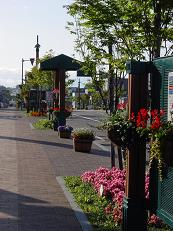 Kira Kaido
The face of the city of Niseko Town, "Kira Kaido" (Kirakaido). Niseko Town area on the Iwauchi Toya Line (Route 66). In the so-called hard business, it was the beginning of residents' participation in Niseko Town. (Business started in 1989 and completed in 2002)
Residents along the lines independently organized councils, established standards for the formation of landscape in the area, residents and the administration together built up the streets of the area along the street. Today, the Niseko community development forum consisting of volunteers of townspeople centers on management of planting, flower beds, benches, etc. and is working on the hospitality of all people visiting this road.
About new construction and expansion and renovation
When doing new construction, expansion and remodeling etc. in the Kureusu way, consultation is necessary beforehand in "Niseko Kirara Route Resident Committee" composed of people of the local residents. Please submit the following notification form for consultation.
"Niseko Kirara Route Residents' Council" examines whether the designation submitted is a design based on the "Town Planning Guidelines" and if necessary adjusts and advises them to become a good city skyline .
Notification and drawings required for consultation
Please download the necessary notification and drawings etc. for consultation from the following.
Niseko Kira Highway sticking out signboard setting subsidy
In order to promote the creation of a distinctive and orderly landscape on the Niseko Kira Highway, subsidies are issued to businesses that are sticking out and setting up signage on the Kira Highway.
Subject recipient
・ Doing business in the area of Kira Highway
· Having an address of an individual or a corporation in town
・ The person who is the subject of the assistance and the family living together with the subject of the assistance fully pay the tax paid to the municipalities.
・ Request ordering from company designated by the mayor
Subject expenses
Expense about making of sticking out signboard (setting cost is self-paying)
Subsidy amount
We assume sum of expense targeted for assistance and the upper limit is 300,000 yen.
Flow of auxiliary application
Subsidiary grant outline
Various styles
Inquiries regarding information on this page
City Construction Division City Planning Section

TEL:

0136-44-2121

FAX:

0136-44-3500