Arishima Memorial Hall

The Arishima Memorial is a Taisho era writer known for "Descendants of Cain", "Born troubles" and "A certain woman".
Introducing the people and works of Takeo Arishima and the footprints of the farm owned by Takeo.
 
---
---
What's New Update
NEW
【2021.05.26更新】
ニセコ鉄道遺産群の公開について
※新型コロナ感染症対策、また、緊急事態宣言及び今後の状況を
 考慮し、
ニセコエクスプレスの頭出し公開につき、
期日の変更
が
決定されました。
 皆様のご理解、ご協力を賜りたく、何卒お願い申し上げます。
 〇 ニセコエクスプレスの一般公開について
With the support of everyone in Japan, the resort train "Niseko Express" returned to Niseko Town I would like to thank you from the bottom of my heart.

The Niseko Express is a special vehicle newly manufactured with a mechanism and design to overcome the steep slopes and sharp curves of the Hakodate Main Line Yama Line (between Otaru and Oshamambe) that Niseko Town It is a vehicle (industrial heritage) that has a deep significance to be preserved.

We are currently constructing a storage garage for the car, which is scheduled to be completed in mid-December 2020. After the garage is completed, we will hibernate in preparation for the public release scheduled for next spring or later. We are considering an appropriate disclosure method in such a social situation.

We look forward to seeing you all.

Niseko Town Arishima Memorial Hall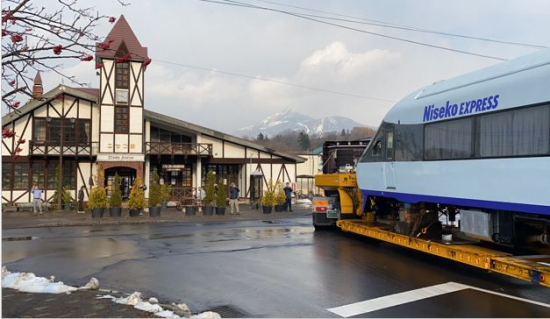 ---
Opening hours Business hours
From 9:00 to 17:00 (as for the admission until 16:30)
Closed day
・ Every Monday (If Monday is a holiday, it will be closed the next day)
· New Year's Holiday
Admission fee
General 500 yen (10 or more groups: 400 yen) High school students: 100 yen
※ junior high school students following and 65 years of age or older of Niseko Town people is free

Annual passport (valid for one year): Adult 800 yen High school student 200 yen
Museum shop / Book cafe
We have a collection of Takeo Arishima and original goods of this museum.
In addition, the book cafe where you can overlook the Niseko mountain range
You can enjoy reading while tasting roasted coffee.
アクセス Access
JRAbout 30 minutes on foot from Niseko Station (about 2.5km), 5 minutes by taxi
busDonan Bus [From Kutchan Station] "Arishima Memorial Hall" bus stop, get off at 5 minutes on foot
Private carAbout 2 hours by private car from Sapporo, New Chitose Airport
[About 30 parking lots for private cars and about 15 for large buses]
〒048-1531 57 Arishima, Niseko Town Abuta-gun, Hokkaido
Tel. 0136-44-3245 Fax. 0136-55-8484

Inquiries regarding information on this page
Niseko Town Arishima Memorial Hall

TEL:

0136-44-3245

FAX:

0136-55-8484