SDGs future city
The town has recently been selected as an "SDGs future city" (* 2) from the country as a municipality that will make efforts and proposals for achieving SDGs (* 1).
SDGs are universally adopted international goals to realize a sustainable world. 17 goals aimed at achievement by 2030, such as "eradication of poverty" and "clean energy" are set.
 
The town has practiced and practiced community planning such as "practice of autonomy through participation of residents and information sharing", "efforts of environmental model cities", "creation of unique development rules", and so on. These efforts are goal 17 "partnership" and goal 7 "energy", goal 11 "town development that can continue living" if it replaces the 17 goals of SDGs, in other words the previous efforts of the town itself is SDGs It also seems that it was also an effort aimed at.

In town, we will continue to refine the town development so far and practice initiatives ahead. It is an effort to create a "mutual aid society" that can be handed over to children of the future, and efforts to create a sustainable town, and if it continues further, this effort itself will contribute to achieving the goals of SDGs, as a future city of SDGs We think that it is also an effort.
 
Also, when selecting SDGs future city, "NISEKO Living / model District Building Project" selected by "NISEKO Living / Model District Project" proposed by Niseko Town as a model project with the support of the country, selected as "Local Government SDGs Model Project" (* 3) We are promoting this policy.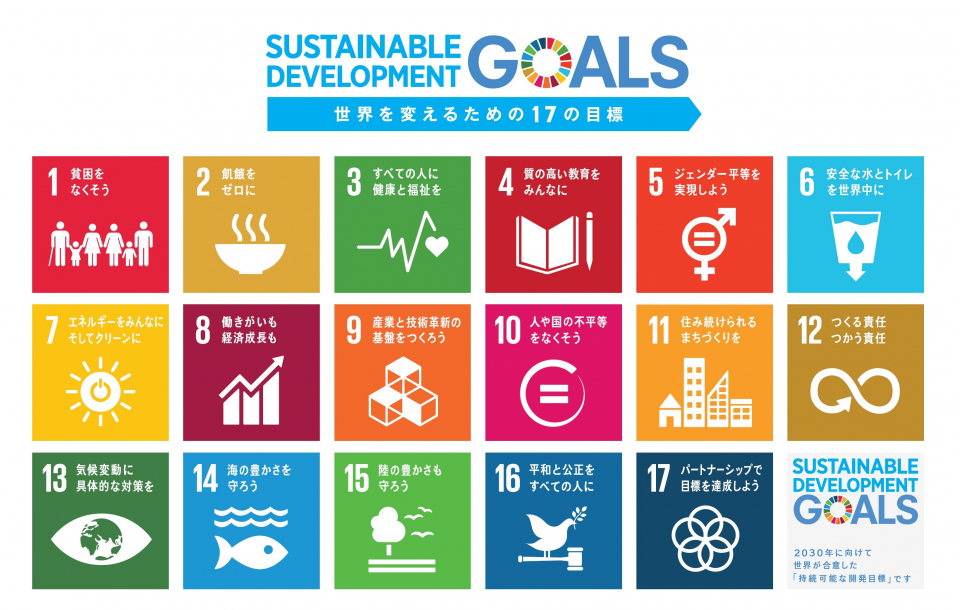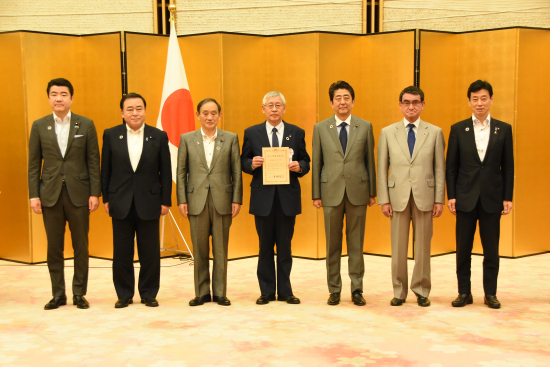 "SDGS Future City" selection certificate award ceremony held at the Prime Minister's Official Residence on 15th June 2018
※ 1) SDGs: Abbreviation for Sustainable Development Goals
SDGs are "sustainable development targets", which are unanimously adopted under the participation of over 150 member countries' leaders at the United Nations Summit in September 2015, "2030 Agenda for Sustainable Development" ( The international goal from 2016 to 2030 as stated in the Action Plan).
It consists of 17 goals (targets) to realize a sustainable world and 169 related targets, pledging not to leave anyone on earth. For example, the first goal is "1 lose poverty". And, as a common plan of the world, "Tackle all over the world by participating in (participating in developing countries / developed countries)", "Tackle all problems at the same time (all issues are related, simultaneous in parallel)" The point is that it is characterized as such.
Pursuit of diverse targets shown in this 17 goals and 169 targets is actually related to our daily lives and contributes to solving local regional issues and promotes sustainable city planning is. And it is thought that Niseko town is "high affinity with Niseko town development" such as information sharing · participation of local residents to participate in self-government practice, landscape measures and environmental policy, strengthening of earning power, regional economic cycle etc. , We will promote that initiative with the past city planning.
 
※ 2) SDGs future city
The country selects municipalities that make excellent proposals toward achieving SDGs. Twenty-nine municipalities were selected nationwide, and four municipalities in Hokkaido, Sapporo, Shimokawa-cho, and Niseko-cho were selected in Hokkaido.
 
※ 3, ※ 4) Municipal SDGs model project, NISEKO living / model district construction project
SDGs Selected by the nation by the state concerning particularly proposal projects when selecting future cities. 10 projects are selected and support (subsidies etc.) from the country can be received. In Hokkaido, two projects, Shimokawa Town and Niseko Town were selected.
The proposed project "NISEKO Living / Model District Building Project" of Niseko Town is to form a new living space (model area) based on the concept of SDGs in downtown area.
About other SDGs future city
For details on the SDGs future city in the whole country, please see the following Cabinet Office website
SDGs Future City Planning
Local governments selected as SDGS future cities will formulate the SDGs Future City Plan in order to concretize their proposal contents in cooperation with the country from now on.
About SDGs future city plan of Niseko town, after making confirmation work and public comment by national experts, we formulate it as follows and announce it.
Progress on SDGs
[Until now]
Watariro Arishima's Legacy "Mutual Assistance", Agriculture Liberation
Establishment of the First Autonomy Basic Ordinance of the whole country "basic town planning ordinance"
Landscape regulations, water supply resource conservation ordinance, establishment of groundwater protection ordinance, designation of landscape district
Formulation of basic environmental plan, selection of environment model city
"Small World City Niseko" (Fourth Comprehensive Plan) → "Niseko Environment Creation City" (Fifth Comprehensive Plan)
Formulation of comprehensive self-government creation strategy

【Heisei era2009 year mark】
Explain the policy to tackle SDGs at H30 budget formulation policy briefing session
[November - December]
Explanation of SDGs at each venue of the town development meeting
【March Heisei 30】
Under the parliamentary town policy enforcement policy of Heisei 30, explained "SDGs as the root of the town organization"
Report on the SDGs approach policy at the council of parliamentarians and the section chairman
For candidate selections such as "SDGs future city" conducted by the Cabinet Office, submit a proposal
【May】
Hearing (presentation) correspondence at the Cabinet Office concerning proposed contents
【7th June】
Explanation at briefing session on Congressional policy project etc.
【15th June】
Publication of selection results of "SDGs Future Cities" (29 organizations) and "Local Government SDGs Model Project" (10 organizations)
→ Niseko town is selected in any case
A selection certificate award ceremony at the prime minister's official residence (town mayor attendance)
【July】
Municipal SDGs model project planned neighboring dwelling adjacent to the planned site, visit all door to outline
【July 20】
Discussion and content confirmation with the country etc concerning SDGs future city plan (draft).
Implementation of public comment (1 opinion until 30 July)
【July 27】
Adjustment of SDGs related budget in extraordinary legislature → approval
【July 31】
Explanation by the agricultural committe
【August】
Public feature Niseko August issue feature "Niseko town development and SDGs"
【August 31】
Publication of SDGs future city plan (homepage)
Municipal SDGs model project delivery decision
【September 20】
Holding a workshop on regional community at the 174th Town Planning Seminar lecture "Regional Management Seminar Thinking with People"
【October】
Explain the policy to tackle SDGs again at H31 budget formulation policy briefing session
【October 31】
SDGs Future City Niseko Town Planning Exhibition (Town Culture Festival, until November 4)
[November - December]
Explanation and exchanging opinions on SDGs at each meeting venue
【November 12】
Explanation on municipal SDGs model business at environmental briefing meeting of second action plan second action city
【December 3】
The 176th Town Planning Town People Course "Practice in the Region" SDGs "held
【December 10】
1st SDGs Model Project Promotion Council Preparatory Meeting
【December 11】
Local residents briefing session on municipal SDGs model project (held twice a day, primarily for residents living near the planning site)
【December 13】
Explanation at briefing session on Congressional policy project etc.
【January 16, Heisei 31】
The 2nd SDGs Model Business Promotion Council Preparatory Meeting
The 177th Town Planning Machiya Townmen's Seminar "Creating" NISEKO Life-Model District ""
【February 10】
Local residents briefing session on municipal SDGs model project (mainly for residents living near the planned site)
【February 13】
Mayor of Katayama Mayor at the 1st Regional Creation SDGs International Forum
Introduction of initiatives etc.
I will tell you about the SDGs efforts of Niseko town about the publicity feature and introduction situation so far, future publication schedule, acceptance of visit etc., dissemination awareness activity etc etc.
· Magazine "TRYANGLE" VOL.04
· Asahi Shimbun "SDGs ACTION! 2"
· Monthly magazine "Energy Saving" September 2018 Feature
· Monthly magazine "Clean Energy" March 2019 Special Issue ※ Planned to be published

· Sapporo Nihon University Junior High School · High School Career Education Program SDGs Niseko Fieldwork
· Takushoku University international faculty seminar lecture SDGs lecture ※ discontinued due to the earthquake

· SDGs Future City Niseko Town Planning Exhibition (Niseko Town Culture Festival)
· Environmental Hiroba Sapporo 2018 case presentation · talk session
· The 4th time to connect! Hokkaido panel display

· Hokkaido Shimbun published on 1 November 15th morning edition of 2018
· Hokkaido Construction Newspaper December 20, 2018 Published in the day bile, Hakodate, Shimane column
· NHK NEWS WEB posted on November 18, 2018 Hokkaido NEWS WEB ※ NHK radio broadcasting also
Dairy Gakuen University Towa no Mori Sanai High School April 26th, 2019 Niseko Town SDGs Photo Rogaining
Inquiries regarding information on this page
Planning and Environment Division Autonomy Creation Division

TEL:

0136-44-2121

FAX:

0136-44-3500
Planning Environment Section Division Environmental Model City Promotion Section

TEL:

0136-44-2121

FAX:

0136-44-3500