NISEKO RULES 2022-2023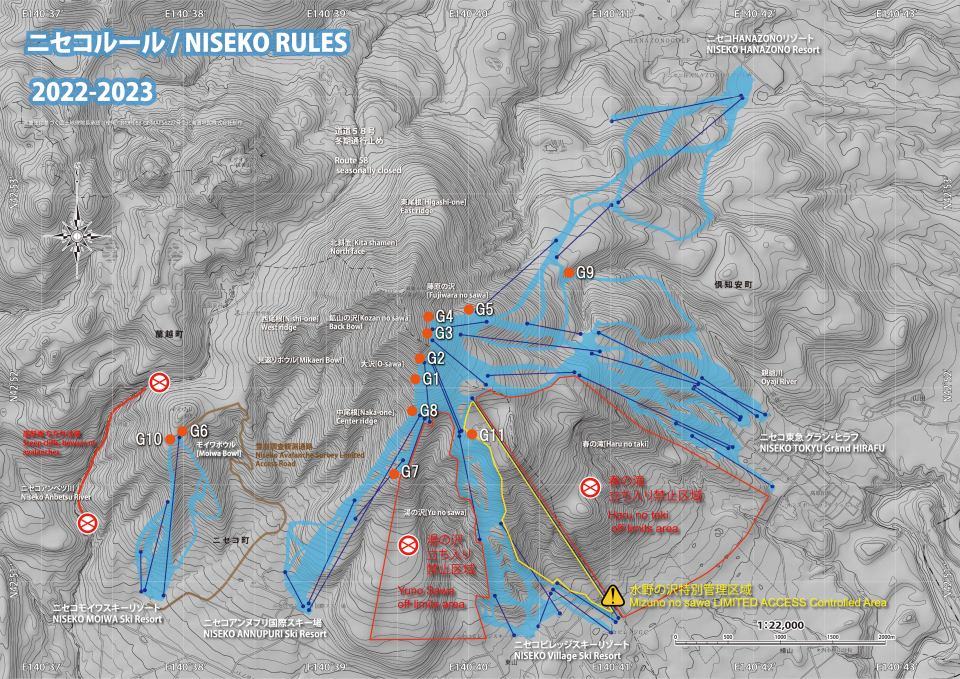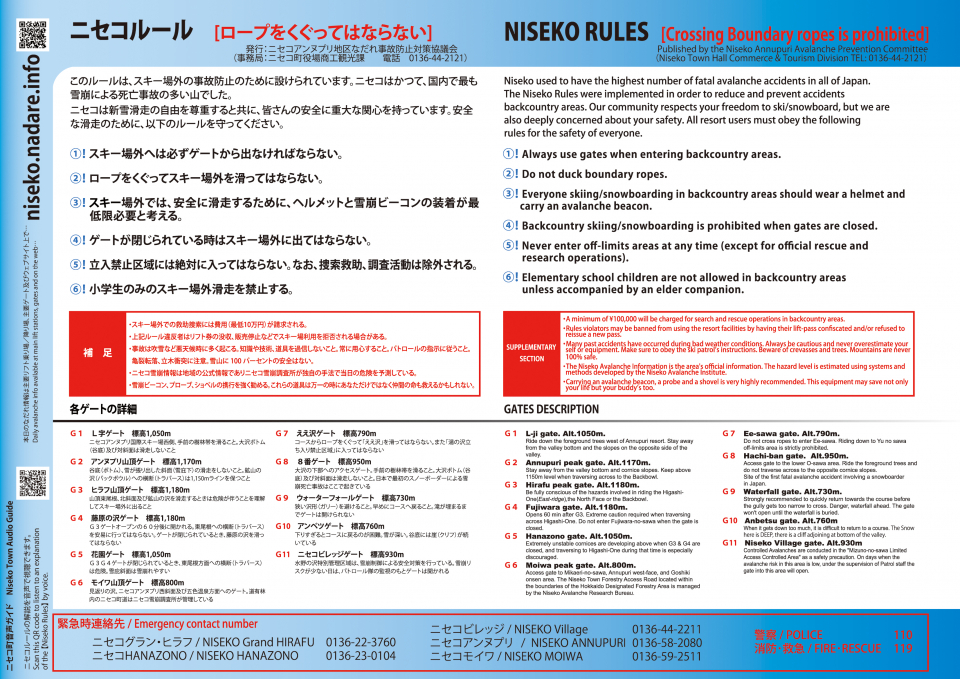 ---
 このルールは、スキー場外の事故防止のために設けられています。ニセコはかつて、国内で最も雪崩による死亡事故の多い山でした。ニセコは新雪滑走の自由を尊重すると共に、皆さんの安全に重大な関心を持っています。安全な滑走のために、以下のルールを守ってください。

1. You must exit the gate to get out of the ski area.

2. Do not slip outside the ski area through the rope.

3. Outside the ski area, it is necessary to wear a helmet and an avalanche beacon at a minimum in order to ski safely.

4. Do not leave the ski area when the gate is closed.

5. Never enter restricted areas. Search and rescue and investigation activities are excluded.

6. Only elementary school students are prohibited from skiing outside the ski area.

​
・ A fee (minimum 100,000 yen) will be charged for rescue searches outside the ski area.
・ Those who violate the above rules may be denied access to the ski resort due to confiscation of lift tickets or suspension of sales.
・ Many accidents occur during bad weather such as snowstorms. Don't overtrust knowledge, technology and tools. Always beware. Follow the patrol instructions. Be careful of cracks and falling trees. Snowy mountains are not 100% safe.
・ Niseko Avalanche Information is official local information, and the Niseko Avalanche Research Institute predicts the risk of the day using a unique method.
・ It is strongly recommended that you carry an avalanche beacon, probe, and shovel. In the unlikely event that these tools can save you or your fellow lives.
---
Public information Niseko (January 2018 issue) (from page 5) has a special feature of Mr. Yayoi Shintani from the Niseko Avalanche Research Center.
Inquiries
Niseko Annupuri district avalanche accident prevention council
Secretariat:Niseko Town Office Commerce and Tourism Division
Phone: 0136-44-2121
Link on ski information
Inquiries regarding information on this page
Industry and Tourism Division

TEL:

0136-44-2121

FAX:

0136-44-3500