Experience life in Niseko "Living a little"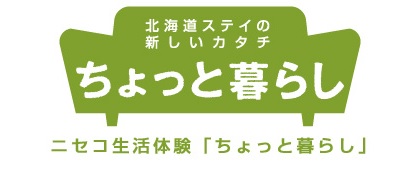 A long-term stay plan is available at nice accommodation in Niseko town (condo, hotel, cottage, guesthouse, apartment and 5 different types).
 
Try searching for a favorite place, get information unique to local people, relax anyhow .... Discover Niseko's charm that can not be enjoyed by sightseeing, why do not you try experiencing Niseko residents only for a moment?

※ Each facility will be a private accommodation. At the Niseko town office, we do not accept reservations etc. Please contact each facility directly
Annupuri Village (Annupuri Village)
The house of the mountain where the scent of the forest smells like being the memories of the lifetime with the time spent with family and friends while being surrounded by the nature of Niseko. Located just 150 m below Annupuri and Gondola, it is a condominium resort harmoniously blending with beautiful nature. Designed to accommodate from 4 to 10 people in each building, all necessary equipment for living is fully equipped. You can spend your time feeling the transition of Niseko's beautiful four seasons.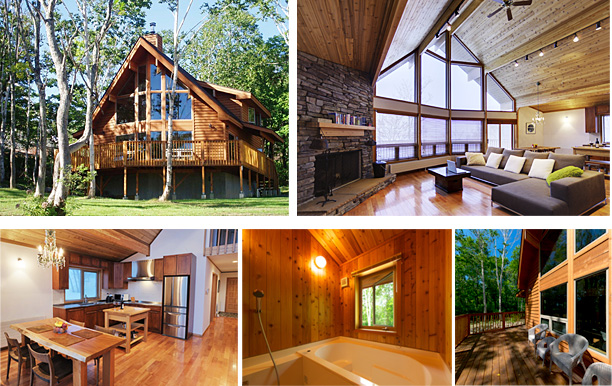 Street address
Niseko town character Niseko 432-21 (5 minutes by car from JR Niseko Station)
Reservation · Inquiries
Phone number: 0136-59-2111
Floor plan
5 condominiums
· 3 bedrooms
· 2 bathrooms
· Dining · living · rugged ceiling, terrace, garden, kitchen
Long stay plan
Summer only (May - November) 1 building More than 1 month rental
See long-term rental price list
One building 210,000 yen per month ~ (water supply · utility fee included)
One building less than one month rental See normal price list
6 nights or more: 1 night's free
12 nights or more: 2 nights free
15 nights or more: 3 nights free
· Since contents may be different, please confirm at the time of reservation.
Benefits · Set plan etc.
Special price for various activities available (rafting, balloon, golf, etc.)
Main facilities
Full kitchen, washer / dryer, cooker, dishes, plasma TV, DVD player, high speed internet wireless LAN connection, bath, barbecue set
One Niseko Resort Towers (ONE NISEKO RESORT TOWERS)
One Niseko Resort Towers is a premium hotel condominium where you can enjoy a luxurious long-term stay. There is a 24-hour staff in the hotel, so you can stay safe and secure long-term stay. In addition, the hot spring in the hall will heal your mind and body after enjoying the winter powder snow and summer outdoor. Why do not you have a loose and beautiful time embracing by nature?
Street address
Niseko town Niseko 455-3 (15 minutes by car from JR Niseko Station)
Reservation · Inquiries
Phone number: 0136-50-2111
Fax number: 0136-50-2100
Floor plan
Studio Suite (47 - 49 m²) 3 people capacity
Premium Suite (68 sq m) Capacity for 3 people
Premium Grand Suite (75 - 81 sq m) Capacity for 5 people
Long stay plan
Studio Suite (3 persons capacity) 14 nights 1 room 60,200 yen ...
30 nights one room 108,900 yen ...
Premium Suite (3 people capacity) 14 nights 1 room 112,700 yen ...
30 nights one room 204,600 yen ...
Premium Grand Suite (for 5 people) 14 nights 154,000 yen-
30 nights / room 276,000 yen ...
· Rates vary depending on staying time. For rates, please contact us.
・ Please see the price list for 2019 and 2020 (Note 1).
Benefits · Set plan etc.
 
Main facilities
Bath and toilet, High speed internet connection (free), TV, DVD player
Telephone, kitchen (utensils, dishes), microwave, refrigerator, vacuum cleaner
Iron and hair dryer
· There are hot springs, restaurants and cigar bars in the hotel.
Cottage Bongo Square
* Currently, cottage bongo plaza does not accept reception of "little living" for the full year. Normal accommodation is possible. Please contact us for more information.
Surrounded by trees, you can enjoy a walk on the premises. Please take a relaxing look at Mt. Yotei, called Ezo Fuji, skiing Mecca Niseko Annupuri. There is spring water nearby, and you can taste delicious water. Also, as many hot springs are scattered, we recommend that you enjoy the hot spring in Niseko by using hot spring pass etc.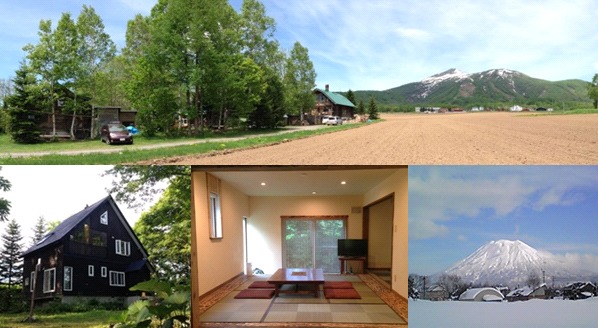 Street address
Niseko town character Soga 863 - 12 (5 minutes by car from JR Niseko Station)
Reservation · Inquiries
Phone number: 0136-44-2098
Floor plan
Cottage Tower 1st floor 2LDK
2nd floor 2 rooms
(Japanese tatami mat 10 tatami mat / flooring 7 tatami, three beds already arranged)
· Click on the accommodation information on the web and click on the cottage rakugo to see the photos in the room.
Long stay plan
10 days - 2 weeks 86,000 yen (use of 2 to 5 people)
One month 125,000 yen (use of 2 to 5 people)
· Possible period is from late March to early July, October to early December
· Because of renewal work, 2018 can not be used until the end of July.
· The heating expenses are separately charged at actual cost during the stove use period. Photochemical water fee, parking lots included. Please feel free to contact us as we can respond according to your request.
Benefits · Set plan etc.
· Discount coupon for outdoor experience
· Hot Spring Discount Coupon
· Ski resort lift · Gondola discount ticket
Main facilities
· Pets (Negotiable), Kitchen (Individual), Barbeque Corner, TV Washing Machine, Microwave Oven, Refrigerator, Rice Cooker, Dishes, Cookware, Oil Stove, Bedding, Internet Available, Bath, Shower, Hair Dryer, Vacuum Cleaner
niseko guesthouse nalu (Niseko guesthouse Nalu)
It is a newly built guesthouse of OPEN in December 2016.
The rooms have simple bedding and desk only, shower, kitchen, living room etc, so we encounter travelers. While there is private, it is also a facility with people.
Street address
Niseko town character Soga 480 - 30 (10 minutes by car from JR Niseko Station)
Reservation · Inquiries
Phone number: 0136-55-5725
Floor plan
Single Room & Twin Room (Kitchen, Shower)
Long stay plan
Summer only (April - November) Single room 40,000 yen per month
Twin room one month 80,000 yen
· We can respond according to your request, so please feel free to contact us.
Benefits · Set plan etc.
 
Main facilities
Internet use available, kitchen (shared), bath (communal), shower,
Barbecue set
LEE SPACE Niseko station front
Apartment that you can live in peace of mind safely in a rich environment surrounded by nature. In the vicinity there is Niseko Ekimae hot spring "Kurenu-yu" and Niseko Central Warehouse group, 2 minutes on foot from JR Niseko Station and good location.

Newly built condominium · All electrification · Auto lock · Card key · Delivery box · Interphone with TV · Giga · Wi-Fi compatible · Secom correspondence · Administrator permanent
 
Street address
Niseko Town Chuo District 60 - 7 (2 minutes on foot from JR Niseko Station)
Reservation · Inquiries
Phone number: 011-758-1211
Floor plan
1 K (2.5 K × 8)
Long stay plan
<Monthly> * Less than 6 months, in case of single use In case of other conditions, please call
Rent: 118,000 yen / month (Parking lot users add 5,400 yen / month)
Water utility water fee: 12,000 yen / month
※ Heating fee 10,000 yen / month for winter, 5,000 yen / month for snow removal (parking lot users only) Addition
※ Cleaning fee 17,000 yen at the time of contract, administrative fee 10,000 yen (tax not included)
 
Benefits · Set plan etc.
 
Main facilities
Internet use available, kitchen, bath
All electrification · auto lock · card key · IH stove · TV · refrigerator · washing machine · microwave · air purifier · vacuum cleaner · toilet with bed wash · bed · mail box · home delivery box · giga · Wi-Fi compatible · secom compatible · Managers living permanently
【Requested person only】
Parking lot · Futon set · kitchen complete · hairdryer · rice cooker · towel · bath towel
Inquiries regarding information on this page
Planning and Environment Division Autonomy Creation Division

TEL:

0136-44-2121

FAX:

0136-44-3500