Hometown juminhyo (certificate of residence) Connection with Donated Persons-(Starting October 1, 2018)
Why don't you make Niseko Town your hometown resident registration through your hometown tax payment?
With oldness and juminhyo (certificate of residence)...
The `` Hometown juminhyo (certificate of residence) '' is designed to make it easier for people who want to have and get involved in areas other than their hometown to work, care, disaster, hometown tax, etc. This is an initiative started in H28.2 as a joint caller of the policy think tank "Concept Japan" and the leaders of the whole country who support it.
Niseko Town, it started from 2018.10.1 and it is the 8th local government in Japan (first in Hokkaido).
Niseko Town hometown of juminhyo (certificate of residence) features of ...
There is no spectacular benefit. . . Those who want to connect and support the hometown of the heart rather than the privilege.
We are waiting for the registration of those who understand this system which is still under development "supple". 
To have your hometown juminhyo (certificate of residence) registered ...
Of those who donated 10,000 yen or more in Niseko Town Hometown donation (hometown tax payment), those who wish to have a hometown juminhyo (certificate of residence), please submit a registration notification form.
* From 2018.10.1 onwards I will assume from those who apply for donation.
※ We will send the form to those who contributed.
For those who have registered on your hometown juminhyo (certificate of residence)...
■ Furusato Resident Card "Niseko Uncard" Issued
■ Information on the town is delivered through the homepage of the town
■ Utilization of public facilities at townspeople rate

[Under consideration now! ]
■ We may distribute Niseko information mail magazines about events and town planning
■ Niseko Town community FM "Radio Niseko"
Maybe you can also visit mayor's room
※ We are planning to add new ideas to deepen our connections and to grow it!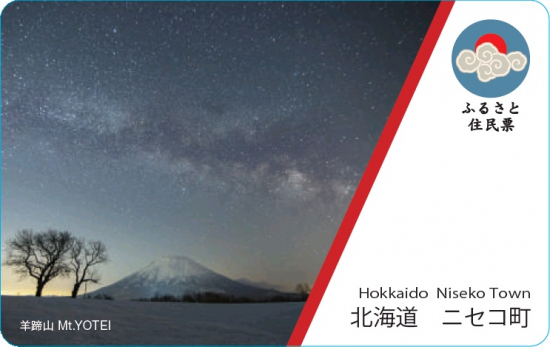 "Niseko uncard" surface
"Niseko Uncard" comes with a serial number and is a "you only one" card.
From the past to the future the beautiful picture of Niseko's starry sky is designed and the meaning means that if you look up at the sky you are connected somewhere.



What is "Nisekoan" ...


An old place name in Niseko Town derived from Ainu language. The place name "Nisekoan" appears in a novel by Takeo Arishima, a great writer of the Taisho era, who freed the farm to peasants with the spirit of "mutual assistance" that still takes root in Niseko. Also, "Ann" has the meaning of "~" in the Ainu language and is a Niseko card! I want you to spread it as.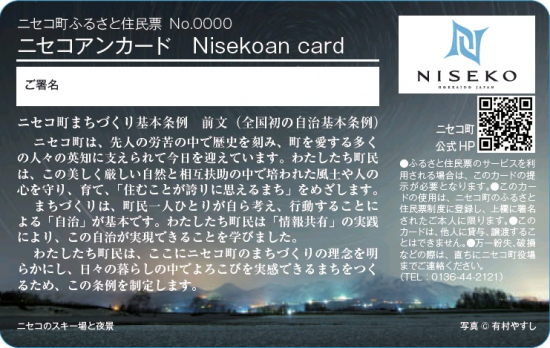 "Niseko Uncard" Back
The role of everyone's hometown ...
Continue to love 〇 Niseko Town as your hometown
こ と Have an interest in Niseko Town, try to get information about the town yourself, and ask your hometown residents what they can do in their hometown.
魅力 You have to publicize the appeal of Niseko Town
Please take care of your connection with 456 Niseko Town
〇 Visit Niseko Town yourself to experience its appeal
〇 Niseko Town to help improve the attractiveness
〇Understanding the Niseko Town Basic Regulations of Community Development and having an interest in the town development of Niseko Town

We will wait for registration of those who understandably understand the above role and who can cooperate!
 
"Niseko Ancard" No. 1 issuance ceremony was held!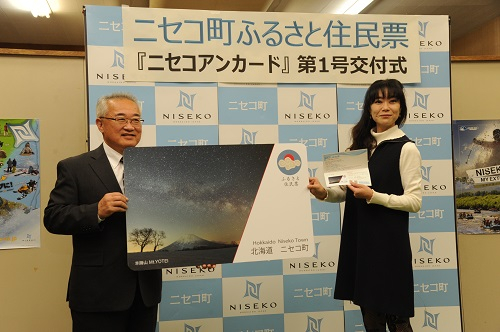 State of the 1st issue ceremony
The first grant ceremony of the Niseko Town Hometown juminhyo (certificate of residence) "Niseko An Card" was held at H30.10.29.
The first prosperous is Waka Inoue who lives in Tokyo. A large Niseko fan who was impressed by Mt. Yotei and the nature she saw for the first time when she first visited Niseko Town several years ago, and has been returning home every few months since then. In front of the grant formula, Niseko Town of
Community FM "Radio Niseko"
He also said, "I also like the people of Niseko who will accept visitors, I would like to deepen ties with local people in the future and do something useful for Niseko as well."
Looking forward to the registration of lots of everyone in the future!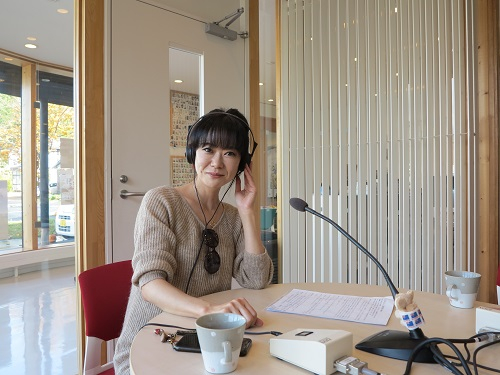 Recording at Radio Niseko
Radio Niseko also recorded the "Houron" after appearing on live broadcasts.
From Radio Niseko, Inoue will inform you 9 AM!
Inquiries regarding information on this page
Niseko Town Hall

TEL:

0136-44-2121

FAX:

0136-44-3500