Furosato Tax Payment One Stop Special Exception System
With hometown tax payment one-stop exception system, when application is made at the time of donation, the local government (Niseko Town) of the donation notifies the municipalities of the address where you live to the contents of the application, and the hometown tax of the next fiscal year Such donation deductions will be made.
In case of making a final return, it will be reduced from income tax and individual resident 's tax respectively, but in the case of one - stop special exemption system, it will be alleviated collectively from resident' s tax including the reduction amount of income tax.
For detailed information on this system, please see the following documents.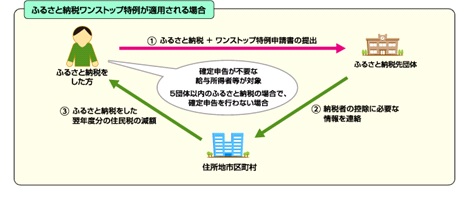 One-stop special exemption system available
Who is applicable to both 1 and 2 below is eligible.
1, Those who do not need to declare income tax or resident 's tax, except for the purpose of receiving donation deduction for hometown tax payment.
NOTE For self-employed persons who are required to file a final return, salaried income earners or pension income earners, those who make a final tax return on medical expenses deduction etc. are not eligible.
2. Those who are expected to have fewer than 5 groups of municipalities donating their hometowns for the year.
Procedure method
1, We will send "Declaration Special Application Form" to those who donated.
2, If you wish to have a one-stop special exemption system, please fill in the "Declaration Special Application Form" (Note 2) with reference to the following entry example (Note 1) and seal it.
3, Please prepare the following documents.
· Person who has personal number card
Copy of personal number card (front and back)
· Those who do not have a personal number card
Personal number confirmation documents (copy of juminhyo (certificate of residence) with notification card or personal number)
Personal identification document (copy of identification card such as driver's license or passport)
4, Please send a copy of "Declaration Special Application Form" and a copy of Personal Number Confirmation Documents / Identification Documents.
​
Niseko Town Office Planning Environment Section Management Planning Section
5. After confirming the tax return exception application form in Niseko Town, we will send you a receipt.
When there is a change in the contents of the application form
If there is a change in address, etc. after the submission of the application (between the date of donation and January 1 of the following year), the application form change notice (note 1 Please be aware that it will be necessary to submit).
Inquiries regarding information on this page
Planning & Environment Division, Business Planning Division

TEL:

0136-44-2121

FAX:

0136-44-3500