Fun children's art exhibition
"Fun children's art exhibition" held award-winning works of a nationwide painting competition and was held for four years from 1992 (Heisei 3).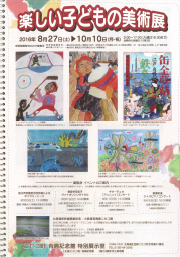 Fun children's art exhibition
Those works were exhibited in a round-the-world exhibition throughout the country and have enjoyed the eyes of many people over a long period of time.
Even after the end of this tour it is still being continued even now, with the cooperation of organizations organized by the competition.

This year, in addition to traveling around Abashiri Municipal Museum of Art, Shari Town / Yume Hall Shiretoko, Tonamachi Regional Center, we also hold at the hotel which inherits the spirit of art promotion of Arishima Takeo.
Please watch works drawn by overseas children, including all over Japan.
It is surely possible to meet interesting works.
Simultaneous holding
Duration
Saturday, August 27, 2016 ~ October 10 (Monday · holiday)
(Closed during the exhibition: October 3)
Venue
Arishima Takeo Memorial Museum Special Exhibition Room
Price
Viewable only with permanent exhibition fee
Access · Transportation Information
Arishima Memorial Museum
〒048-1531 57 Arishima, Niseko Town Abuta-gun, Hokkaido
電話番号:0136-44-3245
FAX番号:0136-55-8484
Inquiries regarding information on this page
Niseko Town Arishima Takeo Memorial Museum

TEL:

0136-44-3245

FAX:

0136-55-8484