Usage guidance (price, opening guidance)
location
57 Arishima, Niseko Town Abuta-gun, Hokkaido
TEL:
0136-44-3245
Fax number
0136-55-8484
Opening hours
9 am - 5 pm
(Admission until 4:30 pm)
Closed
Every Monday and New Year's Holiday
Admission fee
 
grown up
High school student
Junior high school student
65 years of age or older of Niseko Town people
個人
500 yen
100 yen
free
free
Groups 10 or more
400 yen
-
-
-
Annual passport
(Valid for one year from issue date)
800 yen
200 yen
-
-
Arisima Memorial Hall Annual Passport
Since April 1, 2017, the design of "annual passport" has increased.
The annual admission ticket of the hotel can choose your favorite design from the prepared one. 
"Arishima Takeo"
"Profiles of Frances" (Takeshi Arishima)
"Wind blowing on Arishima" (Fujikura Hideyuki)
 
Fujikura Hideyuki is responsible for the cover paper of the JR Hokkaido in-vehicle magazine "The JR Hokkaido" for over 20 years, and works are also used for product packages such as Rokkatei, etc. The style is familiar to many people.
Also, many works by Ms. Fujikura are stored in the Arishima Memorial Hall.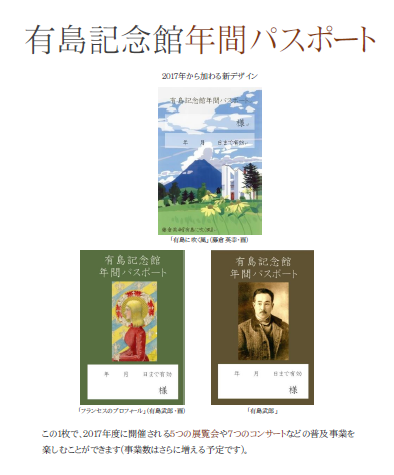 Price
General 800 yen
High school student ¥ 200
expiration date
One year from the date of purchase, you can enter as many times as you want.
Benefits
Drink menu of book cafe (Arishima Memorial Hall × Takano coffee shop) will be 100 yen discount.
Procedure to purchase your passport
Please fill out the necessary items on "Annual passport application form" at Arishima Memorial Hall reception desk.
Pay the fee and pick up the receipt.
Because it takes some time to issue, we will exchange by reception at the time of returning. Please present a receipt at that time.
Please bring your student ID card when purchasing a passport for high school students.
Annual passport application form
Notes on use
One person can enter the annual passport during the valid period stated.
Please present "Annual Passport" to reception desk at entry. (If you forget on the day of use, if you lose it, you will have a regular admission fee even during the validity period.)
We do not refund and reprint "Annual Passport", please be aware.
Inquiries regarding information on this page
Niseko Town Arishima Memorial Hall

TEL:

0136-44-3245

FAX:

0136-55-8484