Mini exhibition Shigetomo Maekawa Photo Exhibition
We are holding the "Maigakuri Shigetoh Photo Exhibition Niseko's Living Living Living Life Mt. Yotei Mountains Life" at the hotel.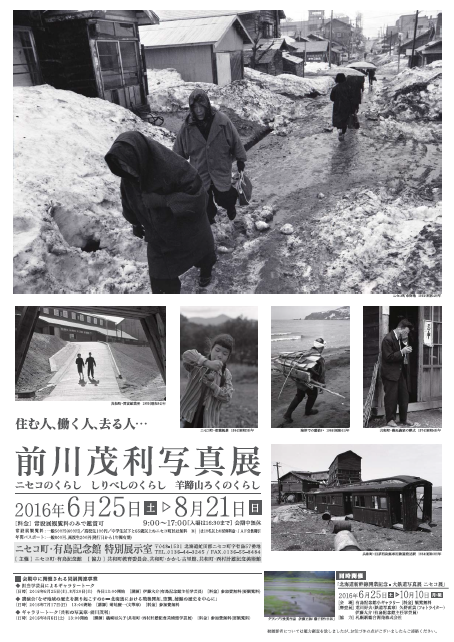 Maekawa Shigeto Photo exhibition flyer
Maekawa Shigeto [1930 (Showa 5 years) ~ 1999 (Heisei 11 years)] was born in Ozawa village (now · Kocha cho Ozawa) as the second generation of a pioneering farmer. From 1948 (Showa 23) he worked as a sales clerk at the Ozawa post office, and since the inauguration of the so-called "post-war settlements" settlement by Ozawa settlements where inexperienced farmers such as Karafuto and other victims of war damage settled I will start shooting people's lives. The subjects to be photographed are not limited to that, but also in the mountain villages and fishing villages of Shimpei, records of the people's activities and climate of those areas from the Showa 20's through the high economic growth period to the Heisei period It is a continuing photographer.
 
Maekawa also visits Niseko (Karita) town, where the Arishima Memorial Hall is located. And I took a close look at the scenery of the farming work before the mechanization, which was carried out by the whole family, and now the scene of the city of Niseko Town that was lost, and left it in my work.
 
Maegawa's death after 2013 (Heisei 20th), negatives and prints of tens of thousands of works are donated to the Kakazato · Kakashi Kori-kan by the bereaved families, and survey and research by the Kyowa-cho Board of Education It is being advanced. And it is becoming clear that these Maekawa materials have value as photographic work plus valuable local folk materials in Koshika and other posthumous areas.
In this exhibition, from the master of Maekawa Movies holdings Republic Town, scarecrows Folk Museum, unpublished, etc. Photos and exhibition Niseko Town in the center of the photographed work in, was Utsushito' the mountain fishing village of Mount Yotei good and Shiribeshi Works will also be exhibited. Through these works, I would like to introduce the changes in the cityscape in each region of Shimoshi and the activities of the people who lived there, and also to learn some of Maekawa's activities in Shimoshi.
 
Last but not least, everyone of the Kyowa-cho Board of Education (Kawa-cho and Kokashi Kuri-kan) who holds the original, Maekawa Hatsue, the successor of copyrights and family members, in holding this exhibition , Ayako Isozaki (Kyowa-cho, Takeshi Nishimura Memorial Art Museum) who gave me advise on the work survey, and gave a lot of cooperation to many people. Thank you very much.
Simultaneous holding
Duration
Saturday, June 25, 2016 - Sunday, August 21, 2016
Related business
Gallery talk by curator in charge
[Date and time] Saturday, June 25, 2016, August 20 (Saturday) Start 13 o'clock each day
 
Lecture "Why to dig up the history of the area - focusing on the history of the postwar era, air raids and whaling in Hokkaido"
[Date and time] Started 13:00 on Sunday, July 17, 2016
[Instructor] Keikichi Kikuchi (writer)
 
Gallery Talk "Photographer of Kyowa, Maigari Maekawa"
[Date and time] Started 13:00 on Saturday August 6, 2016
[Instructor] Isozaki Ayako (Curator, Toshio Nishimura Memorial Art Museum Curator)
Venue
Arisima Memorial Museum Special Exhibition Room
Price
Viewable only with permanent exhibition fee
Access · Transportation Information
Arishima Memorial Museum
〒048-1531 57 Arishima, Niseko Town Abuta-gun, Hokkaido
Phone: 0136-44-3245
Fax: 0136-55-8484
Inquiries regarding information on this page
Niseko Town Arishima Memorial Hall

TEL:

0136-44-3245

FAX:

0136-55-8484