Katou Tatsuya exhibition "1500 CC" - Arisima Memorial Museum Young artist exhibition 6 -
_ We are going to hold "Katou Tatsuya Exhibition 1500 CCC" as "Arishima Memorial Museum Young Artists Exhibition 6" at this time.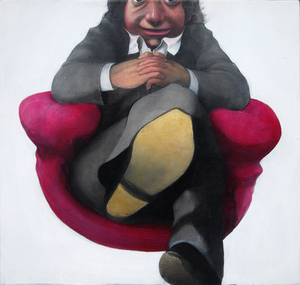 Katootatsuya "Red sofa"
_ Akira Arishima, the honorable priest, is a novelist in the Shirakaba group representing the Taisho era, and also has a great footprint in art history in Hokkaido during the Meiji Era. In 1908 (Meiji 41), I will be involved in the establishment of the Tohoku Imperial University Agricultural University (present · Hokkaido University) art club · Kuroyubo association. In addition to publishing paintings drawn by himself at the same association solo exhibition, Takeo introduced exhibits and exhibitions of late impressionist duplicating paintings and Rodin sculptures from the fact that he is also a citizen of "Shirakaba" who has an aspect as a fine art magazine, and introduced Hokkaido I am contributing to art promotion in Japan at the beginning.
_ Kimijiro Kida is a young person who was deeply impressed by Mr. Takeo's painting work at this Kurosuru-kai exhibition. As a result of this, the two have friends. And Kida receives the encouragement of Mr. Takeo, and it confronts the nature of the local town and Iwanai, and it keeps lonely paintings. Also, with this encounter between Takeo and Kida modeled, Takeo's novel "Birth of Tears" was announced.
_ The hotel embodies the thought of the writer in modern times by doing business with such spirit of promoting art of Takeo and inheriting the spirit of supporting young artists. Since 1989, we have held the "Takeobi Arishima Youth Public Art Painting Exhibition" for junior high and high school students. Also, for artists under the age of 35 who are active around Hokkaido, from 2010, "Heisei's" birth trouble contest "of Heisei is aimed at" Kojiro Kida Museum of Art "(Iwanai cho) and Village of Hokkaido cultivation ( Sapporo City) to provide opportunities to present young artists. This contest is a contest of a different color, in addition to the work, the subjects of the artist are also subject to judgment, and the judges elect an artist who wants to support. And we have held the "Arishima Memorial Museum Young Artists Exhibition" series which introduces the activities of young artists who are generally under 50 years old and active since 2013.
_ Katou Tatsuya [Born in Sapporo in 1982] began drawing from the high school days and entered Kanazawa College of Art and Design. And it is said that touching Buddhist paintings etc. in the cultural foundation different from Hokkaido such as Kyoto is affecting the current style. This can be seen as an abstract background and a composition of concrete figures. Also, in recent years, in addition to undertaking "The Island of Tomb Perse (Death)" series which has built "myths" by themselves and projects their view of the world on the work, I imprinted the work on T-shirts and actually wore it We are coloring people, and at that time we are doing activities such as trying to complete the work as a work. Through this exhibition, I hope that you will be able to know about the diverse work world of Katow and a wide range of activities of Kato himself and support you further.
___ _ _ _ _ _ _ _ _ _ _ _ _ _ _ _ _ _ _ _ _ _ _ _ _ _ _ _ _ _ _ _ _ _ _ _ _ _ _ _ _ _ _ _ _ _ _ _ _ _ _ _ _ _ _ _ _ _ _ _ _ _ _ _ _ _ _ _ _ _ _ _ _ _ _ _ _ _ _ _ _ _ _ _ _ Last but not least, I would like to express my gratitude to you here. (Titles omitted)
Postcard · Poster
Duration
March 18 (Saturday) to Friday, July 14, 2017
Venue
Arisima Memorial Museum Special Exhibition Room
Price

Viewable only with permanent exhibition fee
Access · Transportation Information
Arishima Memorial Hall
〒048-1531 57 Arishima, Niseko Town Abuta-gun, Hokkaido
Phone number: 0136-44-3245
Fax number: 0136-55-8484
Inquiries regarding information on this page
Niseko Town Arishima Memorial Hall

TEL:

0136-44-3245

FAX:

0136-55-8484