Overview of Arishima Takeo Memorial Museum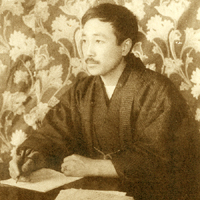 Takeshi Arishima
In order to promote the development of Hokkaido, the "Hokkaido National Landfill Law" was enacted in 1897 (Meiji 30), encouraging the settlement of the state-owned greenlands. The relationship between the Arishima family and Niseko begins when Takeo Arishima's father, Takeshi, applied for a loan in the Macaribetsu Wilderness (now Niseko Town) in 1898 (Meiji 31). Once returned for various reasons, the following year he reapplied in the name of his son-in-law, Naoyoshi Yamamoto, and received a loan permit. Since then, the number of settlers has increased due to the opening of railways, etc., and clearing has progressed rapidly. In 1908 (Meiji 41), Yamamoto Farm was renamed Takero. The following year, the farm passed the inspection and the whole area was granted by the Hokkaido Government free of charge. In 1914 (Taisho 3), the former Samura Farm was acquired and became the second farm. Takeo doubted the existence of a farm from his thoughts, and in 1922 (Taisho 11) after his father died, declared that he would free the farm to be shared by all tenants. That was the year before Takero died.
In 1924 (Taisho 13), the limited liability Karita Symbiosis Farm Credit Union was established, and farming was carried out in the spirit of "mutual aid" that Takeo wanted. However, in 1949 (Showa 24), the land was subject to agricultural land reform by the occupying forces, and the farms were dissolved, and the farmland became private property according to their respective shares. Later, the "Arishima Thanksgiving Association" was established to repay the favor of the former owner, and preserved and exhibited materials on Takero and the former farm at the former farm office. However, in May 1957, a fire caused by an accidental fire destroyed this memorial hall along with the former farm office. Fortunately, most of the collection was safely removed, and in July 1963, a reconstruction movement was launched, led by the Arishima Thanksgiving Party. The storey Arishima Takeo Memorial Museum was rebuilt. Eventually, due to management problems and the deterioration of the hall, a new memorial hall was built by the town to commemorate the 100th anniversary of Takeo Arishima's birth, and the collection of farm materials preserved by the Arishima Gratitude Association was restored. The Arishima Arishima Takeo Memorial Museum of the town construction.
Niseko has also appeared in Takeo's work. The novel, The Descendants of Cain, is a work set in Karita (currently Niseko Town) depicting a farmer who cannot live in harmony with nature and society and lives instinctively in the wild. This work was evaluated as an authentic real-life novel, and Takero's position in the literary arts was established. In addition, it is the stage of a novel "Birthless Trouble", modeled on Kinjiro Kida, and a short novel "Parent-Child" depicting the conflict between father and son over farming.
Inquiries regarding information on this page
Niseko Town Arishima Takeo Memorial Museum

TEL:

0136-44-3245

FAX:

0136-55-8484