Efforts to Revitalize Commercial Industries
Niseko Town, we support those who aim for a challenge and step-up in business! !
"I want to make a new shop"
"I want to borrow a vacant store"
"I'd like to expand my current store"
"I want to change business type of store"
に対して、
工事費の一部助成を行っています。
また、ビジネススクールを開催しています。
地元商工会がワンストップ相談窓口となり、
ニセコ町と連携して創業支援に取り組んでいます。
Support business for Niseko Town entrepreneurs
Niseko Town within, against those who aim for expansion, such as aggressive business development of the conversion or place of business of a person or industry to new entrepreneurs and newly established or inherited himself a small business, a part of the renovation costs Subsidize


For details, please see the following page.
Niseko Business School
ニセコ町商工会が主催する無料の「ニセコビジネススクール」。
小樽商科大学など、大学機関・専門家と連携して実施しています。

  〇受講対象:創業予定者、創業間もない方、事業継承予定者、新事業展開を考えている方など

開催の予定などは、以下の商工会HPなどでご確認ください。
創業支援のワンストップ相談窓口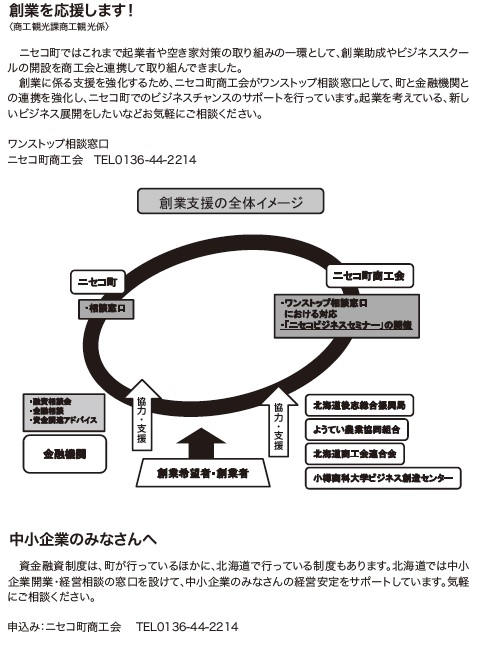 Contact Information
| | | |
| --- | --- | --- |
| Inquiries | TEL: | Fax number |
| Niseko Town Chamber of Commerce | 0136-44-2214 | 0136-44-1173 |
| Commerce and Tourism Division Commerce and Tourism Section | 0136-44-2121 | 0136-44-3500 |
Inquiries regarding information on this page
Commerce and Tourism Division Commerce and Tourism Section

TEL:

0136-44-2121

FAX:

0136-44-3500