cooling off
What is cooling off?
There is a possibility that a contract such as a surprise sales with high unexpected visit sales or a telephone solicitation sale or a transaction of a special sale method such as multimarket law · internal employment business law can not be judged calmly by a consumer. Cooling off is a system that gives consumers a deliberation period for a certain period of time for such sales methods and allows consumers to unilaterally withdraw applications and cancel contracts within that period. Consider that consumers think cool and have the opportunity to leave the contract (off).
Cooling off is stipulated that businesses can not claim compensation or penalty for consumers from businesses if they offer in writing in writing within that period.
Procedure as soon as possible!
The period during which you can cool off
period
Contents
8 days
Door-to-door sales
· Visit sales to home or work
· Catch sales
· Appointment Sales
· SF Commercial Law
Telephone solicitation sales
Specific Continuous Service Offers
· Esthetic salon
· Language classes
· Dispatch of family teachers
· Learning cram school
· Computer classroom
· Marriage partner introduction service
20 days
Multilevel sales transaction
· MLM
Business offer induced sales transaction
· Internal job
· Monitor Commercial Law
The period is the first day when you receive the contract.
How to cool off
You must notify the cooling-off in writing. Please fill out the items of the example described on the postcard such as a postcard, take both sides of the document for copying, and mail it in a way that records such as "specific record mail" or "simple registered mail" will remain . Also, if you have a credit agreement, you need to notify the credit company and dealer at the same time. Please keep the copy of the postcard and the receipt of the post office for the proof for 5 years.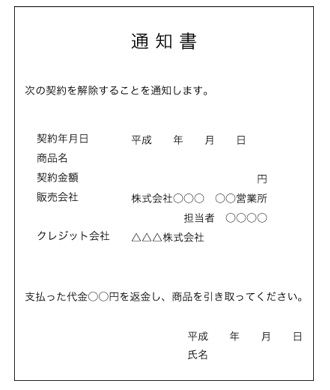 To be careful
Cooling-off period will be counted including the day when contract document is received. Even if you use the product or the construction is over, you can cool it off within the period.
Things that can not be turned off
When consumed and used the designated consumables such as cosmetics and health foods
(Cooling off is available for unused parts)
Contract with less than 3,000 yen total in cash transaction
Auto and auto leasing contracts
Electricity, city gas, supply of heat, contracts on funeral etc.
Even if the cooling-off period has passed, depending on the opponent you may be allowed to return goods so please do not give up and consult the consultation window.
Inquiries regarding information on this page
Niseko Town Hall

TEL:

0136-44-2121

FAX:

0136-44-3500