Live safely and lively
Medical facility
Medical corporation Niseko clinic
〒048-1501
2-11 Fujimi, Niseko Town Abuta-gun, Hokkaido
電話番号:0136-44-2201
Internal medicine · pediatric · surgery · orthopedic · dermatology · otolaryngology
Medical Corporation Corporation Kikuchi Dental Clinic Niseko Clinic
〒048-1501
Fujimi 49, Niseko Town Abuta-gun, Hokkaido
電話番号:0136-44-2201
Niseko dentistry
〒048-1531
8-136 Arishima, Niseko Town Abuta-gun, Hokkaido
電話番号:0136-43-2225
JA Hokkaido Heiseikai Kutchan A welfare hospital
Neighborhood general hospital · human dog
〒044-0004
Hokkaido Abuta-gun Kutchan-cho Northeast 4-east 1 - chome 2
電話番号:0136-22-1141
Elderly welfare facilities
Special nursing home for the elderly Niseko Heights
Designated long-term care aged facilities, short stay, day service, group home, in-home care support.
Niseko Town Local Elderly Care Management Center
On-site health and welfare section (consultation and support for elderly people and their families · care prevention project)
Niseko Town Council of Social Welfare
Welfare / welfare consultation, snow removal dispatching service (elderly household), meal service, home helper dispatch.
Welfare facilities for people with disabilities
NPO corporation Niseko living house
In addition to providing opportunities for creative activities and production activities to residents with disabilities who are difficult to employ and work in the area, we will conduct business such as promoting exchange with society.
Snow removal of town road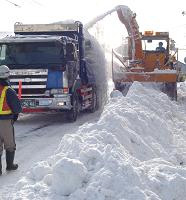 Snow removal landscape
Niseko Town has entrusted a private business operator to remove snow on a planned snow removal route of approximately 118 km in length.
Snow removal standard of town road (Heisei 20 years)
Snow cover 12.5 cm or more
Strong wind-up etc
Snow removal service
Senior citizen's driveway snow removal (Health and Welfare Section)
Household with only 65 years old and over where the length of the driveway where snow removal is 30 m or more from the public road etc.
Elderly people snow removal service (social welfare council)
Elderly people only Snow removal around houses' houses (Primary burden 100 yen / 1 hour)
生活道路除雪費補助(都市建設課)
Snow removal expense assistance for living roads (with conditions) on the route where the town has not snow-removed
Inquiries regarding information on this page
Planning and Environment Division Autonomy Creation Division

TEL:

0136-44-2121

FAX:

0136-44-3500