About traffic regulation and fence expansion accompanying construction of Niseko Town Hall New Government Building
About removal of iron plate in front of children's hall and passage for pedestrians
In the town, 2021 as planned, we are proceeding with the construction of a new government building by restricting traffic on the town road. In addition, due to changes in the handling of school buses due to traffic regulations, we are currently cooperating with the regulation of some parking hours.
Currently, the operation of the school bus leaving school is changed to the handling of turning and dispatching on the iron plate in front of the children's building, but from the following date and time, the handling will be changed to the conventional one-way dispatch. have become. As a result, we have decided to cancel the parking time regulation.
In addition, the iron plate used as a turning space and the passage for pedestrians will be removed at the following date and time because it will interfere with snow removal. Regarding the site where the iron plate was removed, we plan to take measures when removing snow so that we can secure a space for about 5 cars as a parking space for transportation. (However, please note that it may not be possible to secure it because it is difficult to remove snow until it has cooled to some extent.)
We apologize for any inconvenience caused by the construction of the new government building, and we would appreciate your understanding and cooperation.
Change the school bus dispatch method
Date: 2020 (2020) From November 24th (Tuesday)
Contents: The turn will be canceled and the one-way street will be used as before.
Removal of turning space / parking lot (iron plate) and pedestrian passage
Date: 2020 (2020) November 21st (Sat)
Parking time regulation on the site where the iron plate was removed
There are no restrictions.
Construction period
2021 (2021) Until February 28 (No construction will be done on Sundays and public holidays)
Traffic regulation time
Weekdays: From 8:15 to 17:00
Saturday: From 8:00 to 20:00
(Time may be mixed up)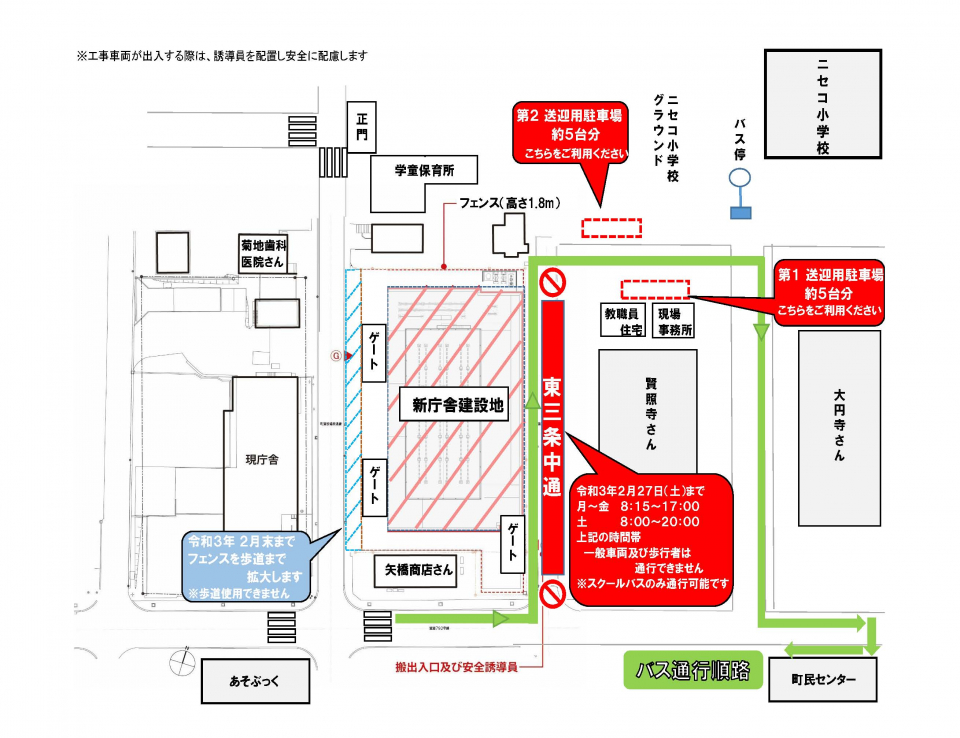 Inquiries regarding information on this page
Construction Division

TEL:

0136-44-2121

FAX:

0136-44-3500