Komazawa Chihiro Exhibition "Sorari no Mori" - Arishima Memorial Museum Young Artists Exhibition IV Heisei's "Birth Issues" Contest Winner
Japanese Paintings Exhibition Komazawa Chinami "Forest in the Sky"
We are pleased to announce the "Komazawa Chihiro Exhibition" as the "Arisima Memorial Museum Young Artists Exhibition IV" from December 2015.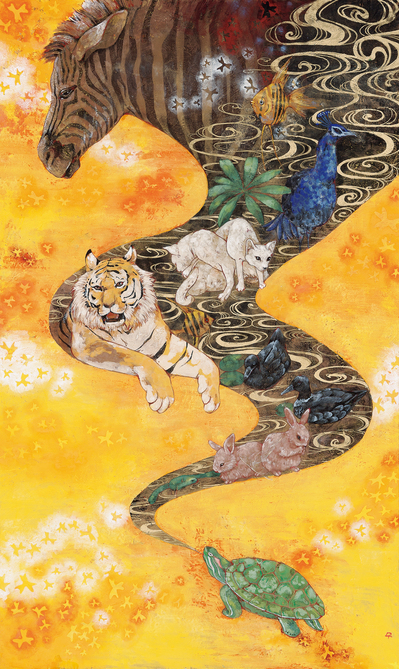 Komazawa Chihiro "Tributary" 2015
Akira Arishima, the honorable priest, is a novelist of Shirakaba who is representative of the Taisho era and has a great footprint in art history in Hokkaido during the Meiji Era. In 1908 (Meiji 41), I will be involved in the creation of Tohoku Imperial University Agricultural University (present · Hokkaido University) art club · Kurosuri. In addition to presenting paintings drawn by himself at the same solo exhibition, Takeo exhibited and exhibited copies of late Impressionists' copies and sculptures by Rodin because it is also a daughter of "Shirakaba" who has an aspect as an art magazine .

It was Kijiro Kida of young people who was deeply impressed by Takeo's painting work at this solo exhibition. As a result of this, the two have friends. And Kida receives the encouragement of Mr. Takeo, and it confronts the nature of the local town and Iwanai, and it keeps lonely paintings. Also, with this encounter between Takeo and Kida modeled, Takeo's novel "Birth of Tears" was announced.
In 1989, we held "Akira Arishima Youth Public Art Painting Exhibition" for junior and senior high school students, inheriting the spirit of encouraging Takeo's art promotion and young artists like this. In addition, for artists under the age of 35 who are active around Hokkaido, "Heisei's" Birth of the Healing Contest "for Heisei is scheduled every 2 years from 2010 to the Iwanai · Kinjiro Art Museum and Sapporo · Hokkaido Village Village We also provide opportunities for young artists to present. This contest is a contest of a different color, in addition to the work, the subjects of the artist are also subject to judgment, and the judges elect an artist who wants to support.
In this exhibition, we focused on the past three contest winners and invited two authors who continue their active activities in recent years.
As a Japanese painter, Komazawa Chihiro (first contest of the contest) has drawn a work with its own world view with motifs of animals and plants, making full use of its expressive power. It is a young artist who has exhibited many works in solo exhibitions and group exhibitions, and is vigorously performing creative activities. In this exhibition, we will introduce about 40 works (on the way, exhibition change, the number of works may be reduced). (Titles omitted)
Duration
Saturday, December 19, 2015 - Sunday, June 12, 2016
Related business
We will inform you as details are decided.
Venue

Arisima Memorial Museum Special Exhibition Room
Exhibition Poster · Postcard
Price

Viewable only with permanent exhibition fee
Access · Transportation Information
Arishima Memorial Hall
〒048-1531 57 Arishima, Niseko Town Abuta-gun, Hokkaido
電話番号:0136-44-3245
FAX番号:0136-55-8484
Inquiries regarding information on this page
Niseko Town Arishima Memorial Hall

TEL:

0136-44-3245

FAX:

0136-55-8484