The designated situation such as earth and sand disaster caution areas
2020 (2020) January 10
There are 27 places where there is a risk of earth and sand disaster in the town. We specify these areas in detail while investigating these danger points in detail. Currently, there are 19 landslide disaster warning areas and 9 landslide disaster special warning areas in the town. The landslide disaster warning zone and the landslide disaster special warning zone are designated as areas based on the Sediment Disaster Prevention Law and are likely to suffer landslide disasters.
We recognize earth and sand disaster caution area and special caution area of the area to live, dangerous spot, and let's prepare and act to protect oneself.
Sediment-related disaster warning area based on sediment-related disaster prevention law · Special alert area
About list, map of designated situation in the town, please see this.
Evacuation behaviors to be taken by townspeople
Precursor phenomenon of landslide disaster
If you are aware of the following phenomenon, sediment-related disasters may occur immediately. Immediately evacuate to the surrounding people and safe place, please report to the office or fire department.
Debris flow
A mountain bouncy and a rumbling
Although the rain continues, the water level of the river drops
Landslide
The flow of the river is cloudy and driftwood starts mixing
Pebbles are falling flat from the slope
Crack on the ground
Water runs off the slope
Once evacuation information has been announced
Niseko Town, evacuation information will be announced through public relations vehicles, disaster prevention radio (FM76.2MHz), websites, SNS, etc. Due to technical limitations, it may not be possible to cope with local abnormal weather (such as heavy rain). Evacuation information does not prevent voluntary evacuation according to each judgment. Regardless of whether or not evacuation information has been announced, take action to protect your life as soon as you feel danger.
Alert level
Evacuation information
Behavior to be taken
Warning level 3
Evacuation preparation, elderly people start evacuation
・ Considerations who require time for evacuation action need consideration person starts evacuation action to planned evacuation facilities (evacuation supporter starts support action)
· Residents, etc. other than the above, start preparations for evacuation, such as communication with family members, preparation for emergency exit listings
Warning level 4
Evacuation advisory
Evacuation order (emergency)
・ Inhabitants who can perform normal refuge action start refuge action to designated emergency refuge place, designated refuge
・ Evacuate to a safe place in the neighborhood if you decide that evacuation to a designated emergency evacuation place or designated evacuation place poses a risk to life under extremely high risk of occurrence of a disaster.
Warning level 5
Disaster occurrence information
There is a situation where a disaster has already occurred, and we will do our best to protect our lives.
Learn more about alert levels here.
Designated emergency evacuation site, designated shelter
Please see here for designated emergency evacuation areas and designated shelters in the town.
Sediment-related disaster hazard
Niseko Town Disaster Prevention Guide Map (Issued March 2016)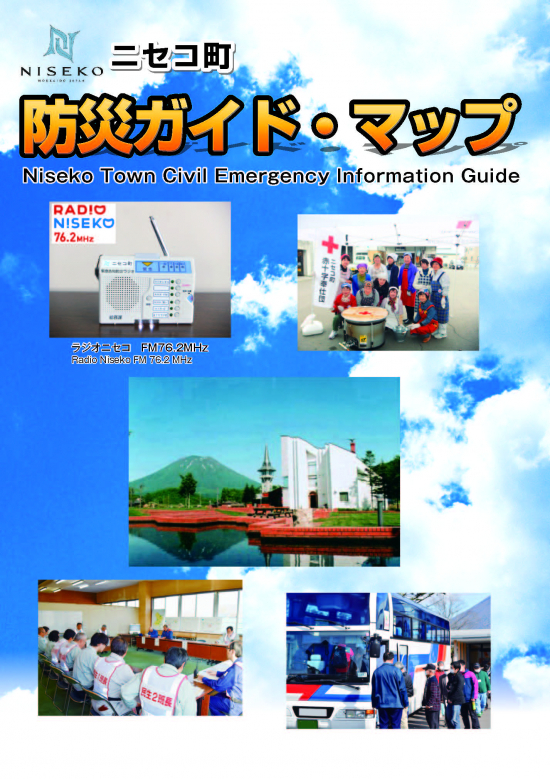 We provide useful information such as list of evacuation centers, measures against various disasters, emergency holdings etc. in case of disaster.
Those who need a disaster prevention guide map please come to the general affairs section disaster prevention section of the office.
Ministry of Land, Infrastructure and Transport Hazard Map Portal Site
You can see the hazard map across the country.
Inquiries regarding information on this page
General Affairs Division, Disaster Prevention Section

TEL:

0136-44-2121

FAX:

0136-44-3500