Addressing climate change issues
2050 CO2 emissions are virtually zero (Niseko Town Climate Emergency Declaration)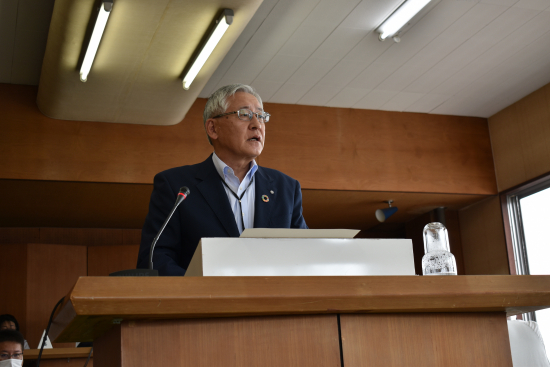 2020.7.21 Mayor declares climate emergency in Niseko Town
In recent years, global warming has progressed rapidly and many serious weather disasters have occurred. Regarding the greenhouse gas, which is a major factor in this, a special report released by the IPCC (UN Intergovernmental Panel on Climate Change) in 2018 stated that ``temperature rise is twice To reduce the risk to 1.5 degrees, it is necessary to reduce emissions to virtually zero by 2050."
To achieve these goals, Niseko Town also announced in July 2020 (2020) that it would be necessary to fully recognize that climate change is in a critical situation, and then by 2050 We have announced that we aim to achieve virtually zero carbon emissions (zero carbon).
Going forward, efforts will be made from both "mitigation" to reduce greenhouse gas emissions and "adaptation" to adjust the nature and society in response to the effects of climate change that are already occurring or may occur. We will consider and implement it.
 
* You can download it below "Niseko Town Climate Emergency Declaration"
 
ニセコ町気候変動適用方針の策定について
(1)策定の目的
 気候変動への対処を明確にし、町民の暮らしや産業への影響をできる限り緩和し、将来にわったって暮らしを持続することができるよう取り組むため、「ニセコ町気候変動適応方針」 (以下「方針」という。) を策定し、本 町の考え方を明らかにする 。

(2)位置づけ
 本町が取組を進めていく気候変動への適応に関し、現時点での方針を取りまとめる。
 なお、方針の期間は特に定めないが、おおむね5年ごとに見直しを行い、社会情勢や国の施策の変化などに応じて、必要があれば改定を行う。


 詳細については、下記をご参照ください。
Inquiries regarding information on this page
Planning Environment Division Eco-Model City Promotion Section

TEL:

0136-44-2121

FAX:

0136-44-3500