Addressing climate change issues
2050 Co2 emissions are virtually zero (Niseko Town Climate Emergency Declaration)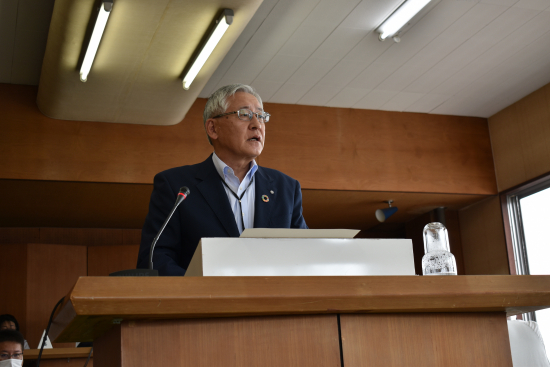 2020.7.21 Mayor declares climate emergency in Niseko Town
In recent years, global warming has progressed rapidly and many serious weather disasters have occurred. Regarding the greenhouse gas, which is a major factor in this, a special report released by the IPCC (UN Intergovernmental Panel on Climate Change) in 2018 stated that "To ensure the temperature does not rise by 2 degrees, but by 1.5 degrees which is a lesser risk, it is necessary to reduce emissions to virtually zero by 2050."
To achieve these goals, Niseko Town also announced in July 2020 (2020) that it would be necessary to fully recognize that climate change is in a critical situation, and then by 2050 we have announced that we aim to achieve virtually zero carbon emissions (zero carbon).
Going forward, we will consider and implement initiatives from both the perspectives of mitigation, which curbs greenhouse gas emissions, and adaptation, which addresses the effects of climate change that are already occurring or may occur, and adjusts the way nature and society should be.
 
* You can download it below "Niseko Town Climate Emergency Declaration"
 
ニセコ町気候変動適用方針の策定について
(1)策定の目的
In order to clarify the response to climate change, to mitigate the impact on the lives and industries of the townspeople as much as possible, and to make efforts to ensure that their livelihoods can be sustained in the future, the "Niseko Town Climate Change Adaptation Policy" (hereinafter referred to as the "Policy") was formulated, and clarifies the town's way of thinking.

(2)位置づけ
 本町が取組を進めていく気候変動への適応に関し、現時点での方針を取りまとめる。
 なお、方針の期間は特に定めないが、おおむね5年ごとに見直しを行い、社会情勢や国の施策の変化などに応じて、必要があれば改定を行う。


 詳細については、下記をご参照ください。
Town Development Townspeople lecture
2021年12月6日に開催した第204回まちづくり町民講座の様子です。

「世界での気候変動の議論と地域での脱炭素の取り組み」
講師 公益財団法人 地球環境戦略研究機構 上席研究員 藤野純一 氏
    下川町政策推進課SDGs推進戦略室 清水瞳 氏


こちら藤野氏の講演内容です。


こちら清水氏の講演内容です。
Inquiries regarding information on this page
Planning Environment Division Eco-Model City Promotion Section

TEL:

0136-44-2121

FAX:

0136-44-3500