Town Logo, Geography, History, Progress

Town chapter (enacted May 15, 1968)

町章
 町名の「ニ」、「セ」、「コ」を図案化したもので、「ニ」は雲を「セ」は山を、「コ」は流れを意味し、それぞれ青雲の志、不動の姿、不断の努力を表し、相対的には丸型の平和と結団を、山頂と山裾は飛躍と発展を、内側の白の部分は清らかな心と雪を象徴する。
Geography and location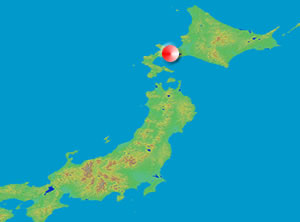 Niseko Town Location
Niseko Town is 140 degrees 48 minutes east longitude and 42 degrees 52 minutes north latitude. It is located in the western part of the center of Hokkaido, almost in the center of the Shirashi jurisdiction, and is surrounded by the mountains of Mt.
In the middle of the town is the Rishirigawa (2004 Shimami Nippon), where small and medium rivers such as the Konbu River, Nisekoanbetsu River, Makikawa River flow in.
It has an inland climate, the average temperature is 6.3 degrees Celsius, and the winter's deepest snow cover can reach as much as 200 cm.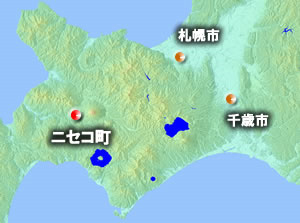 It is within 120 minutes by private car from Sapporo city and Chitose airport, within 90 minutes of private car from Otaru city.



Please see the following page for access to Niseko Town transportation.
Origin of Niseko Town
"Niseko" has the meaning of "A standing cliff" in the Ainu language.
In addition, "nupuri" means "mountain" in the Ainu language, and the mountain called "Niseko Annupuri" where there is a ski resort means in the Ainu language "a mountain with a distinct cliff (and a river beneath it)" Become.
History of Niseko Town
年
Contents
1895 (Meiji 28) year
I will enter Nishitomi, the first migrant of Honcho.
1897 (Meiji 30) year
It divides from Abuta Village and enters the area of ​​Makkari village.
1901 (Meiji 34) year
The village independence from Makkari village which is the neighboring village now.
Makari village character Makkari Satoru from "Taro Kimura" was named and established the office in Motomachi current.
1950 (Showa 25) year
Town regulation will be enforced.
Year 1964
Renamed Niseko Town.
2001 (Heisei 13) year
Niseko Town 100 years old. "Niseko Town Basic Regulations of Community Development" (Note 1) enforced.
For more information about the history of Niseko Town, please see the following page.
Inquiries regarding information on this page
General Affairs Section

TEL:

0136-44-2121

FAX:

0136-44-3500