[End] The 23rd Niseko Avalanche Meeting (December 26)
(No application required) Sightseeing / Events
Part 1 lecture materials
This event has ended.

Click here to download the materials (PDF) for the first lecture.
---
This meeting is for "slides" (people who enjoy skiing and snowboarding) and various people in the community, discussing together with related parties how to eliminate the winter mountain accident and thinking together. Anyone can participate, so feel free to come to the venue.
★ Sequential interpretation in English is planned.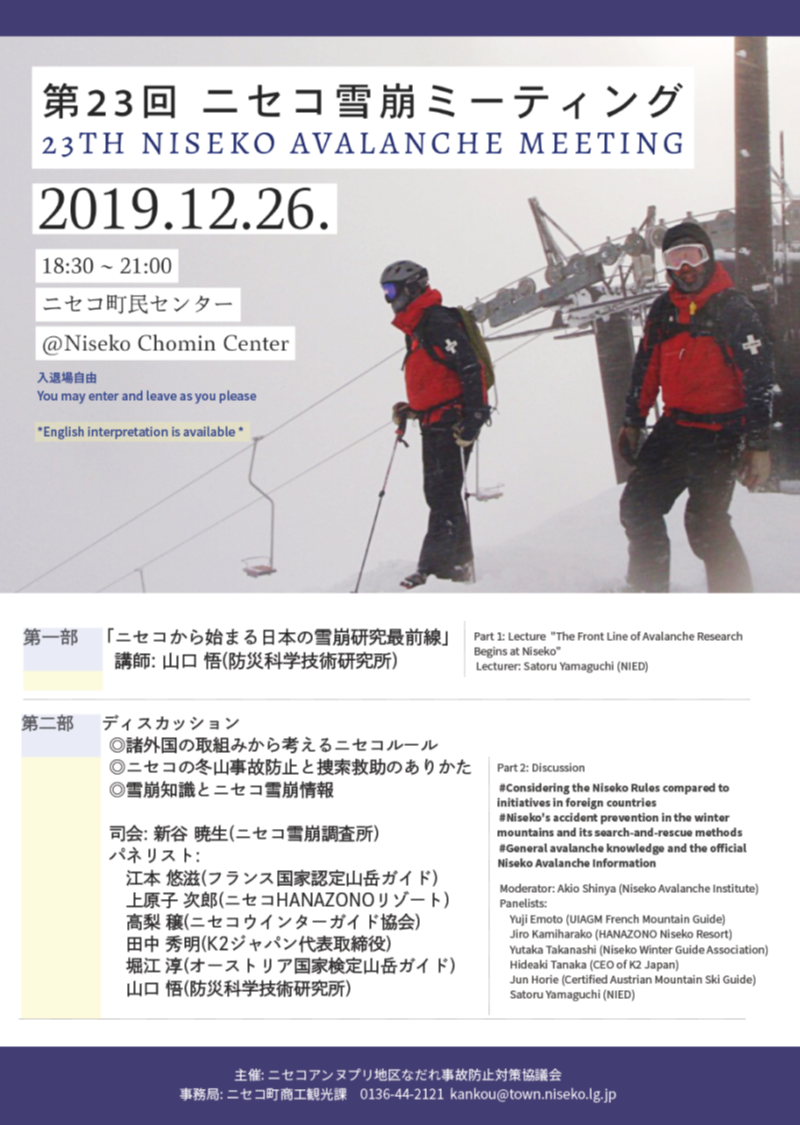 Contents
[Part 1: Lecture "The forefront of Japanese avalanche research starting from Niseko"]
● Lecturer: Satoru Yamaguchi (National Institute for Science and Technology for Disaster Prevention)
[Part 2: Discussion]
◎ Niseko rules based on foreign initiatives
◎ Niseko winter mountain accident prevention and search and rescue
◎ Avalanche knowledge and Niseko avalanche information
★ Chair: Yayoi Shintani (Niseko Avalanche Research Institute)
Panelists:
Yasushi Emoto (French national certified mountain guide)
Jiro Kami Atomic (Niseko HANAZONO Resort)
Satoshi Takanashi (Niseko Inter Guide Association)
Hideaki Tanaka (K2 Japan Representative Director)
Satoshi Horie (Austrian National Examination Mountain Guide)
Satoru Yamaguchi (National Institute for Science and Technology for Disaster Prevention)
event date
2019 (2019) December 26th (Thursday) 6:30 pm-9pm (planned)
Venue
Niseko Town people Center (Niseko Town character Fujimi 95 address)
Inquiry
Niseko Annupuri Area Avalanche Accident Prevention Council (Secretariat:Niseko Town Hall, Commerce and Tourism Division)
電話: 0136-44-2121
Email: kankou atmark town.niseko.lg.jp
Inquiries regarding information on this page
Commerce and Tourism Division Tourism Strategy promotion staff

TEL:

0136-44-2121

FAX:

0136-44-3500