Hat shop "The Mad Hatter Niseko" Kenji Numajiri
Engagement with people opens new doors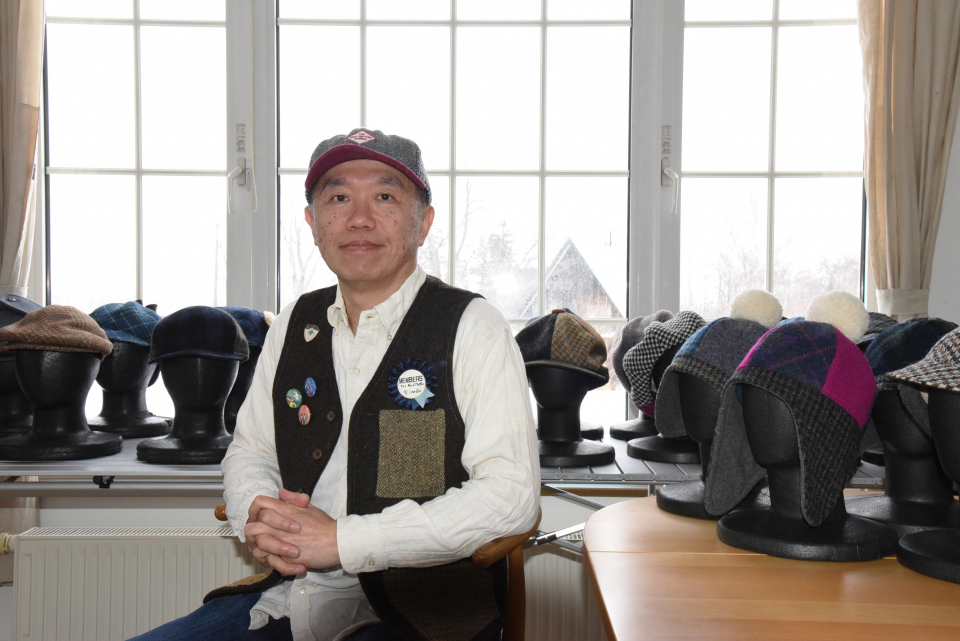 Interview date: January 29, 2020 Interviewer
I came to Niseko
Niseko Town has the only handmade hat shop in the area. Numajiri who moved to Niseko Town from Tokyo in 2012. Numajiri was active in editing magazines, corporate PR magazines, and in-flight magazines in Tokyo, but moved to Niseko Town because she was fascinated by Niseko's powder snow.
 
I knew I needed to create something for myself when I moved to Niseko, so I decided to turn my hat into a job. There was no other handmade hat shop, so it was crucial not to bother anyone.
 
Numajiri doesn't have a shop, but he creates hats in his atelier, sells handmade hats through online sales orders at Niseko area events and online. With a focus on denim and Harris Tweed materials, they are more robust and practical in design.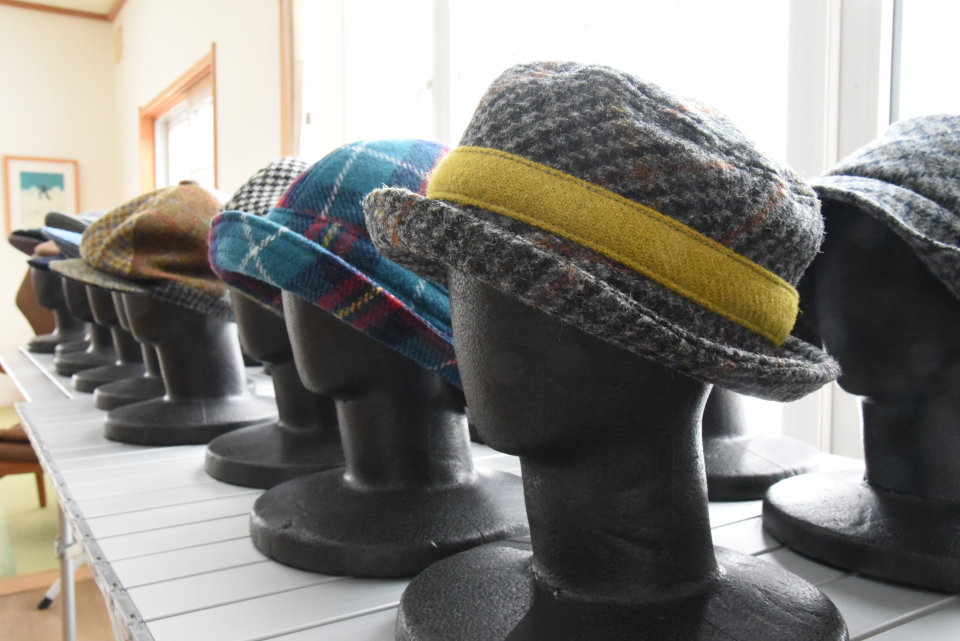 On March 11, 2011, Numajiri worked in Tokyo. Although the Great East Japan Earthquake was not a direct trigger for Niseko's emigration, it did contribute to reconsidering the way of life. The discomfort in myself was gradually increasing for a society that did not change (appears to be) even after such a catastrophe.
Numajiri's book, "Niseko's 12 Months," states this:
"People are always being tested. To whom? It doesn't matter who you are, but I think it's actually" to me. " I am being tested on my own. Whether or not I close my eyes to the incomprehensible discomfort accumulated in me. I was tried by me.
My immigration to Niseko does nothing to help the stricken area. But I felt I needed to change something myself. ………… I think I had to rethink my life and adjust my style and size. "
"12 months of Niseko" "A Year in Niseko"
◇ "Niseko's 12 Months A Year in Niseko" (August 2019) Published by Lupicia, Inc.
(From obi) The real life of a couple who has left the company for many years and moved from Tokyo to Niseko. Difficulty finding a house, groping for entrepreneurship, daily skiing, unfamiliar snow country life, joy of visiting spring, delicious agricultural products, encounter with pet dogs, snow, sun, rain, wind, green, stars ... naturally in the traveling season Niseko hymn of the author who chose a lifestyle that kept pace.
Encounter with Niseko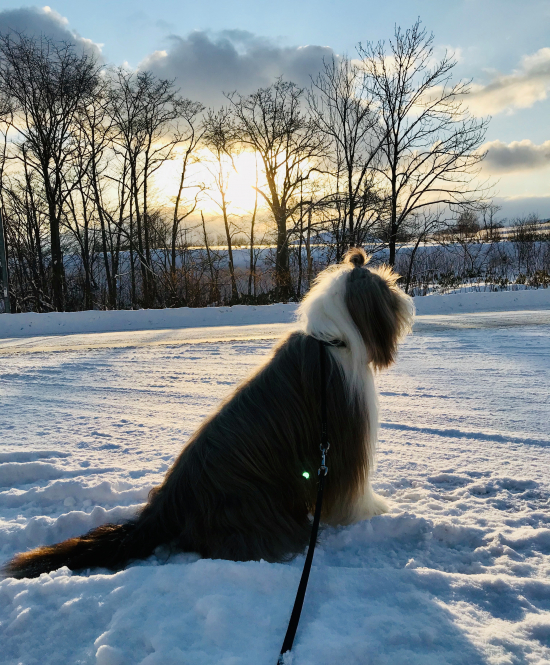 Photo courtesy of Numajiri
About ten years ago, Numajiri visited Niseko for the first time for an in-flight magazine. At that time I met people who enjoyed powder snow and skiing, and went to Niseko in winter for about three years. Eventually, the search for a serious house began, and I met the Blue House through a real estate company. Rental for the first four years, and after a few twists and turns, I bought the house and I am now (for details, in "Niseko's 12 Months!").
After buying the house, Mrs. Numajiri and his wife began to own dogs. It seems that life has changed completely since she started to keep dogs and interacted with neighbors.

What I think is that Niseko is a land with lots of migrants and a land that is tolerant of migrants. Many people have been helped by their predecessors, and Numajiri thinks that they may have the same experience and know what the migrants are having at that time.
Interview with Numajiri-san
As you can see in Niseko's 12 Months, please tell us how you moved to Niseko again.
Although many people lost everything after the Great East Japan Earthquake, there was a sense of incompatibility that their own lives continued. I had a long career as a salaried worker, but I always had a self-advisory saying, "Can I quit my job on my own without being tied to my job?" So I abandoned my job and practiced immigration. I'm glad that we can do that now. Both my wife and I were fortunate that it was just the right time to quit work in Tokyo. If you quit your job, you will lose your income, but if you look at the people who have lost their homes and lives in an instant, I think that you have nothing to lose.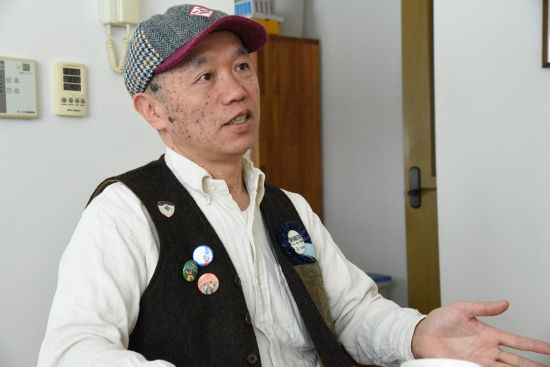 I came here without actually investigating anything, so when I came to Niseko Town, I knew about the local revitalization cooperation system and called the government office "I would like to apply for the cooperation corps". It was said that the Japan Cooperation Volunteers moved from urban areas to rural areas and settled in the area, so if you are already living in Niseko Town, you cannot apply. But I think the Japan Cooperation Volunteer System is a good system. First of all, you can get to know various people in the office.
Have you ever had a hard time migrating?
Finding a house was hard. Real estate prices were higher than I thought. But I don't want to miss one chance now.
How did you decide to publish "Niseko's 12 Months"?
One day, Yuko of `` Chabo Nupuri '' at the JR Niseko Station yard says that Lupicia, a company that has entered the business in Niseko, is looking for a person who can write, and in the spring of 2018, she met Lupicia's chairman Mizuguchi for the first time. Did. Lupicia had previously advertised on ANA's in-flight magazine, "King of the Tsubasa," which I was previously involved with as Deputy Editor-in-Chief, so I knew what kind of magazine I would make. It's not "the art helps," but it's helped Lupicia to make catalogs, leveraging the skills of his former job.
One day when I became involved in Lupicia's work, Chairman Mizuguchi asked me, "Mr. Numajiri, are you willing to write a book like '12 months in Provence in southern France '?" I read and read, but I had no idea what would I do and how to write it.
At that time, a friend's journalist asked, "What are the values of Mr. Numajiri who moved to Niseko, Hokkaido, after quitting the job of entrusting everyone, such as Deputy Editor-in-Chief of Wing Kingdom, at the age of 50? I want to know the most. " So, I wanted to write what I thought and what I liked and felt in my daily life. I've never written about myself before, so I didn't know if I would write myself and readers would be pleased, but I did.
However, we did, but asked Mr. Mizuguchi to "want a year." When I ask someone who knows the chairman later, it seems unusual for Mr. Mizuguchi, who is active in everything, to wait for a year. However, he gave me a year to write the book. Fortunately, there were no major corrections in the text. Published Niseko's Twelve Months in August 2019, and then, with the intention of Chairman Mizuguchi, published the English version in a short period of four months in December 2019. There are quite a few reactions, such as emails from foreigners after the English version is published.
Until now, there have been Niseko photo books published by photographers living in Niseko, but I think this is the first Niseko publication as a book. I am happy to be involved in communicating the new charm of Niseko.
Why did you decide to start a handmade hat shop?
I first decided to move to Niseko and wanted to do some work by hand. My previous editing job was to organize the material created by others, so I wanted to create it myself from scratch. Making hats is like a craft because I have always liked craft since I was a child. Since I was out of school for clothing, I felt like returning to work related to clothing.
This is a realistic story, but even if you look at the job information of Hello Work, you can see that you can earn only about 120,000 to 150,000 yen per month if you are of your age and skill. Then I decided to start a business with my favorite hat. Since he is alone, his production capacity is limited, but he needs enough money to live.
 
Hat making was an amateur, and there was no store so I gave up if I couldn't, but it wasn't. When we held the order for handmade hats at home for the first time, not only did our acquaintances bring friends, but also people we didn't know. In fact, before the order reception, there was an interview with the Hokkaido Shimbun Kutchan branch office, and the article was published at an exquisite timing just before the order reception. Many locals who were interested in reading the newspaper articles came. With such luck, I came to think, "I could do it as a hat shop."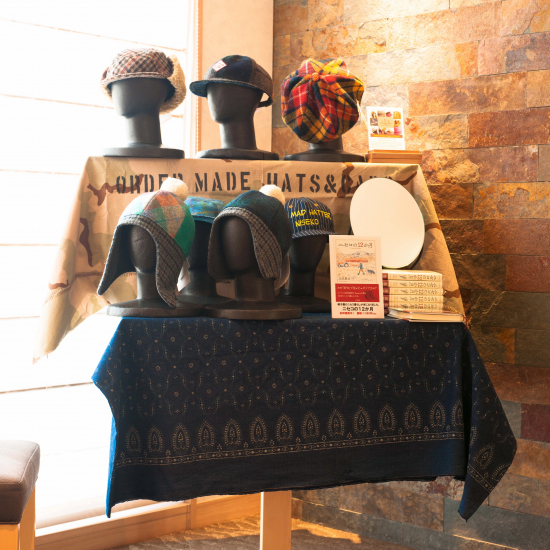 Photo courtesy of Numajiri
Even when we had a business trip order for hats at `` SPROUT '' in front of Kutchan station, people who came from Sapporo and Otaru who knew that there was a business trip order on Facebook later went to a business trip order at a department store in Sapporo He was connected.
Currently, I have a business trip order in Sapporo two or three times a year and once a year in Tokyo. I also participate in local events as much as possible. First of all, I opened a store at various local events and felt the atmosphere of the event to see who was coming. If your work and the event match, we will continue to open stores.
Also, at the Niseko Craft Art Festival, which is held every fall at Hirafu's hotel, "Shale Ivy," it's not just about selling or not selling, but looking forward to meeting the artists who are making things around Niseko Event.
Many people gave me a chance and I was able to continue the hat shop. It is myself who strives to take advantage of the opportunities I have received, but everyone is casually cheering and living.
Niseko Town is a town with a population of only 5,000, but there is always something new going on and there is no shortage of topics. In a town of 5,000 people, we all know each other through one person. If you have 2,000 people, you can get to know everyone directly. This was an interesting experience not found in the city.
It is said that Numajiri has many acquaintances, but I think that there are more opportunities to get acquainted by selling hats than ordinary people. Handmade hats can provide customers with a "making experience". I want to offer not only hats but also Niseko experiences. For example, Niseko's delicious shops and interesting experiences will be introduced to those who came to buy hats.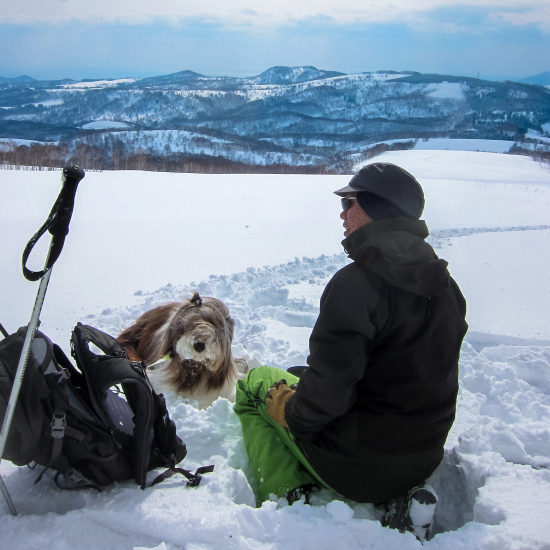 Photo courtesy of Numajiri
Shoes have a size in 0.5 cm increments, while hats have M and L sizes. Many people endure hats that do not fit in size, and if you make a custom hat to fit the size of your individual head, you may be more pleased than you might imagine. There are a few enthusiastic customers a year, so I make various orders and study. We also try to meet the needs of "I like it but it's old and want it to be rebuilt" and "I like the design but it doesn't fit the size so I want to match it" as much as possible. .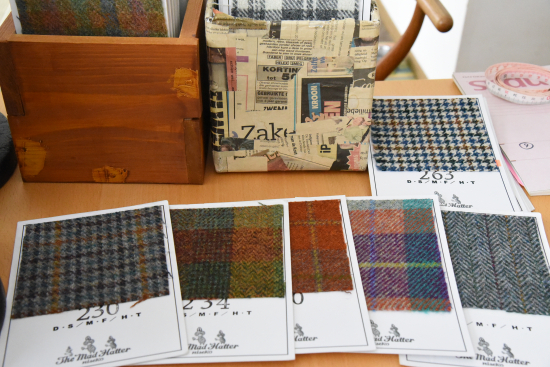 Hat fabric is stuck to Harris Tweed. We visited Harris Lewis Island in Scotland, which produces Harris Tweed, and toured the production site. Based on the background where the fabric was born and raised, I hope it makes sense to keep using Harris Tweed in Niseko. At my hat shop you can choose from over 100 different Harris Tweeds. I think that is the only place in Japan where you can do that.
When I first came to Niseko, I had the image of "a component of Niseko's appeal". The point that Niseko is Niseko. Speaking of Niseko, for example, the black curry of "Chabo Nupuri" and the coffee of "Takano Coffee" are different from each other, but each has its own charm. The goal is to have a handmade hat from The Mad Hatter Niseko if you go to Niseko.
Any thoughts on Niseko today?
A lot of development is going on in the Niseko area. How are these developments reviewed? In Niseko, the number of tourists decreases with little snowfall. The outbreak of viral pneumonia in China will stop Chinese tourists from coming. One day, there are times when tourists suddenly stop coming, and I think that the role of the town hall is to increase resilience (power to recover) so that minimal losses can be achieved at that time.
Would you please give me any advice for those considering migration?
Just thinking about immigration doesn't change anything. It is important to take action as soon as you think. By being in the land, you can interact with people in the land for the first time. This is something that you cannot do even if you are worried at a distance. In my case, my involvement with people opened an unknown door and eventually helped me.
I have been given the opportunity thanks to many people, including business trip orders in Sapporo and Tokyo and book writing. It is your responsibility to shape it and connect it to the next, but this never happens when viewed from the outside.
You can't get to know people just by looking at them from a distance. Please come inside.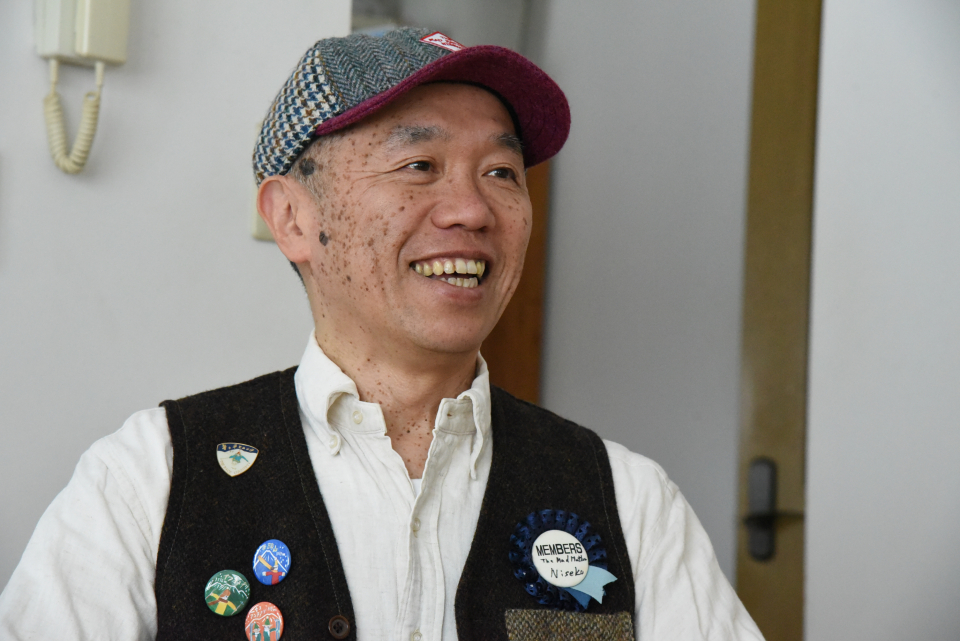 Inquiries regarding information on this page
Niseko Town Hall

TEL:

0136-44-2121

FAX:

0136-44-3500