Yotei Green Business Honma and Mrs.
I want to nurture organic wine making with high added value as a business that can contribute to the area!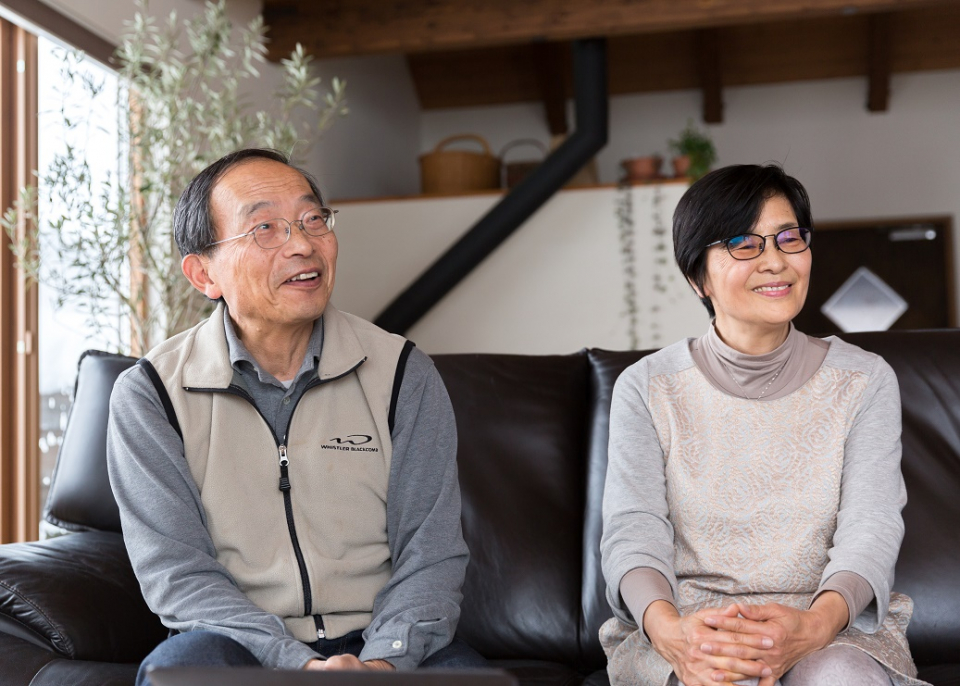 Interview date: December 27, 2017
The foot of Mt. Yotei, a 10-minute drive from the center of Niseko Town. Niseko Town only winery, Niseko Winery, is located in the Kondo district, located on a hill at an altitude of about 200 meters.
Grapes planted on a vast land of about 4 hectares are bred by organic farming methods of 100% chemical-free pesticide and 100% non-chemical fertilizer, harvested, brewed in a brewery located in the premises, rare Organic sparkling wine will be.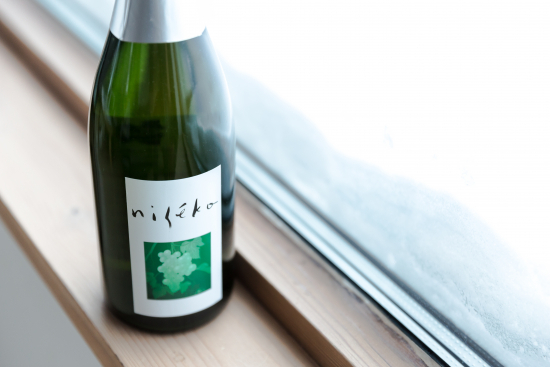 Niseko Winery wine
It is Mr. Yomunori Honma who handles all of the winery management, vine cultivation and winemaking. Prior to immigrating to this place, he was a businessman who worked at a Japanese bank, an international organization, a foreign bank, and also experienced overseas living. Mr. Honma who originally liked manufacturing, says that the winery experience of Europe wandering around during his assignment to England triggered the dream of the second life as winemaking.
"Some people say" If you like wine, "you grow up grapes with your own hands and build wine with your own hands, I think that it's the best pleasure to make" making " Homma says with a smile. However, just by making wine, Honma's dream will not be completed. It is the final type of the dream I wish right now, linked to Niseko's regional promotion and economic development through industrialization through wine making.
My wife Mayumi, who supports Yasunori's winery making, is also a picture book writer. A picture book titled "Uraten No Iro", which was published in 2003 and focuses on diversity in the world, has been translated into seven languages and is still read by many children. One room at home is a library with multilingual picture books, which is open to local children and families visiting the winery. Also, as a local volunteer, with the theme of "Expanding the children's worldview through picture books," we have been conducting multilingual storytelling activities together with successive international exchange staff working for the Niseko Town Hall.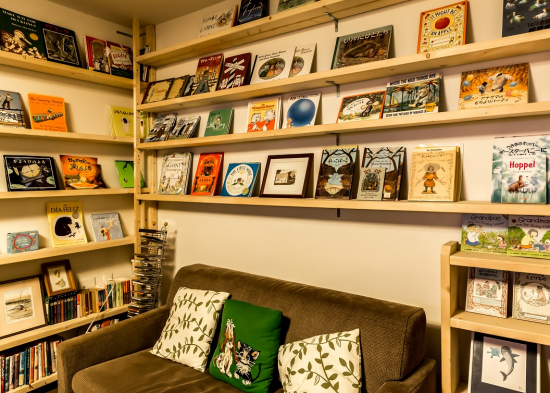 Libraries with multilingual picture books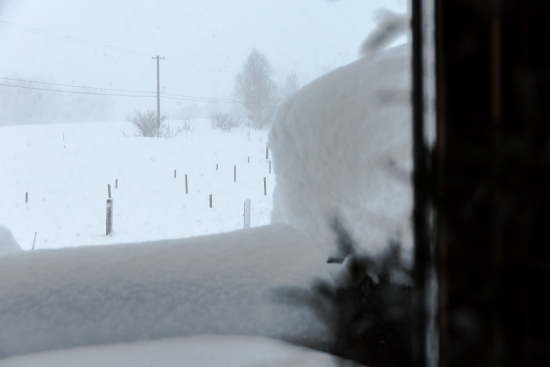 Vineyards under deep snow
I visited Homma's home at the end of December. Vast vineyards are under deep snow. Moreover, outside the window of the living room that it was designed as a snowstorm pattern on the day and designed to see Mt. Yotei in the front, it was unfortunately a white world. A warm room in which the fire of a massive large casting wood stove burns red and red, he asked Mr. Yasunori Honma and Masayuki Mamoto of the circumstances of the immigration and the story of the winery.
Please tell me the chance and circumstances of being moved to here.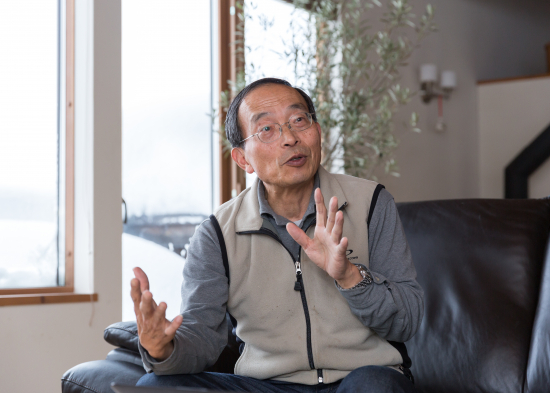 Mr. Yasunori of his husband
Yasunori: "I lived in Yokohama at the time, but in the spring of 2003, my wife's brother invited me to buy a field in the Kondo area of Niseko Town. It was an area I had visited many times, so it was a familiar place. ''
 
Mayumi "I was writing a picture book, and when I thought about where my words were born and spun, I came to think of it as the climate of my hometown of Hokkaido. When I was playing and playing with my five senses, my language was nurtured, and when I was driven by such a strong nostalgia, my brother told me about buying land, so I felt a great connection to Niseko Town. . "
Were you thinking of winery here from the beginning?
Mr. Yasunori "The dream of wine making has expanded while I was in the UK, and the candidate sites were not limited to domestic, such as Australia and New Zealand, and I went to visit directly, but at that time the story of Niseko's land came out It decided here not only how to choose the suitable place of grape making but overall evaluation including the viewpoint of the environment where we live, such as the splendor of the natural environment, the beauty every season and the ski resort are close, so decided here. This land I currently live in 2005 got on sale and I bought 6000 tsubo including vineyards. "
 
Masayuki Mayumi "I am already exhausted from the city life, and it was my tacit understanding between the two people that I should live in nature when I finished child rearing, so my husband picked up the neighborhood Specifically, the plan started to move, I also agreed with my husband's direction and wanted to cooperate. "
Were there any difficulties from the start of the winery plan to here?
Mr. Yasunori "From the end I might think that" such a difficult thing ", but since I started a business to enjoy myself, I never thought that it was a pain, it's fun (lol ) In Niseko's magnificent and beautiful nature I am doing what I want to do from morning till evening In my case, in my life as a wonderful way to spend my time in my life after finishing my company work, I am convinced very much. "
 
Masumi Mayumi "It was a hard life that I initially came to Niseko on weekends while working in Tokyo." On Friday night, I left Haneda and came by a rent-a-car after arriving at a thousand years old and farming, returning on Sunday's last flight I continued my life for about 5 years, I was physically tight, but because I liked and chosen a way, I was living, I was spiritually fulfilling.The heart warmth of the people I met in Niseko I was very grateful. "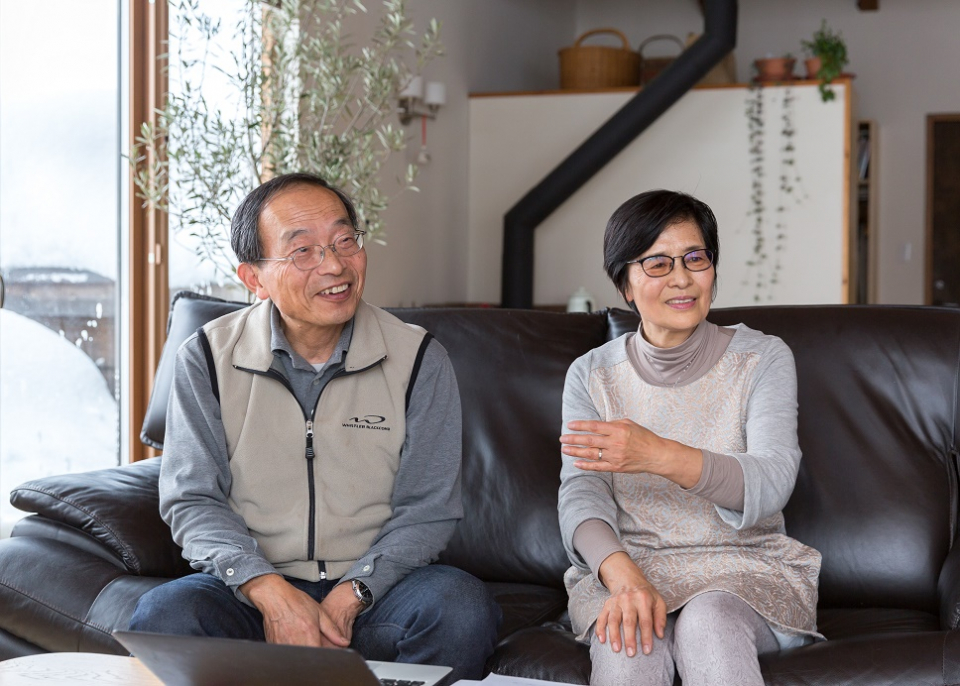 How was the support of the municipality after immigrating?
Mr. Tadanori "We had very strong support, especially with regard to the winery, we asked the office to apply for acquisition of wine special zone after asking them to be recognized as a certified farm growing grapes for brewing, It became a special zone with an exceptional speed of 2 months.It was not possible to invest in this winery so much unless it was a wine special zone where even a small scale can obtain a brewing license.I thanks thanks to the fact that the office moved soon In constructing a brewery, in addition to institutional finance that can be borrowed for a long time without interest, I also lent a great deal of power in terms of various subsidies from towns and countries, etc. The townspeople will do everything they is going to do I strongly felt the attitude that it is the role of the office to cheer, so I think that other municipalities do not go so smoothly. "
Mayumi's "Niseko Eco-Model City, so, Kudasari to understand also terms of Niseko winery has been producing grapes friendly organic farming on the environment and the body, and if I have backed up from the office. The Niseko Town in the Many foreign immigrants want to encourage children to grow and grow in an environment that recognizes and harnesses diversity, and we have been conducting multilingual story-telling volunteer activities in picture books since February 2013. We started with four members, and we hope that the children of Niseko will experience different cultures in warm contact.This activity includes the government office, the Niseko Town Learning Exchange Center "Asobukk", each school Thanks to your understanding and cooperation, it continues today. "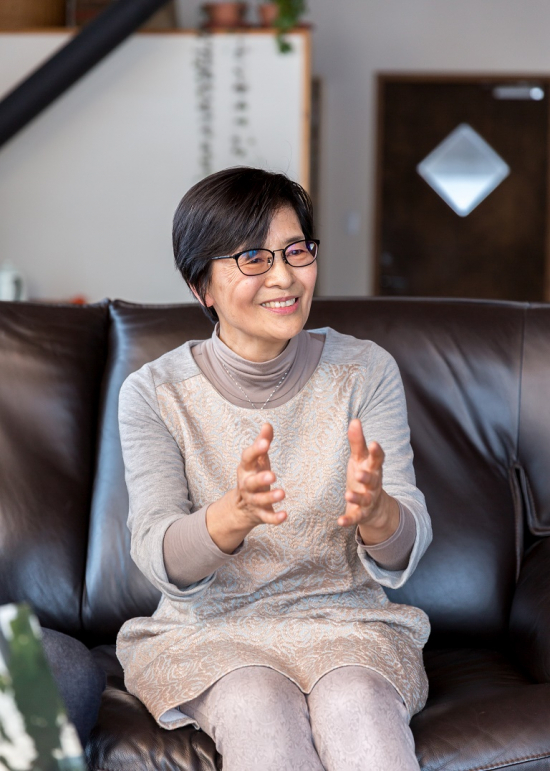 Mr. Mayumi of his wife
What kind of dreams do you draw in the future?
Mr. Yasunori "As a handicap for Niseko, I can say that there are few job opportunities in the summer because the base economic infrastructure is weak, so there are only a few young generations who can eat steadily throughout the year, so I can not settle. There is a feeling that I want to change it there in the future.As I can increase and stabilize the income of agriculture by producing, processing and selling higher added value.Will grow organic grapes and wine We are trying the possibility of making it. Eventually there is a vision that we want to expand grapes in this area and expand wine making.Begin with farmers bringing grapes harvested here and making wine together, eventually If there are a lot of small wineries, we can create richness as a region. "
Masumi Mayumi "To the winery where the family enjoy and rest, I also want a group of winery builders, in fact the migrants who are already trying to plant organic certification and try to plant the seedlings of grapes are appearing. There are more people who come to consult about grape making in the direction of the farmer's success.I think that the vineyard well matches the beautiful scenery of Niseko.The art is born from the beautiful scenery.It comes to artists in various fields I'd like you to live and produce works. "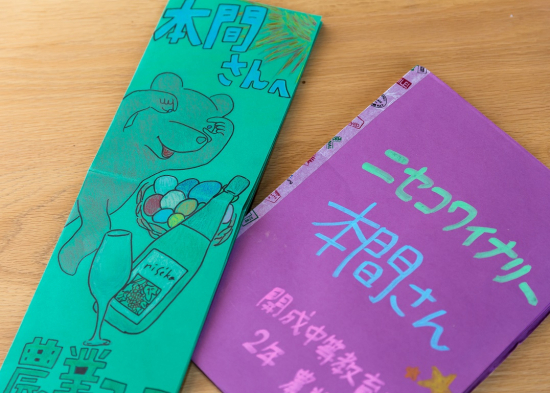 Thank you letter from the middle school student in Sapporo
Mr. Yasunori "Around 40 students of a junior high school in Sapporo recently came by the practical training on a school excursion for the second consecutive year." As in the previous year, "Niseko's agriculture and the value of highly value-added organic wine With the theme of "Creation", I was able to do about an hour's lesson, very pleased, all the students who attended at a later sent me a thank-you note.
 
Masayoshi Mayumi "The students of the Niseko High School agricultural department and the tourism department are also coming as a fruit tree agricultural practice and also realizing the significance of growing the grapes organicly. Through the office and sightseeing associations, others There are also requests from lecturers and lectures from various schools, I am grateful for interacting with young people. "
Mr. Yasunori "Our goal is to be able to provide opportunities for students to learn as a message to the next generation, to be a place where everyone can enjoy, and if we can grow this winery as a business that can contribute to the area We hope"
Finally, would you advise someone who is planning to emigrate?
Mr. Tadanori "We recommend gradually shifting the axes foot gradually and finally moving out, taking a certain amount of time. First of all, from thousands of people, please accurately grasp the information on the migration environment and prepare thoroughly Although it seems tough, it will not manage with the idea of ​​"I will manage somehow." Considering the comfortable housing, securing private cars, price side etc., this may cost money from the city. Niseko's settlement is not that sweet unless I properly consider things to do, to do, to have the skills to realize the purpose, draw concrete scenarios, and set conditions, I think the hurdles are expensive. "
 
Masayoshi Mayumi "Many people are attracted to the snow, but when we get married and marriage and we raise children, we also hear stories about those who have returned to the city, hitting an economic barrier and settling in People who are doing well have a purpose and people who have accumulated some amount of funds for that purpose seems to have succeeded as well.The way of doing what they want to do little by little, I wonder if I am doing it. "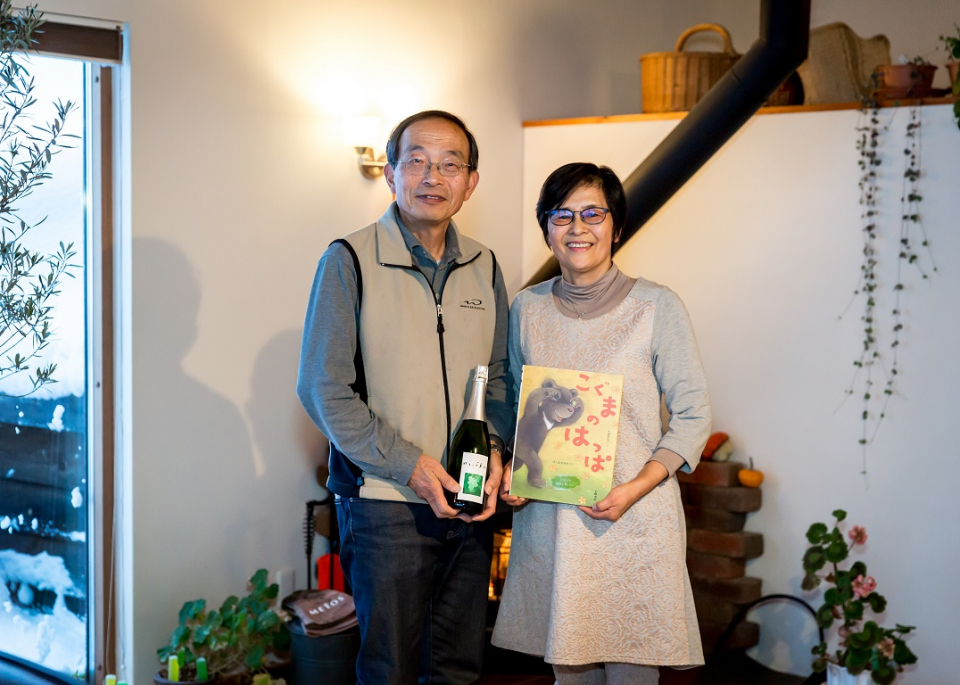 Inquiries regarding information on this page
Planning and Environment Division Autonomy Creation Division

TEL:

0136-44-2121

FAX:

0136-44-3500