Miyayama Tozankai & Small-scale Panel Exhibition Related Business Video Screening 2nd Movie "Northern Light"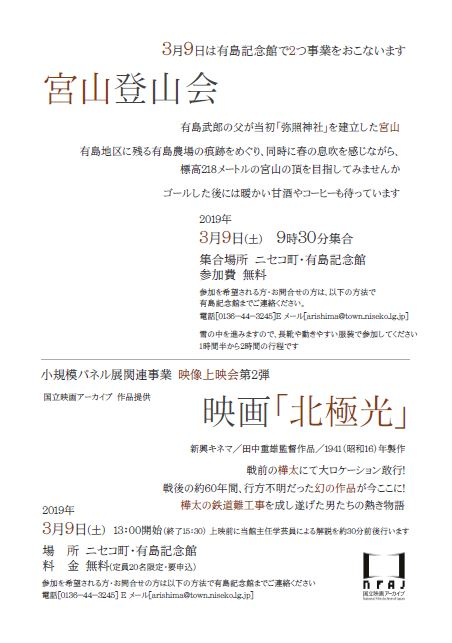 For details, please see the leaflet from the link below.
【Miyama climbing society】
Miyama Mr. Arishima's father initially established "Yayoi Shrine"
While surrounding the traces of Arishima farms remaining in the Arishima area, feeling the breath of spring at the same time,
Why do not you try aiming at the top of Miyama at an altitude of 218 meters
After a goal I am waiting for warm sweet alcohol and coffee


【Small Scale Panel Exhibition Related Projects Film Screening 2nd Film "North Pole Light"】
Location is dangerous in Sakhalin before World War II!
About 60 years after the war, the phantom work which was missing is here!
Hot story of the men who accomplished Sakhal railway hardship work

※ Miyama climbing society, video screening is held on the same day. We welcome both participation or only one participation. For both events, please contact the Arishima Memorial Hall by phone or e-mail if you wish to participate. There is no capacity for the number of participants in the Miyama climbing party, but the number of participants in the video screening has a capacity.
Date and time
【Miyama climbing society】
March 9, 2019 9:30 Collection

【Screening】
Screening started at 13:00 on March 9, 2019
place
【Miyama climbing party / video screening】
Niseko Town Arishima Memorial Hall
Price
【Miyama climbing society】
free

【Screening】
FREE (Capacity: 20 people / required application)
Inquiries regarding information on this page
Niseko Town Arishima Memorial Hall

TEL:

0136-44-3245

FAX:

0136-55-8484