「ニセコ町持続可能な観光フォーラム」開催のお知らせ
Over the last decade, the situation surrounding tourism has changed significantly. Niseko Town is studying the "Niseko Town Tourism Promotion Vision" with the aim of formulating it in March 2022. One of the major themes is "sustainable tourism."
本フォーラムでは、基調講演に国連世界観光機関(UNWTO)駐日事務所の本保代表をお招きし、「持続可能な観光の世界的な潮流」について、お話をうかがいます。後半は、北海道運輸局の岩城局長を交え、「ニセコ町が目指すべき持続可能な観光地の姿」について、パネルディスカッションをおこないます。貴重な機会ですので、ぜひご参加ください。
日時  2022年1月22日(土)14:00-16:30
会場  ニセコ町民センター  大ホール /オンライン参加も可能
講師  UNWTO 駐日事務所 代表 本保芳明 氏
参加  無 料
申込  チラシQRコード、または下記より申込みください。     
https://forms.gle/yFXXzoMqecp6zKij9
(問合せ)
ニセコ町役場 商工観光課(高橋)
Phone: 0136-44-2121
* For details, please see the information leaflet (PDF) below.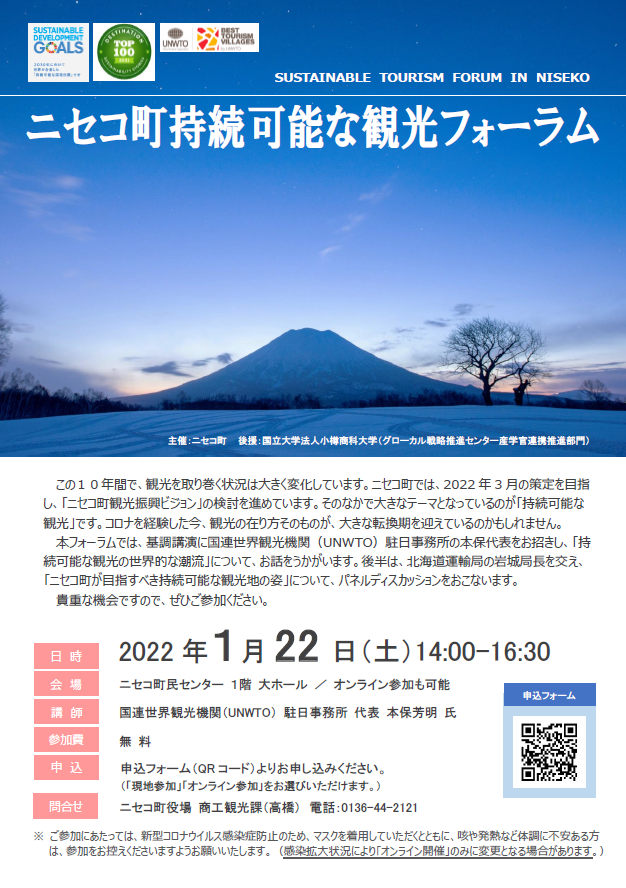 当日配付資料
01_次第(PDF format: 541 KB)
当日の様子
Inquiries regarding information on this page
Commerce and tourism department

TEL:

0136-44-2121

FAX:

0136-44-3500