We had you donate a gappo tree (wooden tunnel) and installed it as a wooden playset!
Recently, we have received a donation of a wooden tunnel and chair made by processing a linden tree (linden hollow tree) from the "Shiribesi / Relaxing Tree Association", which is working to promote the use of local timber.
This is a tree found in the mountains of the area, which is estimated to be over 100 years old, and has been processed by the members of the association for over a year so that children can safely touch and play with it.

The donated items are brought into the former starch factory of the Niseko Central Warehouses, which is the exchange base of the town, and are installed so that they can be played together with the two-story wooden playset completed the other day. Please come and visit us.

Chuo Warehouse Group The former starch factory has a cafe, a kids' space, and a nursing room. You can spend time with small children with peace of mind. Free WiFi is also available.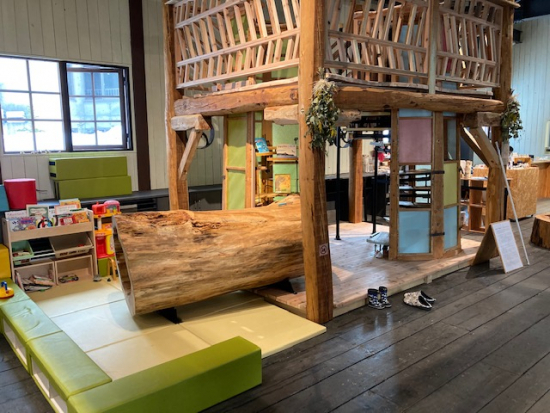 Photo left: Gappo tree (wooden tunnel)
Photo right: Two-story wooden playset

You can play as a kids space.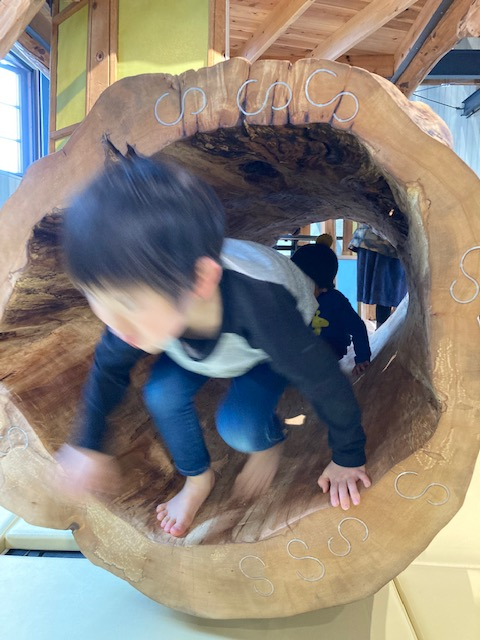 Inquiries regarding information on this page
Planning and Environment Division Autonomy Creation Division

TEL:

0136-44-2121

FAX:

0136-44-3500