Concluded an educational cooperation cooperation agreement by five parties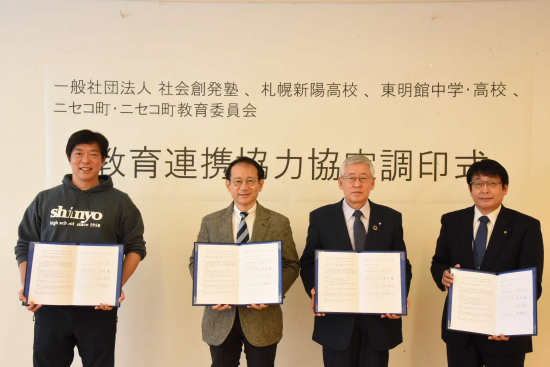 We have concluded cooperation agreements in the field of education with the General Incorporated Association Social Creation School, Sapporo Shinyo High School, Tomeikan Junior and Senior High School, and Niseko Town / Niseko Town
In the future, Niseko Town promote exchanges due to learn at an attractive reduction and Niseko school in, we will work on, such as the creation of human resource development and related population.

"General Incorporated Association Social Emergent School" (Tokyo, founded in 2012)
A hands-on community that works on various social production projects with opinion leaders and influencers in each industry, including Kan Suzuki, a professor at the University of Tokyo and Keio University. There are more than 400 students, including central government bureaucrats, some listed company employees, university students, and high school students.

"Sapporo Shinyo High School" (Sapporo City, founded in 1958)
With the vision of "the mother school of those who take on serious challenges," PBL (project-based learning) exploration courses were set up, work style reforms such as the introduction of a modified labor system, and Dx (digital transformer) for classes and school affairs using ICT. We continue to challenge the future of schools, such as formation) and the free addressing of staff rooms by the labor union.

"School corporation Tomeikan Gakuen Tomeikan Junior and Senior High School" (Kiyama Town, Saga Prefecture, founded in 1988)
A junior high and high school integrated school known as a preparatory school in Saga and Fukuoka prefectures, which is derived from the Tsushima feudal clan school "Tomeikan". Yu Arai will be appointed chairman from July 2019, aiming to become a 21st century preparatory school in Asia.
Inquiries regarding information on this page
Niseko Town Board of Education

TEL:

0136-44-2101

FAX:

0136-44-3091