<You can watch the video> We will be holding "Satoyama Capitalism Niseko Town Community Development and Forest Thinking (Townsman Lecture)" with Kosuke Motani!
Forests have many functions such as water source, soil, conservation of biodiversity, provision of recreational space, and prevention of global warming. As a premise, it is necessary that forests are maintained and managed soundly through the use of timber, and that forest resources are used cyclically. Forests are also an important local resource that occupies 67% of the total area of Niseko Town, but there are many things that we do not know what is going on.
At the 192nd Townspeople Lecture held in August, local life and landscape are deeply linked to local resources such as forests, and the need for forests, trees, and towns to continue to exist Mr. Takemoto of Collembola Co., Ltd. I had a talk.
This time, we welcomed Mr. Kosuke Motani, the author of "Satoyama Capitalism", who is energetically continuing research on regional development and population issues, and talked about the possibilities of rural areas, sustainable living and community development. I will. In the second half, I would like to discuss with you the future of the region and how to interact with the forest through a dialogue that includes Mr. Takemoto's perspective from the forest.
Participation is free and no application is required. In addition, we will provide childcare, so please apply in advance if you wish. We look forward to your participation.
 
■ Date / Time / October 5th (Monday) 18:00 to 20:00 (planned)
■ location / Niseko Town people Center Great Hall
■ Lecturer / Senior Researcher, Japan Research Institute Kosuke Motani
■ Participation / application / free participation · no application required
■ Please contact us by September 25 for childcare / applicants.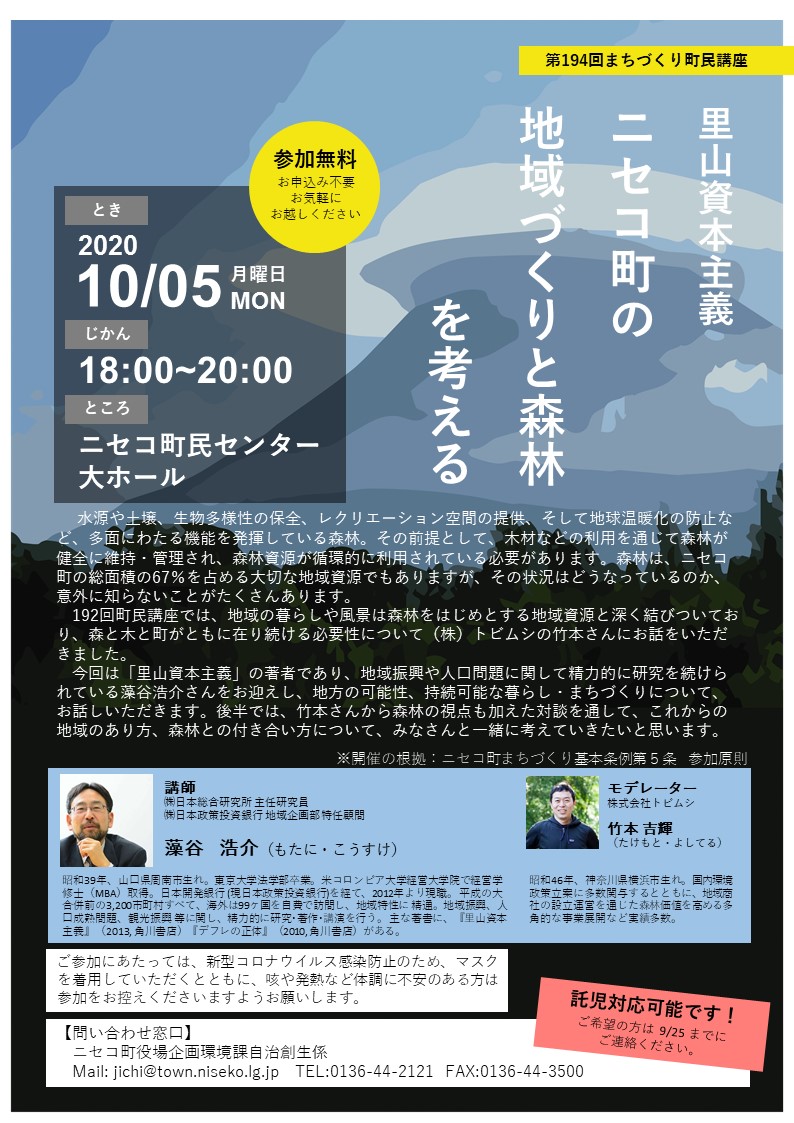 Inquiries regarding information on this page
Planning and Environment Division Autonomy Creation Division

TEL:

0136-44-2121

FAX:

0136-44-3500