[Cancelled] Niseko area tourism business workshop
(No application required) Sightseeing / Events
This workshop was canceled due to the prevention of the spread of the new coronavirus.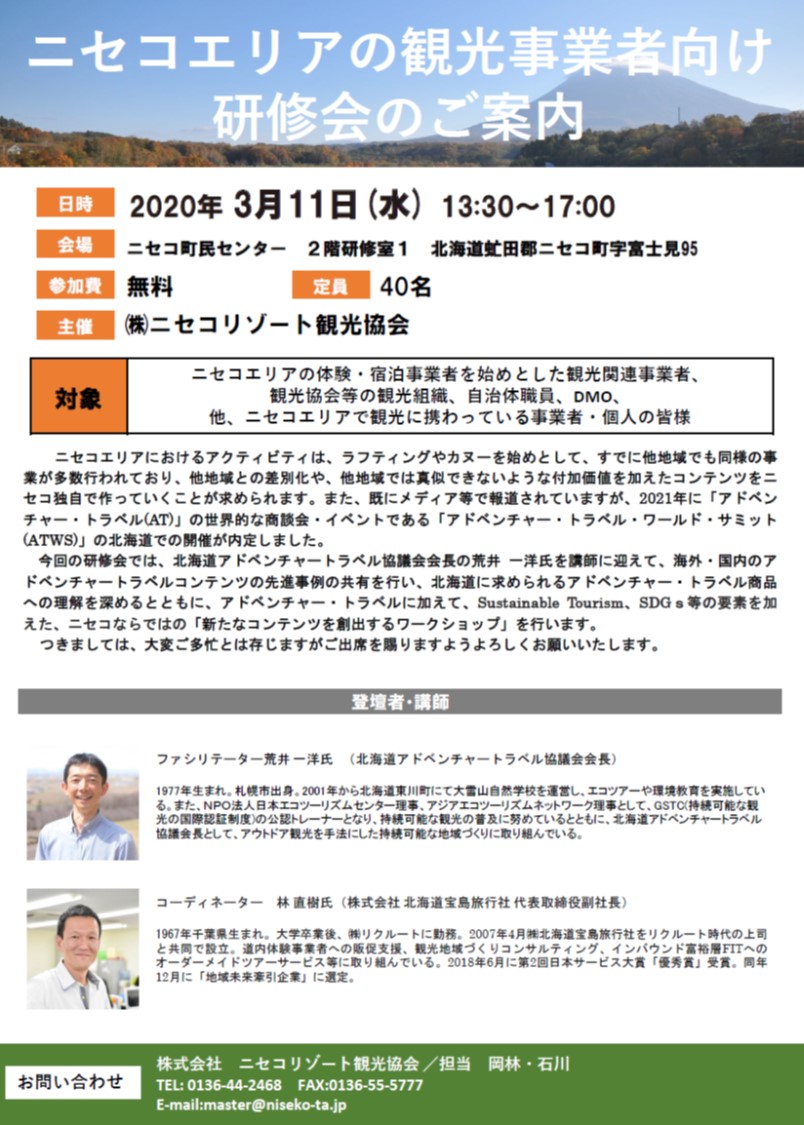 Many activities in the Niseko area, such as rafting and canoeing, are already underway in other areas. You need to make your own.

In addition, although already reported in the media, etc., it has been announced that the Adventure Travel World Summit (ATWS), a global business meeting and event for Adventure Travel, will be held in Hokkaido in 2021. did.

In this workshop,Mr. Kazuhiro Arai, Chairman of Hokkaido Adventure Label CouncilTo share advanced cases of adventure label content overseas and in Japan, to deepen understanding of adventure and travel products required in Hokkaido, and in addition to adventure travel, elements such as Sustainable Tourism and SDGs Niseko's unique "Workshop for Creating New Content"
 
Date and time
Wednesday, March 11, 2020 from 1:30 pm to 5:00 pm
Venue
Niseko Town people Center (Niseko Town character Fujimi 95) Training Room 1
Entry fee
free
Capacity
40 people
Application is required for the capacity system.
Application (Please fill in the following file and apply by fax or e-mail.)
Organizer / Contact
Niseko Resort Tourism Association
0136-44-2468
Inquiries regarding information on this page
Commerce and Tourism Division Tourism Strategy promotion staff

TEL:

0136-44-2121

FAX:

0136-44-3500