We will change the reservation time for "Nicotte Bus"! (2020 January 1st)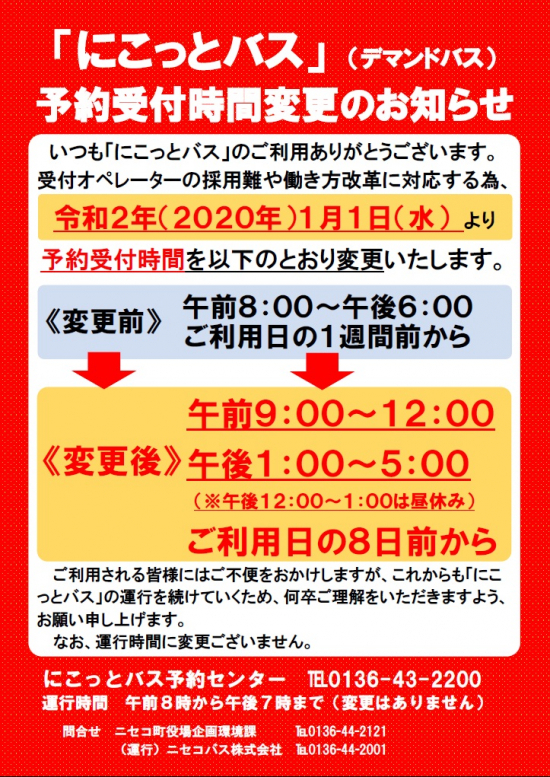 We change reservation acceptance time of "Nikotto bus"!
Thank you for always using "Nikotto Bus".
Regarding receptionist operators, we will change the reservation acceptance time from January 1, 2020 (2020) as follows to respond to difficult recruitment and work style reform. We apologize for any inconvenience, but we would like to ask for your understanding in order to continue the operation of the Nicotte Bus.
There will be no change in operating hours. 
■ Reservation reception time

2020 (2020) January 1-

(Change before)
From 8:00 am to 6:00 pm from one week before use day
(After change)
9:00 am to 12:00 pm * Lunch break from 12:00 pm to 1:00 pm
From 1:00 pm to 5:00 pm From 8 days before the use day
■ Operating hours From 8:00 am to 7:00 pm
(There is no change in operating hours)
・にこっとバス予約センター TEL0136-43-2200
・問合せ ニセコ町役場企画環境課 TEL0136-44-2121 担当=齊藤(徹)・澤田
     ニセコバス株式会社 TEL0136-56-8111 担当=石島
Inquiries regarding information on this page
Planning & Environment Division, Business Planning Division

TEL:

0136-44-2121

FAX:

0136-44-3500