【From July 28】 Arisima Memorial Hall Eiko Fujikura [Following the Season Part 2]
Sightseeing and event information
Takeshi Arishima's 140th Birth · 40th Anniversary of the Arisima Memorial Hall Opening
Hideyuki Fujikura's work gift memorial
Fujikura Eiyuki Exhibition [Following the Season Part 2] From Summer to Autumn
There were "connections" among the three people, Hideyuki Fujikura, Nao Akira Sakamoto, Shoichiro Samejima.
It is the mountains and flowers of Hokkaido that we have connected. And ... a mysterious edge.
Please enjoy the world of majesty and delicacy.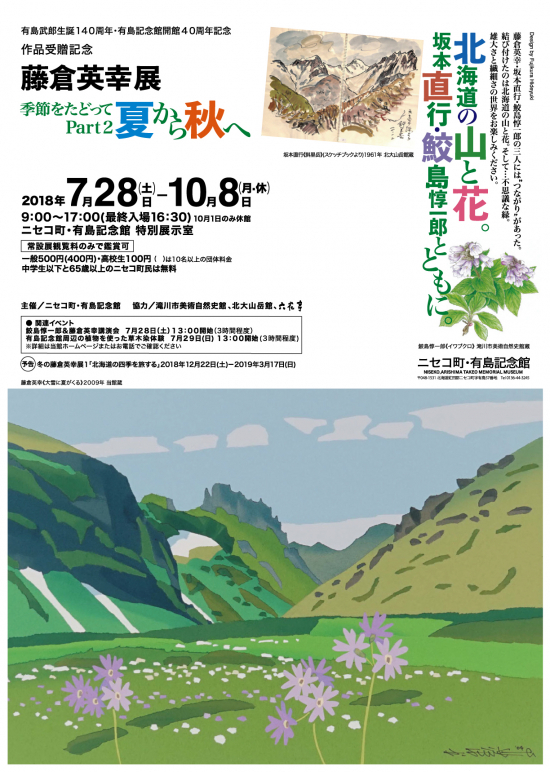 Mountains and flowers in Hokkaido. Together with Naoki Sakamoto · Shoichiro Samejima.
Flyer
A session
Saturday, July 28, 2018 - October 8 (Monday, public holiday) * Closed within the exhibition / October 1, 2018
Venue
Arisima Memorial Museum Special Exhibition Room
Price
Viewable only with permanent exhibition fee
Permanent Exhibition Fee (Admission Fee) / General 500 Yen (Groups: 10 or More: 400 Yen) High School Student: 100 Yen
※ junior high school students following and 65 years of age or older of Niseko Town people is free
Annual passport (valid for 1 year): Adult: 800 yen High school student 200 yen
Related events
A lecture
"Shoichiro Samejima & Hideyuki Fujikura Lecture"
[Lecturer] Shoichiro Samejima
Fujikura Take

[Date and time] July 28, 2018 (Sat) 13:00 start (about 3 hours)
[Registration fee] Free
workshop
"Experience of planting trees using plants around Arishima Memorial"
[Instructor] Tanaka Fumie (Nature Guide)
[Date and time] July 29, 2018 (Sunday) 13:00 start (about 3 hours)
[参加費]無料  ※要申込(0136-44-3245) 定員10名
Organizer · Cooperation
Organizer /Niseko Town/ Arishima Memorial Hall
Cooperation / Takikawa City Art Natural History Hall Hokkaido Univ. Hakkadatei
Inquiries regarding information on this page
Niseko Town Arishima Memorial Hall

TEL:

0136-44-3245

FAX:

0136-55-8484