【Flower information】 Sakuragaoka Park information (as of April 21, 2017)
From the JR Niseko station, at the hill of "Sakuragaoka Park" in front, the spring grass is starting to color. This week, the days when the storm and temperature did not rise continued, but a lot of flowers are beginning to open in the morning blue sky this morning.
Depending on the weather, I think that this weekend's looks like "Katakuri" etc. It is a sunny forecast on Sunday in the weather forecast so I think it is a great photography day.
Why don't you come and visit Niseko Town to feel the spring of Niseko?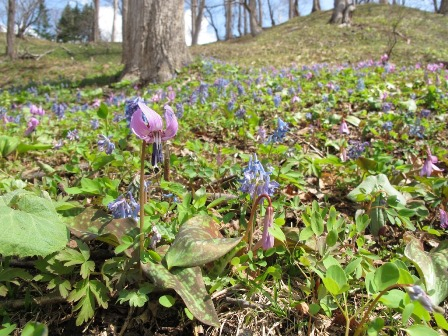 Photographed around 0:30 pm on Friday, April 21, 2017
Note: There are still muddy on the strolling road and the influence of the strong wind of the other day, branches of the tree are falling, so please be careful at your feet. Also, walking outside the aisle collapses the flowers, so please walk along the aisle as much as possible.
Station surrounding information
Self-roasted coffee, herbal tea, homemade sweets, specialty nupuri curry are recommended.
There is also a popular lunch menu at Italian Izakaya directly operated by local Oomichi farm.
There is also a large parking lot directly opposite the station, and after walking, it is recommended to relax tiredness slowly at the hot springs.
You can purchase special products and souvenirs without using hot springs.
On the premises homemade bread and cake store "Mai Triée", it is undergoing refurbishment opening from April 20 th.
Facility refurbished agricultural warehouse that knows the history of Niseko. At "Old Starch Factory", a cafe is also provided and you can enjoy the relaxing time.
The place is about 100 meters ahead from JR Niseko Station towards the yellow Niseko Ohashi Bridge.
Niseko's familiar sightseeing spot with Niseko's special products, plus agricultural direct selling place and light snack corner.
There is also a tourist office, so leave Niseko here.
Contact Us
For Niseko tourist information, please contact Niseko Resort Tourist Association.

Niseko Resort Tourist Association
電話番号:0136-44-2420
Inquiries regarding information on this page
Industry and Tourism Division

TEL:

0136-44-2121

FAX:

0136-44-3500