Niseko Ekimae hot spring "Kira no yu" 15th anniversary commemoration appreciation fair being held
Kureunohu will celebrate 15th anniversary this year.
Until now, it has been only with customer support that we have continued.
We will be holding a "15th Anniversary thanks fair" for all the privileges with the gratitude.
About fair
Only on June 1 (Wednesday) half price for adults & elementary school students free
 
Part 2. Discount coupon present
Target: those who were admitted with adult regular fee of 500 yen
Giveaway discount coupon that entrance fee will be 300 yen on the 15th of every month
 
Part 3: Kiru Card Point Double Service
Period: From June 1 (Wednesday) to June 17 (Fri)
On June 10 (Friday) point "three times"
 
4. Gifts of "500 yen worth of cash vouchers" available for entrance & shops & massage
Period: From June 1 (Wednesday) to June 17 (Fri)
Subject: Person who purchased "commutation ticket & coupon ticket" within the period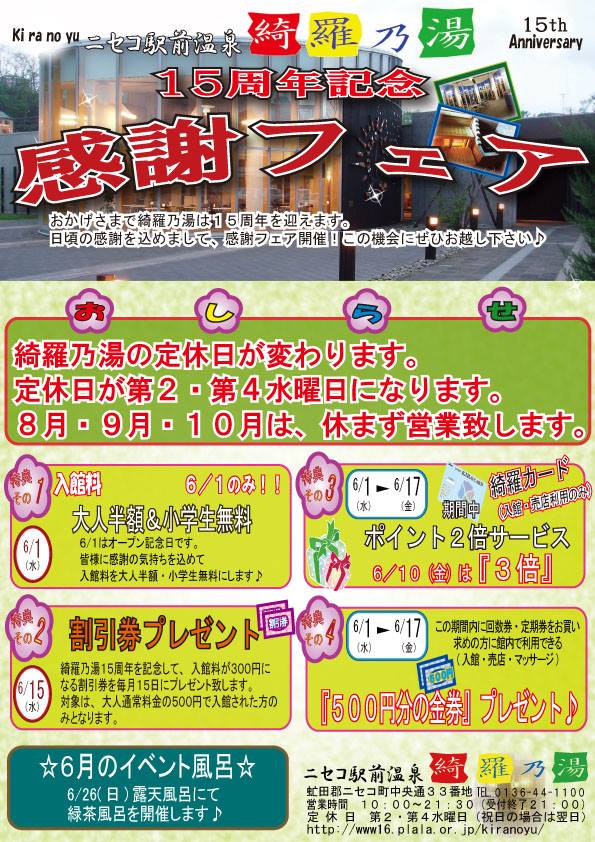 The regular holiday of Kira Yu changes from June!
The regular holiday on every Wednesday will be changed on the second and fourth Wednesday of every month.
For the three months from August to October, we will operate without a regular holiday.
Details · Inquiries
Kiranoyu (Kirat Niseko Co., Ltd.)

Address: 〒 048 - 1512
33 Niseko Town Chuo-dori (in front of JR Niseko Station)

電話:0136-44-1100
Inquiries regarding information on this page
Commerce and tourism department

TEL:

0136-44-2121

FAX:

0136-44-3500