Takeshi Arishima-The Story of a Great Father-Kawauchi Makokoro Literature Museum & Niseko Town / Arishima Memorial Hall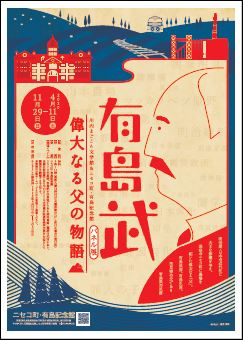 The father of Takeo Arishima, Ima Arishima, and Satomi I, Takeshi Arishima,
As a lower-class samurai of the Hongo family, the lord of Kawauchi and Heisa (currently Satsumasendai, Kagoshima Prefecture)
The Meiji Restoration has arrived.

After the Meiji Restoration, he served as the bureaucrat of the Ministry of Finance in the Meiji government, serving as Director of the International Bureau and Director of Yokohama Customs,
After retiring, he worked in the business world.
In addition, the Arishima Farm was opened in Niseko Town as a non-resident.

Until the end of his life at the age of 74, how did Take live in a turbulent era?
Follow that footprint.
Flyer
A session
April 11, 2020 (Sat)
-Sunday, November 29, 2020
Closed days / Monday during the exhibition (but closed the following day if it is a holiday)
◆Notice of temporary closure [cancellation]◆
It will be open normally from June 2, 2020 (Tuesday).
About the new coronavirus spread prevention measures
Thank you for your understanding and cooperation.
Related events
In the summer of 2020, it is located in Satsumasendai city, Kagoshima prefecture, which is the hometown of Takeshi Arishima,
Welcome to Tomomi Tatebe of Kawachi Makokoro Literature Museum, our sister building
A lecture will be held.
 
Details will be announced as soon as they are confirmed.
Venue
Niseko Town Arishima Memorial Hall
Price
Sponsorship
Niseko Town Arishima Memorial Hall
Inquiries regarding information on this page
Niseko Town Arishima Memorial Hall

TEL:

0136-44-3245

FAX:

0136-55-8484