【From Dec. 22】 Winter Fujikura Hideyuki Exhibition Part 1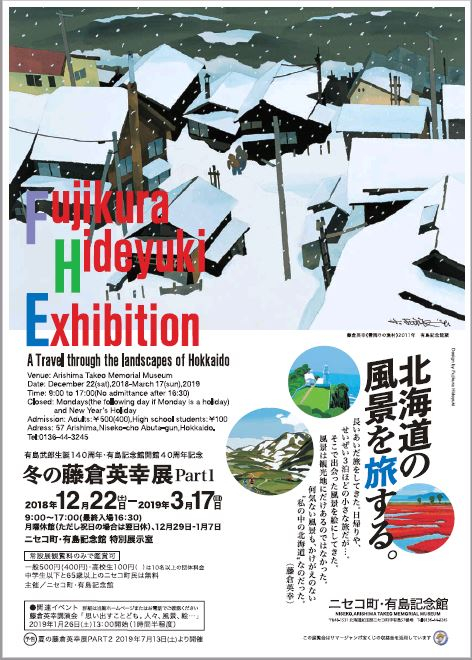 For details, please see the flyer from the link below.
Nisekoni nevertheless
I will survey the landscape full of charm of Hokkaido.

In addition to covering the cover paper of "JR Hokkaido" in JR Hokkaido for 25 years, the work is also used for product packages such as Rokkatei, and illustrator Fujikura Hideyuki whose style is familiar to many people. From the latter half of the 1980s, Fujikura has been fascinated by viewers expressing the seasonal charm and aesthetics of the landscape of Hokkaido with emotional paintings using paper paper emotionally. At the Arishima Memorial Hall, in 2017 we received donations of about 10,000 works, such as cut-out pictures, acrylic paintings, prints such as acrylic prints, posters, etc. from the writers, and we are working on organizing work. For the year from February 2018, we held three exhibitions that trace the four seasons of Hokkaido as works as "Fujikura Hideyuki's work gifts commemoration exhibition". In this "Winter Fujikura Eiyuki Exhibition" (December 18th to March 19th) we will introduce works from winter to spring. In addition to this, Fujikura has introduced attractive landscape paintings of Hokkaido together, and it is content that you can enjoy "Hokkaido travel" with Nisekoni. Please enjoy the scenery of the four seasons of Hokkaido interwoven by Fujikura.
Exhibition period
Start on Saturday, December 22, 2018
End on March 17, 2019 (Sunday)
exhibition hall
Arisima Memorial Museum Special Exhibition Room
Exhibition viewing fee
Permanent exhibition viewing fee only ... General / Adult 500 yen High school student 100 yen
(65 years of age or older of Niseko Town free person and junior high school students the following people)
Annual passport / adult 800 yen High school student 200 yen
Inquiries regarding information on this page
Niseko Town Arishima Memorial Hall

TEL:

0136-44-3245

FAX:

0136-55-8484