Miyayama Mountaineering Association [Cancelled]
Measures to prevent the spread of new coronavirus infectionAs
This year's Miyayama climbing event will be canceled.
Thank you for your understanding and cooperation.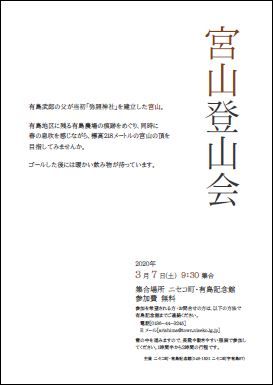 "Miyama" is a small mountain with an altitude of 218 meters. It is the place where "Yayoi shrine" once Arishima Takeo made declaration of farm liberation was built first.
 
The Miyayama Mountaineering Association, which traces the history of hometown and looks for the breath of spring, is the 20th this year.
Round trip between Arishima Memorial Hall and "Miyayama", and walk about 3km leisurely.
 
As you go through the snow, please come with shoes that can walk in the snow, such as boots.
It takes 1.5 hours to 2 hours.

After the goal, a warm drink is waiting.
Schedule
The meeting place
Entry fee
Inquiries
Measures to prevent the spread of new coronavirus infectionAs
This year's Miyayama climbing event will be canceled.

For inquiries, please contact the following Arishima Memorial Hall
 ・電話 0136-44-3245
Sponsorship
Niseko Town / Arishima Memorial Hall
Inquiries regarding information on this page
Niseko Town Arishima Memorial Hall

TEL:

0136-44-3245

FAX:

0136-55-8484