[May 16] The 178th town development townsman course round-table conference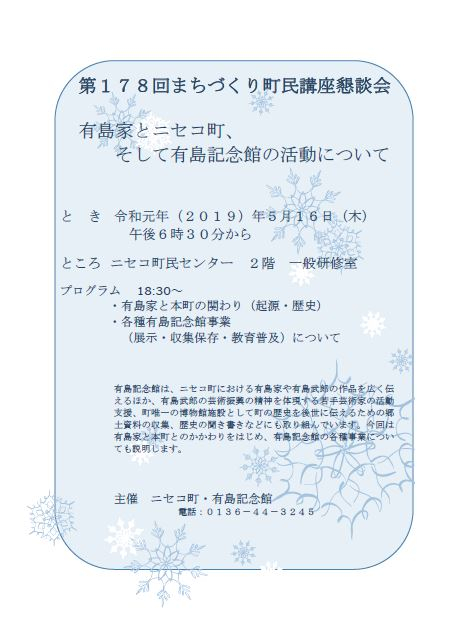 For details, please see the leaflet from the link below.
About the activities of Arishima House, Niseko Town, and Arishima Memorial Hall

The Arishima Memorial Museum widely conveys the works of Arishima House and Takeo Arishima in Niseko Town, supports the activities of young artists who embody the spirit of Arishima Takero's art promotion, and conveys the history of the town to future generations as the only museum facility in town. We also work on the collection of regional materials for the purpose of hearing, history interviews, etc. This time, we will start with the relationship between the Arishima family and Honmachi, as well as the various projects of the Arishima Memorial Hall.
Date and time
From 6:30 pm on May 16 (Thu), 2019
place
Niseko Townsman Center 2F General Training Room
program
・ Relation between Arishima House and Honcho (Origin ・ History)
・ About various Arishima memorial business (display, collection preservation, education spread)
Inquiries regarding information on this page
Niseko Town Arishima Memorial Hall

TEL:

0136-44-3245

FAX:

0136-55-8484