The 30th Takeshi Arisima Youth Public Art Painting Exhibition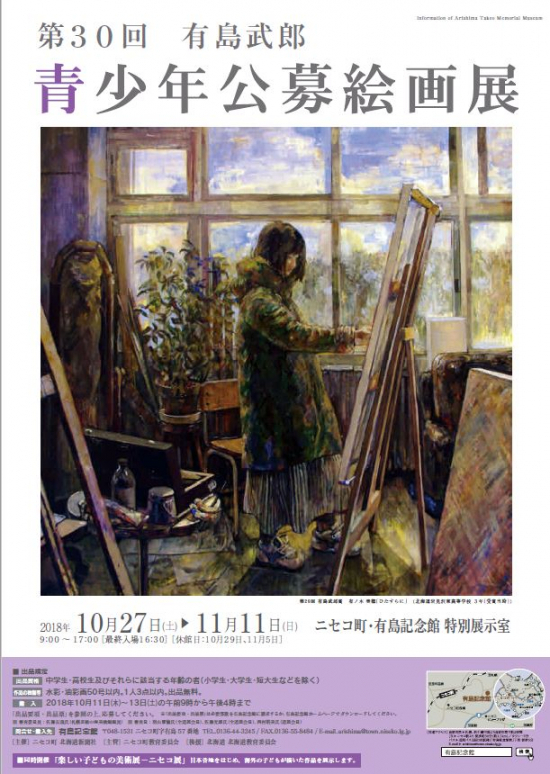 A prize winning work was decided by the Jury on 18 to 19 October 2018.
The awards ceremony will be held at Arishima Memorial Art Hall from 13 o'clock on Saturday, November 3, 2018.
A session
Saturday, October 27, 2018 - November 11, 2018 (Sun)
Closed Monday, October 29 (Monday), November 5 (Monday)
exhibition hall
Arisima Memorial Museum Special Exhibition Room
Exhibition viewing fee
Permanent exhibition viewing fee only ... General / Adult 500 yen High school student 100 yen
(65 years of age or older of Niseko Town free person and junior high school students the following people)
Annual passport / adult 800 yen High school student 200 yen

※ For those who applied for work at the 30th Arishima Takeo Youth Public Picture Exhibition Painting Exhibition, we will send you an invitation ticket so please use it.
Sponsorship
Niseko Town/ Hokkaido Shimbun
Main pipe
Niseko Town Board of Education
Support
Hokkaido · Hokkaido Board of Education
Inquiries regarding information on this page
Niseko Town Arishima Memorial Hall

TEL:

0136-44-3245

FAX:

0136-55-8484