Niseko Town Garbage Sorting App
・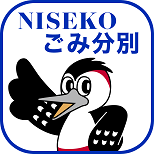 Home icon
 ニセコ町では、2020年4月から「ニセコ町ごみ分別アプリ」を配信しています。また、2021年4月から「英語版ニセコ町ごみ分別アプリ」の配信を始めました。
It is packed with useful functions such as a garbage separation dictionary, a garbage calendar, and a notice to prevent forgetting to put out. You can download it for free, so please use it. (Communication fee will be borne by the user)
※日本国外のスマートフォンでは、使用できない場合があります。

[App screen]
Home screen Garbage calendar screen Garbage classification dictionary screen FAQ screen

[Basic functions]
1. Garbage collection calendar
You can check the garbage collection day every week and every month
2. Garbage separation dictionary
You can search by typing the garbage separation method
3. Alert function
A message that informs you of the garbage collection date can be displayed and displayed on the screen
4. How to put out garbage
You can check how to put out and precautions for each type of garbage
5. Frequently asked questions
You can check the garbage with a lot of inquiries by Q&A method.

Please see the brochure below.

[How to download the app]
Method 1 scan the following QR code
Method 2 Search for "Niseko Garbage Sorting App" from "App Store" for iOS devices and "Google Play" for Android devices.
 
For IOS terminal For Android terminal
Inquiries regarding information on this page
Living Environment Division, Town Community Living Section

TEL:

0136-44-2121

FAX:

0136-44-3500