Niseko Camp Site
※野営場は6月17日(金)からオープンとなります。

※予約は行っていません。 You can come and use the limited space with consideration for other people.

※オープン後は混雑が予想されます。十分なスペースが無い状況も想定されますので、予めご了承のうえお越しください。

* Please follow the rules and manners when using.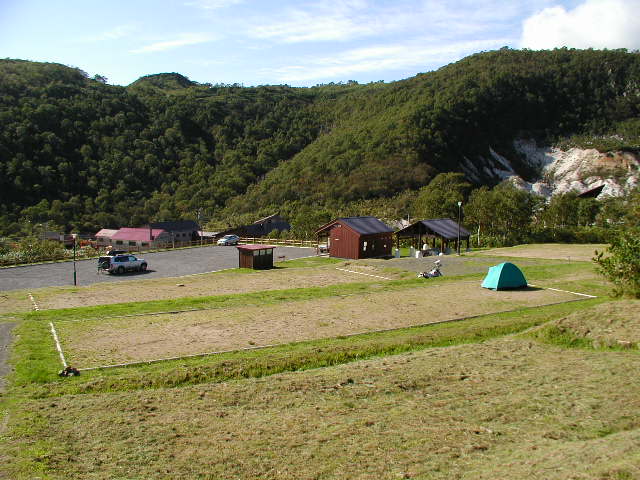 The Niseko campsite is a quiet campground surrounded by the wilderness at the entrance of the Niseko mountain range such as Niseko Annupuri and Iwaonupuri.
Other than the outstanding landscape, of course, we can also expect a full sky of stars in the evening.
There is also a day-trip bathing facility where you can experience the five colors hot springs in about 5 minutes on foot, and you can heal your body slowly after climbing or camping.
Street address
Niseko Town character Niseko 501-1
Business period
Early June to late October
※ Because it changes according to the situation of snowfall, please confirm the latest information.
Manager hours
10 a.m. - 5 p.m.
※ You can use it freely outside this time
Facility
About 40 tents, administrative building, cooking rack, flush toilet (wheelchair compatible)
※ There is no shop / rental.
Cleaning cooperation money
For facility users, we ask for cooperation for cleaning cooperation funds.
Please pay during manager's time.

● 1 night (300 yen for high school students and adults, 100 yen for elementary, middle school students, and younger)
● Day trip (100 yen for high school students and adults, 100 elementary, middle school students, and younger)
※ Reservations are not accepted.
Prohibited matter
1. カラオケや大きな声の会話など、まわりの人に迷惑となる行為
2. Fireworks and bonfires at the tent site
3. Meals in the parking lot / aisle (excluding cars)
4. Campfires
5. 犬・猫のテントサイト及び広場への持ち込み(守れない場合はペットの同伴はご遠慮ください)
Notes
● When using the camp site (camp site), please follow the instructions of the manager
● When you cook, be sure to use a kitchenette
● Please dispose of the charcoal fire used in the leisure stove etc in the furnace of the cooking place
● When washing a leisure stove / shoes etc, please use the water way at the entrance of the road
● Please be careful of foxes and crows causing mischief
● It is a facility within the National Park, so take your garbage home
※就寝や、テントを離れる際には、食料を出しっぱなしにしないこと
※熊出没注意
  入山の際の注意事項です!
※目立つ服装をし、単独では行動しない
* Do not enter the mountains at night during dusk hours
* Make a sound, such as carrying a bell or radio, to let others know you are there, and always pay attention to your surroundings.
※クマのフンや足跡、食べた跡を見つけたらすぐ引き返す
※「クマ出没」の看板があるところにはあえて入らない
※子グマを見つけても決して近づかず、その場を離れる
  (母グマが近くにいるかもしれないので、とても危険です)
* If you find a corpse such as a deer, it is possible that the bear was eating it, so leave immediately.
※食べ物やゴミは必ず持ち帰る。食べかすを残さない。
(Trash will bring bears, so be sure to take it home)
Inquiries regarding information on this page
Commerce and Tourism Division Commerce and Tourism Section

TEL:

0136-44-2121

FAX:

0136-44-3500