Mei Kang Man (China) China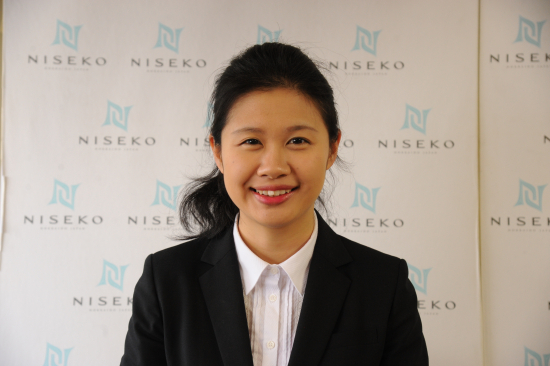 Coordinator for International Relations Mei Kang Man (May Chennan)
Office:
Niseko Town Hall Commerce and Tourism Division

Activity:
Translation/Interpretation (FR/EN/JA), Language Support, Tourism Information, Event Planning, School Visits/
/ Let me read

language:
Chinese / Japanese

Graduate:
China Hebei Province
Personal History
Education:
Graduate School of Regional Economics, Tottori University
 
Work Experience:
Chinese classroom lecturer 1 year and a half
Kyoritsu Maintenance Co., Ltd. General Position
Past Events
· World cafe ~ Chinese cuisine ~ (June to September Heisei 30)
· Chinese classroom (July, Heisei 30 -)
· World Festival ~ Charge in China ~ (July Heisei 30)
Self-introduction
Good owner! (Hello everyone.)
I am Mr. Mei Kannan of a CIR, a national coordinator from China. It is my first time to live in Hokkaido, but I live in Japan for the past 4 years.

My mother liked Japanese dramas and fashion, so I long for Japan since I was a child. This is the first opportunity to start learning Japanese at university. When I was in my 3 rd year college, I studied at Tottori University as an exchange student for about a year. I was interested in learning Japanese culture, economics and social circumstances, especially about the creation of a local community in Japan. Therefore, after graduating from university, I went to Tottori University graduate school of regional studies. Last year I graduated from graduate school and worked for 1 year in Kyoto.

During my student days, I actively participated in regional international exchange activities and I felt very rewarding. So I thought that I would like to engage in international exchange work in the future and I joined the JET program.

My hobby is to draw. I fell in love with the natural scenery of Niseko at first sight, so I'd like to draw a lot of scenes like Niseko from now on. Also I love cooking and making sweets. I hope to have a chance to make it with everyone. Since then, I came to Niseko, so I'd like to try skiing and snowboarding.

Niseko Town is a very internationalized and revitalized town and I am honored to work here. Although it is a little power, I will do my best so as not to disturb the expectations of everyone in the town. If you are interested in China, want to learn Chinese, or have moved to Niseko, please do not hesitate to contact us.
 
Where I'm From:
Hebei Province is the northern region of China. It is located in the capital city of Beijing and the middle of Tianjin, a famous port city. The four seasons are clear, summer is very hot and winter is also pretty cold. It will be minus 10 degrees in winter, but it is not where plenty of snow falls like Niseko. Hebei Province has an old history, cooking is very delicious. Famous are local meals like honey meat and honey beef (Neuro Jobin). If you have the opportunity, please go to Hebei Province and try it.
Photo
Inquiries regarding information on this page
Niseko Town Hall

TEL:

0136-44-2121

FAX:

0136-44-3500