[Tourist Information] Niseko Campsite, Niseko Town Goshiki Onsen Information Center 2017 Open Information
Niseko Camp Site Heisei 1 - 1 (Thu) Open
Finally, camping season has come close to Niseko.
The Niseko campsite is a quiet campground surrounded by great nature, located at the gateway of the Niseko mountain range such as Niseko Annupuri and Iwaonyupuri.
Other than the outstanding landscape, of course, we can also expect a full sky of stars in the evening.
There is also a day-trip bathing facility where you can experience the five colors hot springs in about 5 minutes on foot, and you can heal your body slowly after climbing or camping.
Niseko Campsite Niseko Campsite
Facility outline: about 40 tent, administrative building, cooking ridge, flush toilet (for wheelchair) shops, no rental
お問い合わせ先(役場商工観光課) : 電話:0136-44-2121
Open: June to October
Reception hours: from 10:00 am to 5:00 pm (No reservation required, please be received at the local administrative building)
About cleaning cooperation money
For those who use camps (including parking lots and gravel roads), please pay the administrator the following amount of money per person for cleaning the campsite.
One night adult 300 yen (one person), elementary and junior high school student 100 yen (one person), preschool child free
One-day adult 100 yen (one person), elementary and junior high school student 100 yen (one person), preschool child free
In addition, when parking in the campsite controlled area (including the gravel road part), such as bamboo shoots, harvesting of wild vegetables etc, please cooperate with the cleaning cooperation fee for disposal of falling garbage and cigarette butt .
Notes
When using the camp site, follow the instructions of the manager
When cooking, please be sure to use the kitchen
Please dispose the charcoal fire used in the leisure stove etc. to the kamado of the cooking place
Since it is a facility in the National Park, please take garbage home as a rule
When washing a leisure stove / shoes etc, please use the water supply at the entrance of the road
Please be careful of mischief of fox / crow
Because it is a facility in the National Park, take home garbage home.
Prohibited matter
An act that causes annoyance to people around you, such as karaoke
Fireworks and bonfires at the tent site
Meals at the parking lot / aisle (excluding cars)
campfire
Bring dogs and cats to tent sites and plazas
Niseko Town Goshiki Onsen Information Center Opened on Thursday, June 1, 2017
The information center serves attractive Niseko including hospitality facilities available to tourists visiting the Niseko Mountains and as a gateway to the Niseko mountain range, such as information on areas that are familiar with rich nature .
Please feel free to use it as a comfortable resting place for everyone who visits Goshiki hot springs and flower gardens.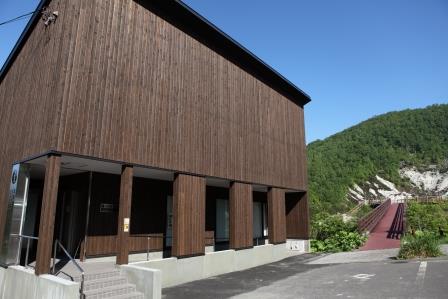 Niseko Town Goshiki Onsen Information Center Goshiki-onsen
電話:0136-59-2200 (山系現地調査のため不在にすることもございますのでご了承ください)
Opening: June to October 8 AM to PM PM 5:00
Mountain opening of Niseko mountain range Heisei 4th June (Sun)
When entering into the mountain, be sure to tell your family about the schedule of action, do not mount alone and ask for mountain climbing with enough clothing and equipment suitable for mountain climbing.
Please do not forget to bring garbage, absolutely please do not smoke cigarettes is dangerous.
We ask for your understanding and cooperation so that everyone will enjoy the Niseko mountain comfortably.
Please come and visit us! Tourist info information
Niseko View Plaza Road Station
Niseko's familiar sightseeing spot including abundant Niseko special products, snack corner, popular agricultural products direct shop for barbecue materials.
There is also a tourist office, so leave Niseko here.
Inquiries regarding information on this page
Niseko Town Hall

TEL:

0136-44-2121

FAX:

0136-44-3500
Industry and Tourism Division

TEL:

0136-44-2121

FAX:

0136-44-3500