Tokyo Niseko Association
Tokyo Niseko-kai was formed in March 2011 by a group of volunteers.

Everyone who lives in Tokyo or its suburbs and has a connection to Niseko Town
Alternatively, all "Niseko Town fans" become members and are active.

Every year in May, we hold the "Tokyo Niseko-kai Gathering".
We provide updates on the current situation from Niseko Town and promote mutual friendship among members.

Also, from September to October
Held at Yoyogi Park, Tokyo
Exhibited at "Hokkaido Farm Direct Fair"
We sell and promote Niseko Town products.

Also, although it is irregular,
We also plan and implement Niseko Town visit tours.
We also interact with everyone in Niseko Town.



 
We are always looking for members!
Tokyo Niseko-kai is always looking for new members.

If you live in Tokyo or the Tokyo suburbs
Please contact us if you are interested.
We would also be happy if you could introduce us to your family and friends.


<Contact information for new members>
ニセコ町役場商工観光課 0136-44-2121
*We will ask for your contact information and someone from the Tokyo Niseko Association office will contact you at a later date.



 
Tokyo Niseko-kai gathering
At the 13th Tokyo Niseko Kai gathering held in May 2023,
As a guest, Niseko Town Tourism Ambassador, Master Kokusen Hayashiya, also attended.
During the greetings, there was a lot of laughter from the audience.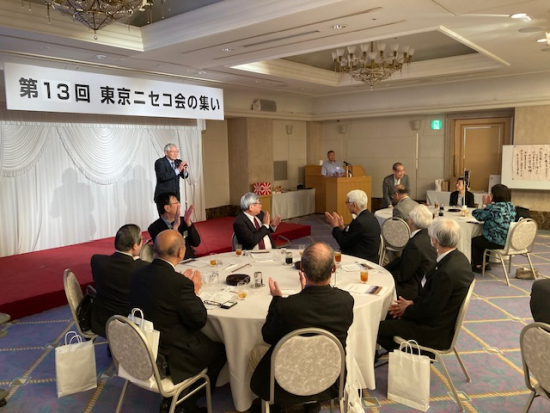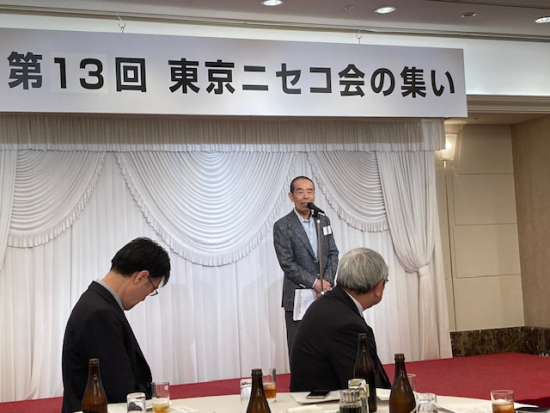 Master Hayashiya Kikuogi gave a greeting.
Hokkaido Farm Direct Fair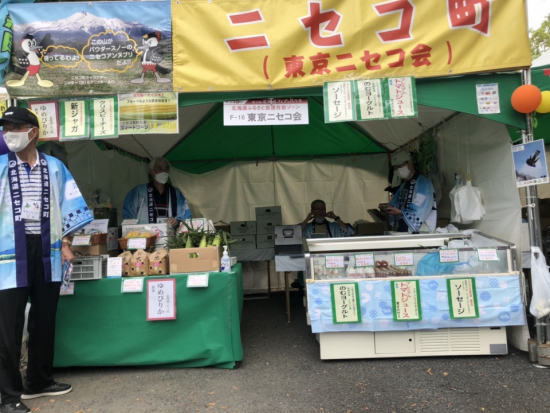 We sell various Niseko products.

We are looking forward to your visit.

Please check the town website for the event schedule.
Niseko Town visit tour
In 2023,
The Niseko Town tour, which was planned for the 10th anniversary of the association's establishment and was postponed due to the new coronavirus, will be held.
It was held with the participation of 12 members.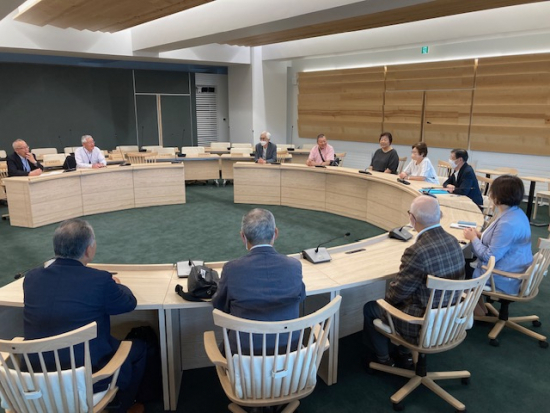 Visit to Niseko Town Hall
Meeting with the mayor, deputy mayor, etc.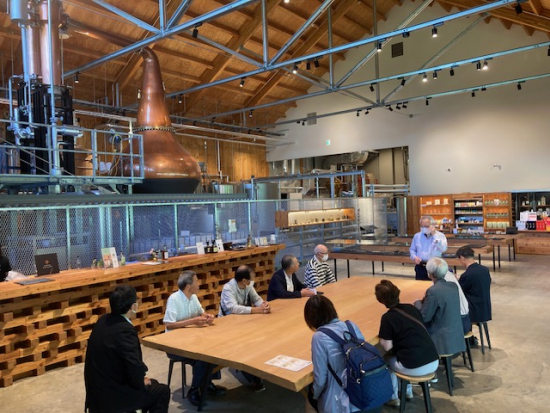 Visit to Niseko Distillery

From the general manager to the history of establishing the distillery, the process of making whiskey and gin, etc.
Thank you for your explanation.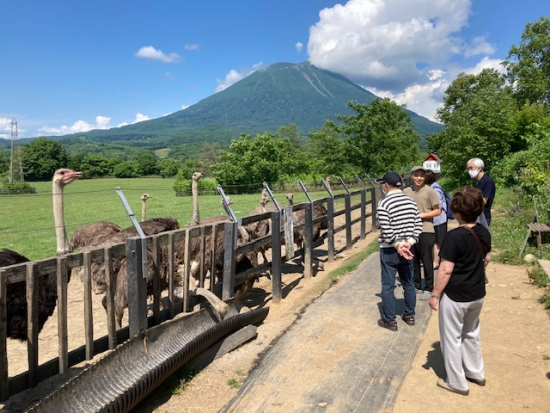 Visit to the second Arishima Ostrich Farm

I was lucky enough to witness the moment when an ostrich lays an egg.


北海道ふるさと会連合会報(2023年)に、
東京ニセコ会会長から、
ニセコ町訪問ツアーについての寄稿がありましたので、
転記・紹介いたします。



<ニセコ町視察をおえて>
東京ニセコ会 会長 菅原 信明

東京ニセコ会は7月、ニセコ町を視察しました。会の訪問は、2013年6月以来となります。
この間にニセコ町は、住民主体のまちづくりを目指す積極的な施策が推進されてきました。
今回の訪問は、この豊かな未来を切り拓く故郷の様子を実際に確かめ、
ニセコ町の将来にどう貢献できるかを考えることにありました。

1 環境配慮型新庁舎とニセコミライ
新庁舎は、ニセコ・羊蹄山の美しい姿を望めるオープンな3階フリースペースが印象的でした。
そこでは、誰もが自由に出入りでき、テレワークや子供たちが宿題をしている姿は、当時と隔世の感があります。
次に、防災設備の充実です。災害対策室や地下には、災害時の収納庫や通信基盤が充実しており、
町民や職員の安全を確保しています。
3点目は、環境への配慮です。高性能の断熱材や窓を導入した省エネ・再エネを実感しました。
この気候変動への取組は、造成工事中に見学したNISEKO生活・モデル地区で、
冬でも暖かく除雪の負担を軽減する住まい創りに期待を寄せることができました。

2 「ニセコ町ならでは」を生かしたビジネス起点
ニセコ町では、醸造所を3か所視察しました。
中でもニセコワイナリーは、自主有機栽培を徹底し、地元の子供たちを巻き込んで環境を考える経営は、
ニセコ町の方向性を示唆するものと言えます。

3 ミュージアムへのいざない
ニセコ鉄道遺産群では、保存可能となったニセコエクスプレスや高校時代に通学した蒸気機関車、
そして転車台が公開されています。
メンテナンス作業で、旧車両を維持するための苦労が伝わるとともに、
鉄道ファンにとって見逃せない遺産群となっています。
一方、有島記念館に足をのばすと、農場資料が収蔵・展示されており、
学芸員による丁寧な案内が有島武郎の理解を深める一助となりました。

以上、ニセコ町では、視察の受け入れを随時行っていますので、
是非新庁舎を見学して実感してみて下さい。
Inquiries regarding information on this page
Industry and Tourism Division

TEL:

0136-44-2121

FAX:

0136-44-3500