Niseko Town Railway Culture Association
Niseko Town Railway Culture Association is looking for members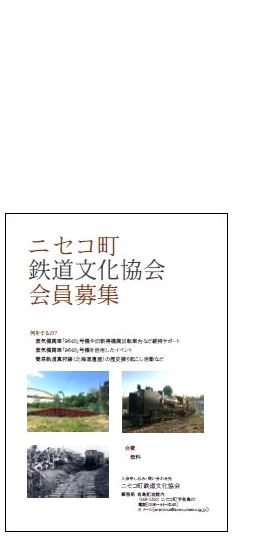 Please check the details at the link below
What are you doing?
・
Maintenance support such as the steam locomotive "9643" and the former Shintoku engine area rolling stock
・
Event utilizing steam locomotive "9643"
・
Simple track Makari Line Hokkaido Heritage history digging activity etc
Membership fee
free
Membership application, contact information
Niseko Town Railway Culture Association
Secretariat
Arishima Memorial Hall
No. 57 Arijima, Niseko Town, 048-1531
Telephone [0136-44-3245]
E-mail [arishima@town.niseko.lg.jp]
"Niseko Express" 's Home Project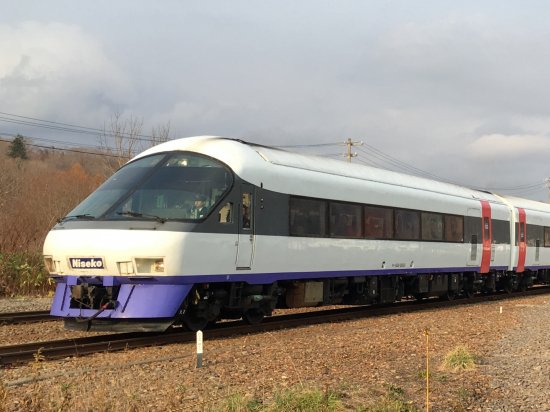 Kiha running Niseko 183-5001
"Niseko Express" which appeared in 1998 for ski shipping to the Niseko area.
That smart and speedy appearance took the limelight at the time.
It was the same car that had been active in Niseko area and New Chitose Airport in winter season and all over the whole area at other times, but in 2017 it became scrapped because of aging.
As a vehicle contributing to the promotion of tourism in Niseko Town, we also launched a project to store in Niseko town with deep background as a vehicle that has various names and also has a name in railway history in Hokkaido.
With crowdfunding
We will utilize cloud funding to recruit expenses required for returning to the village.

Crowdfunding is a combination of crowded and funding, and by sending out your own activities and dreams through the Internet, we want to support people and activities that are in agreement with our thoughts. It is a mechanism to raise money from the person who gives me. A wide range of projects are being implemented, such as developing country support, product development, and the production of autographs.

Please check the details at the link below
Homecoming project of "Niseko Express" (Thank you)
I achieved my goal
May 27, 2019

This project, supported by 494 supporters, has made it possible to return the "Niseko Express" related to Niseko Town to a one-mile hometown.

I would like to express my deep gratitude to those who disseminated direct support as well as those who disseminated information, as well as the JR Hokkaido people who greatly extended the dismantling schedule.

From now on, we will move in coordination with the relevant places for transfer and preservation in the town. In addition, we will prepare for return goods to all of you. As soon as we see the movement about these activities, we will introduce them from time to time in this article.

First of all, I am in a hurry, but I would like to thank you very much.

Tomiko Hayashi, President, Niseko Town Railway Culture Association
Inquiries regarding information on this page
Niseko Town Board of Education Town People's Learning Section

TEL:

0136-44-2034

FAX:

0136-44-1666