Keikichi Kikuchi lecture lecture Why to dig in the history of the area
Focusing on Hokkaido's history after the war, air raids and whaling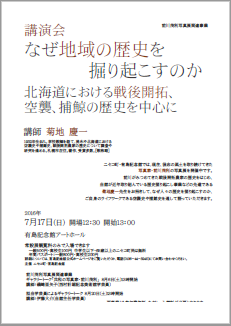 Keikichi Kikuchi lecture lecture Why to dig in the history of the area
Niseko Town Arishima Memorial Museum is currently holding a photo exhibition by Shigeto Maekawa, a photographer who has continued to take on the culture of Shimo [Shigetoshi Maekawa Photo Exhibition].
Maekawa has been looking at the history of the farmers after the war, inviting Dr. Keiichi Kikuchi, who is a pioneer of the historic excavation project, which the hotel is working on in recent years, why to dig up the history of people, in your own life work I will tell you through a certain air raid history and whaling history.

Lecturer
Keiichi Kikuchi
Born in 1932.
After school teacher, we will investigate and research about drift ice and air raid history in Hokkaido, history of whaling and the history of pioneer after the war.
I live in Sapporo City. Writing, numerous awards.
Flyer
Schedule

July 17, 2016 (Sunday)
Open at 12:30
Started at 13:00
Maekawa Shigetashi Exhibition related business
Gallery talk by curator in charge
[Date and time] Saturday, June 25, 2016, Saturday, August 20
Start at 13:00 each day
 
Lecture "Why to dig up the history of the area - focusing on the history of the postwar era, air raids and whaling in Hokkaido"
[Date and time] Started 13:00 on Sunday, July 17, 2016
[Instructor] Keikichi Kikuchi (writer)
 
Gallery Talk "Photographer of Kyowa, Maigari Maekawa"
[Date and time] Started 13:00 on Saturday August 6, 2016
[Instructor] Isozaki Ayako (Curator, Toshio Nishimura Memorial Art Museum Curator)
Venue

Two seco town · Arisima memorial hall art hall
Price

Entrance can be entered only by permanent exhibition fee
---
Arishima Memorial Hall
〒048-1531 57 Arishima, Niseko Town Abuta-gun, Hokkaido
電話番号:0136-44-3245
FAX番号:0136-55-8484
Inquiries regarding information on this page
Niseko Town Hall

TEL:

0136-44-2121

FAX:

0136-44-3500