"Rubber for disinfection" made from Niseko rice is now on sale!
At Niseko Town, we commissioned Tanaka Sake Brewery Co., Ltd. in Otaru City from 2004 to sell local sake "Kurajinshu" made from 100% Niseko sake rice. It is popular as a souvenir for tourists as well as townspeople as a local specialty.
Currently, the consumption of sake is declining nationwide due to the stagnation of the food service industry due to coronal bruise. In addition, the supply of antiseptic solutions to prevent the spread of infection is still unstable.
Under such circumstances, Niseko Town purchases rubbing alcohol made from rice produced in Niseko Town manufactured by Tanaka Sake Brewing Co., Ltd., distributes it to medical institutions in the town, and uses it in public facilities.
This rubbing alcohol will be sold at Roadside Station Niseko View Plaza. It is a limited quantity sale for 1,500 yen per bottle (500 ml).
Almost all the raw material alcohol for the disinfecting alcohol that is in circulation depends on imported raw materials, and disinfecting alcohol made from locally produced rice is a rare initiative nationwide. Please purchase at this opportunity.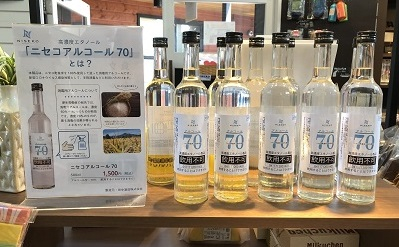 For sale at Road Station Niseko View Plaza.
One 500 ml 1,500 yen

Overview of rubbing alcohol
Item: Spirits
Ingredient rice: Niseko Town sake brewing suitable rice "Comet" 100%
Raw materials: water, sake lees, rice malt, glycerin
Frequency: 70%
 内容量:500ml
Manufacturer: Tanaka Shuzo Co., Ltd.
Inquiries regarding information on this page
Agriculture administration agriculture official

TEL:

0136-44-2121

FAX:

0136-44-3500