July 29/30 ★ Niseko Star Festival 2019 held ★
Sightseeing and event information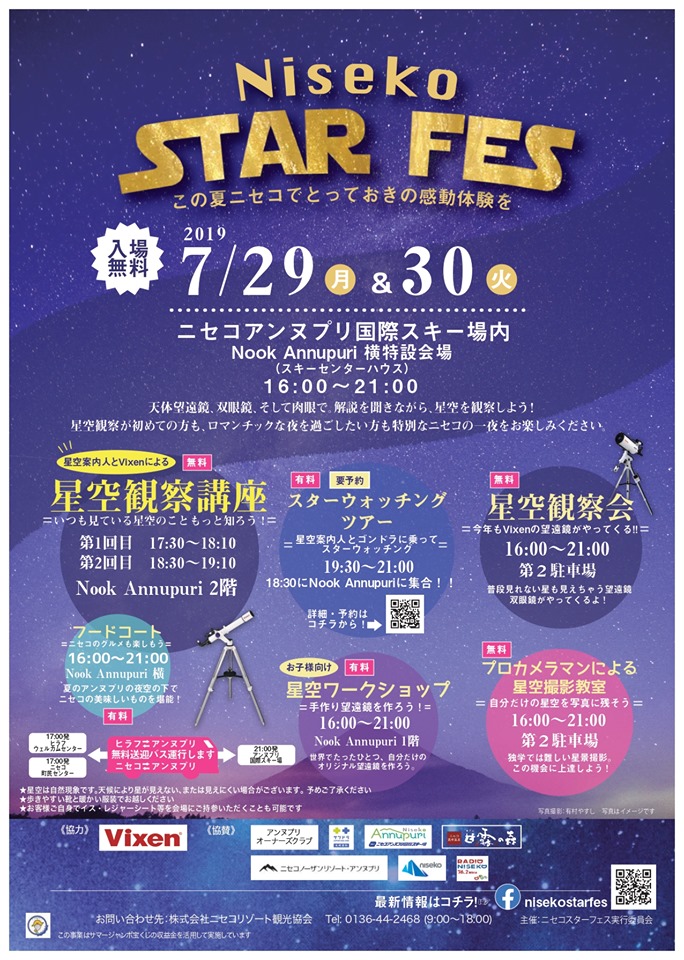 Niseko Star Fes, a star festival held annually at the Niseko Annupuri International Ski Area. Holding was decided this year! !

This time, with the cooperation of Vixen, high-performance telescopes and binoculars will come!
In addition, Vixen staff and a starry sky observation lecture by a starry sky guide are held twice a day.
The talk about the starry sky, the talk about the universe, etc. is a must-see lecture that the night sky of Niseko will be even more interesting!

After listening to the lecture,
You can observe the starry sky with Vixen staff at the Yamagata parking lot,
You may also participate in a photography class by a photographer,
Take a night gondola and go for star watching,
You may take a break at the Niseko gourmet stand!

It is two days that you can fully enjoy the starry sky in various ways of enjoyment!
As a family, a couple, of course, alone ☆ Come by all means!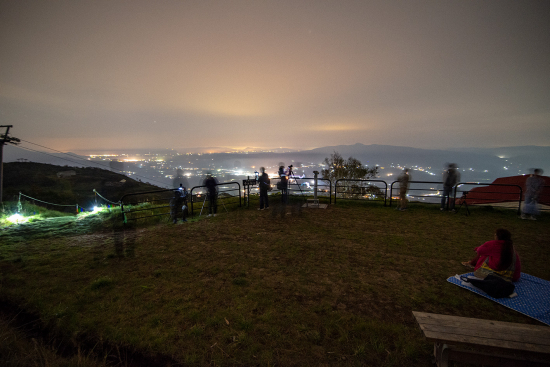 State (2018) of 1000m plateau observation open space
Date and time
Monday, July 29, 2019 (Tuesday)
16: 00-21: 00 (all two days)
Venue
Niseko Annupuri International Ski Area (485 Niseko Town)
Participation fee
free!
★ Workshop participation (on the day reception desk), night gondola use (reservation required) is charged.
time schedule

☆ Starry sky observation lecture
※ We can enjoy story about starry sky, space by starry sky guide person and Vixen staff!
(1) 17: 30-18: 10
(2) 18: 30-19: 10

☆ Starry sky observation society
※ Let's observe the Niseko starry sky with high-performance telescope and binoculars coming from Vixen!
18:00~21:00

☆ Starry sky shooting classroom
※ It is a starlit sky shooting class by professional photographers! Let's all join!
16:00~21:00

☆ Star watching tour
※ It is a special program going on a night gondola!
It is a paid program that requires a reservation.
18:30~21:00

☆ Star Sky Workshop for Kids ~ Creating a Telescope
※ One high quality telescope can be made for 300 yen! Of course, adults can also participate!
16:00~21:00

【Food corner】Popular food cars in Niseko Town gather!
KLASS KITCHEN / Pikinini / TAJ MAHAL ... and more !!
Contact Us
Niseko Resort Tourism Association
電話:0136-44-2468
Inquiries regarding information on this page
Commerce and Tourism Division Commerce and Tourism Section

TEL:

0136-44-2121

FAX:

0136-44-3500