Niseko Town announcement of parliamentary elections
As it is important election to decide the future of town where we live in, let's vote by all means.
Those who are expected to meet certain circumstances, such as work, travel, leisure, ceremonial occasions, etc., on the day of voting can vote before the due date of the voting day.
● Niseko Town for the dates of parliamentary elections
Notification date
April 16 (Tuesday)
Early vote date
April 17 (Wed) to April 20 (Saturday)
Voting day
Sunday, April 21: 7 am to 8 pm
Election day
From 9:00 pm on Sunday, April 21 (scheduled)
Vote counting stations Niseko Town residents Center Training Room 1
● Person who can vote at Niseko Town
Those who can vote at Niseko Town meet the following requirements

● Age requirements Those born by April 22, 2001
● Address requirements: Those who have notified of transfer to Niseko Town by January 15, 2019, and have been resident registration for more than 3 months
* Those who move out (plan) from Niseko Town by the day before voting (April 20, 2019) will have no voting right.
● early vote
Those who can not vote at the polling place for work or travel etc on the day of voting day can vote before the date.

● Period From April 17 (Wednesday) to April 20 (Saturday)
● Time 8:30 am to 8 pm
● place Niseko Town residents Center Small Hall
● What to bring Election admission ticket (postcard)
  
Procedures are completed as soon as you fill in the oath of voting before the date printed on the back of the election admission ticket mailed to your home and bring in the address, name etc. beforehand.
In addition, you can vote even if you lose the election entrance ticket, so please notify the person in charge about it.
● absentee vote
If you are not in Niseko Town work or travel, both on the voting day and during the pre-voting period, you can use the absentee voting system to vote at the Election Administration Committee of your accommodation.
● Billing for ballot paper
If you have the right to vote in Niseko Town, please fill out the following "Oath of Absentee Voting Statements and Invoices" and request them directly or by mail from the Niseko Town Election Commission.
As we will send ballots etc. to the address of the place of stay after confirming "Affidavits and bills for absentee ballots", vote at the nearest absentee ballot (such as the Election Commission Secretariat) Please give me.
Requests for ballots should be processed early, taking into consideration the mailing period.

● Absent vote period
April 17 (Fri) to April 20 (Saturday)
● Place of polling place
Each polling station is as follows.
Please check the voting district and voting place you vote in 'Election Admission Ticket' (postcard).
| | |
| --- | --- |
| Voting district | Place of polling place |
| First voting district | Shaped Fujimi Niseko Town residents Center |
| Second voting district | Kondo Kondo Regional Community Center |
| 3 rd voting district | Nishitomi Nishitomi district townspeople center |
| Fourth voting district | Character Soga Niseko Town Soga Activation Center |
For details of each polling place, please check below.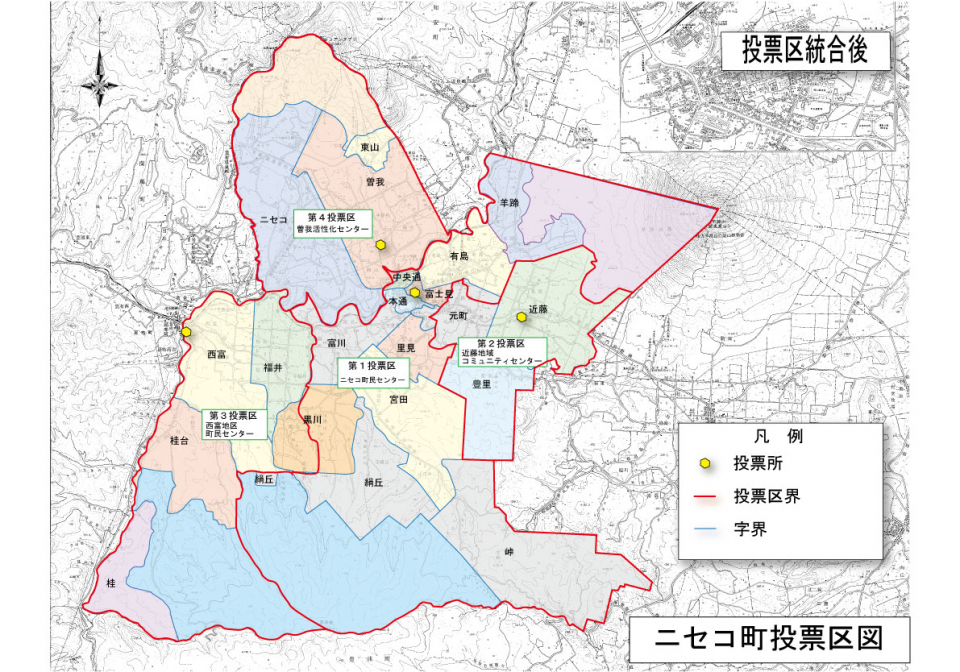 Inquiries regarding information on this page
Niseko Town Election Commission

TEL:

0136-44-2121

FAX:

0136-44-3500