Constellation Reponent Concert Noigoya Akiko String Ensemble in NISEKO
Sightseeing and event information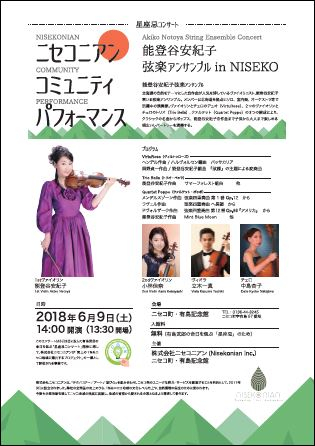 For details, please check the leaflet from the link below.
Performer
No Notoyani Annko string ensemble

A stringed ensemble led by violinist Naotoko Noyatani, a self-made song whose theme is Hokkaido's natural theme. Members are active in solo, chamber music, orchestra etc based in Hokkaido. Three organizations of violin and cello duo (VirtuRose), two violin and cello trio (Trio Bella), quartet (Quartet Poppo), a wide range of repertory that can be enjoyed from classical masterpieces to Pops, Noigoryya Noriko homebrew songs from children to adults Playing.
Date and time
Saturday, June 9, 2018 (Saturday) 14: 00 opening (13: 30 opening)
place
Niseko Town Arishima Memorial Hall Art Hall
 
Price
free
(On June 9, due to 'Constellation Episode' remembering the death of Takeshi Arishima, you can enter for free)
Sponsorship
Niseko Inc.
Niseko Town Arishima Memorial Hall
 
Inquiries regarding information on this page
Niseko Town Arishima Memorial Hall

TEL:

0136-44-3245

FAX:

0136-55-8484