The 48th General Assembly of the House of Representatives · Notice of the 24th Supreme Court Judge National Review
Vote and vote date and time
Voting date and time From Sunday, October 22 (Sunday) 7:00 am to 8:00 pm
Voting place is shown in the table below
The date and time of voting From Sunday, October 22, Sun (Sunday) 9 pm
Counting place Niseko Town Hall 2nd Government Building (Former Public Hall) 1F Large Conference Room
Who can vote at Niseko Town
Those who can vote at Niseko Town meet the following requirements
Age requirements: Those who become 18 years old by October 23 (those born before October 23, 1999)
Address requirements: Those who have notified of transfer to Niseko Town by July 9, 2017, and have been resident registration for more than 3 months
Voting before the date
Those who can not vote at the polling place for work or travel etc on the day of voting day can vote before the date.
Period From October 11 (Wednesday) to October 21 (Saturday) Heisei 29
From 8:30 AM to 8 PM
Items to bring Election tickets (postcards)
Procedures are completed as soon as you fill in the oath of voting before the date printed on the back of the election admission ticket mailed to your home and bring in the address, name etc. beforehand.
Even if the voting entrance voucher is lost, you can vote, so please offer this to the person in charge.
Absentee ballot
People who perform absentee ballots will be in the following cases.
(1) Voting done by those who are hospitalized (entered) in the designated hospital · the president's nursing home etc.
If you are hospitalized (admitted) at a designated hospital etc., you can vote in the hospital etc. Please contact the hospital / institution.
 
(2) Voting carried out by post at home where there are severe disabilities in the body
Those who have serious obstacles to the body and immunity, those who have nursing care insurance card insurance cards who require nursing care 5, who are receiving "postal ballot certificate" can vote by post etc. at home .
Applicants will need "Votes Certificate of Mail" etc, so if you do not have one, please contact the election management committee.
 
(3) Voting conducted by those staying in municipalities other than Niseko Town on the day of voting
If you are staying outside of Niseko Town for work and cannot vote in Niseko Town by the voting date, you can perform absentee voting at the election administration meeting where you will be staying. In this case, you or your family must request a ballot beforehand.
Please note that you may not be able to vote if your claim is delayed.
 
(4) Voting done by those who have not reached 18 years old on the day before voting on the due date
Those who have not reached the age of 18 on the date prior to the date of voting can vote absentee, so please come to the polling place before the due date.
Place of polling place
Each polling station is as follows.
Please check the voting district and voting place you vote in 'Election Admission Ticket' (postcard).
| | |
| --- | --- |
| Voting district | Place of polling place |
| First voting district | Shaped Fujimi Niseko Town residents Center |
| Second voting district | Kondo Kondo Regional Community Center |
| 3 rd voting district | Nishitomi Nishitomi district townspeople center |
| Fourth voting district | Character Soga Niseko Town Soga Activation Center |
For details of each polling place, please check below.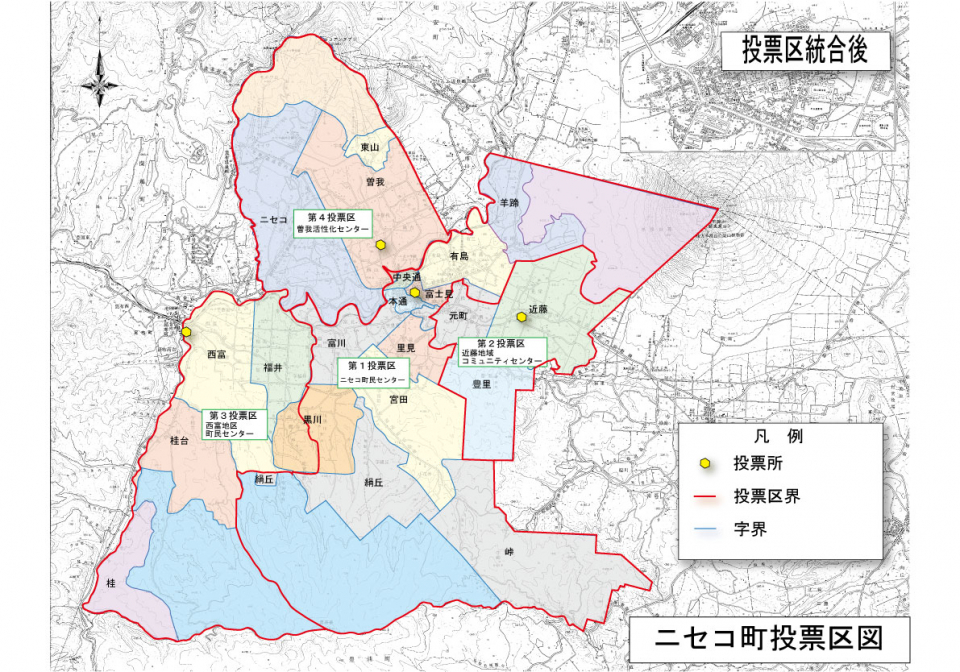 Inquiries regarding information on this page
Niseko Town Election Commission

TEL:

0136-44-2121

FAX:

0136-44-3500